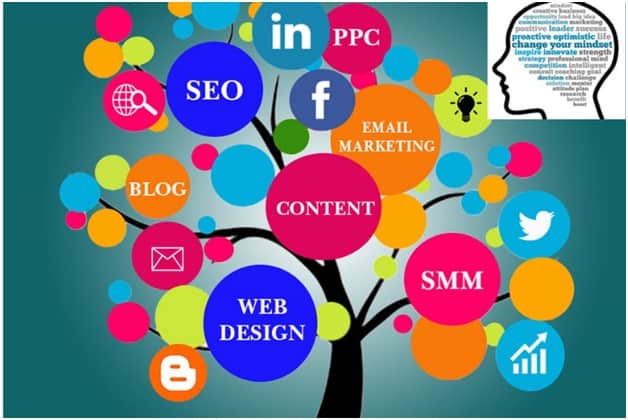 Digital marketing is the online form of traditional marketing. And who handles this marketing? Obviously, a marketer! Now the term 'Marketer' is a bit generalized. A marketer can be just a simple marketer, a content curator, salesperson or someone else. You have to consider them all else you will miss the whole picture of 'Digital Marketing'.
When we start talking about a marketer's mindset, the following questions will come across our mind:
How do you define your product on the digital platform?
How do you develop and promote a service on social media?
What process do you follow to retain your customers?
How do you attract the new and young audience?
Digital Marketing is trending and everybody wants to digitize existing products along with the new products. And you know what? Everybody is actually doing it. 
So, in this competitive field, what is the necessary mindset that a marketer has to adapt to optimize their client service? Let's have a look. 
A Mind For Innovation
Willingness To Learn
Result-driven
Up-to-date Knowledge Of The Industry
A Mind For Innovation
Technology is constantly evolving and a digital marketer also needs to keep up with these constant changes else they will lag behind.
You have to work hard, innovate and keep patience.
Why?
Digital marketing is really competitive but you have to capture customer's attention through your digital skills.
Brainstorm your own approach, think out of the box and learn to deal with stuff. By practicing these, you will help your brand to reach out to the target audience.
Willingness to learn is very important in every field. If you want to be an all-rounder in digital marketing, you need to be proficient in all the aspects of digital workspace irrespective of domains.
You should be able to create SEO optimized content, understand SEO KPIs, and be familiar with the web-based campaigning.
Do you have a result-driven mindset? Trust me; it is one of the important qualities to achieve success in the digital space. Depending on your clients, domains, and platforms- you will get a different type of responses from your customers. Sometimes a tactic that worked for your last client, may not work for your present client so you have to plan accordingly.
As a digital marketer, you have to focus and watch the marketing campaign results closely in order to analyze the campaign performance. When you understand the result, only then you can respond and make necessary changes wherever required to make your campaign a grand success. But, as I said earlier, a plan might not work every time, so you have to be ready to learn from the mistakes and jump in with a Plan B.
Up-to-date Knowledge Of The Industry
Do you handle a particular product and related things? 
Do you know the current trend of that product?
Unless and until you know or you get an idea of all such stuff, you just can't make that product unique. In better words, customers will not get attracted or respond to your innovative idea.
So, stay updated. Stay relevant.  Understand your customer, develop the product and then run the campaign.
↪ On An Ending Note:
You are developing products and offering the latest features but make sure it matters to the people who want to spend dollars on it. Otherwise, you may lose customer loyalty!
According to Keri Gohman(Executive Vice President and Head of Small Business Banking at Capital One), "Customers do not want to be told what your brand is, they want to experience it".
Engage your customers to the product but in novel ways. Surprise them and let them 'feel' the product. Focus on your target groups, do research, take your time and then develop a valuable product. As you know, business is not about just about developing new products with the latest features; you have to start thinking from the customer's perspective also!