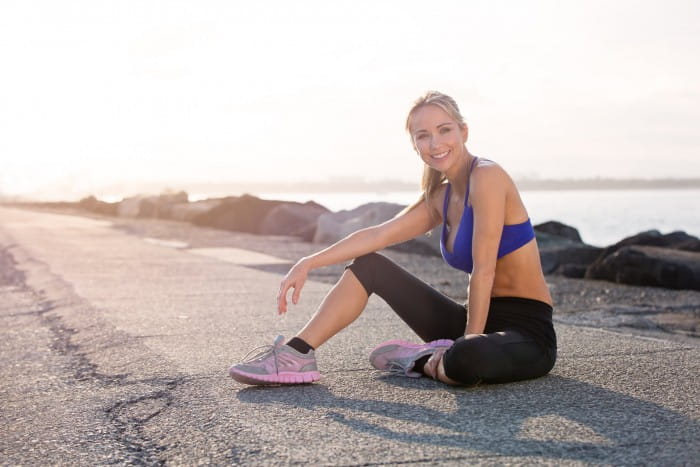 No doubt everyone wants to live a healthy and happy life. We often make plans to improve our lifestyles by changing our eating habits and including exercise to our daily routine. But, because of many complications in our lives, sometimes it may become hard to achieve the goal of whole health and wellness. Our office workload, family's responsibilities, bad incidents, and some other uncertain issues may discourage us to accomplish our aim.
If you are also facing some problems that are resisting you to reach your health goal, you must read the following helpful tips. These tips will surely help you set, maintain, and accomplish your fitness and wellness goals.
Let's discuss in detail!
Take a Healthy Diet
What we eat, impacts our health.  Food plays an important role to keep us healthy and fit. You should stop taking oily, fried, or a food that contains high fat such as sweets, chocolates, cheeses, fatty fish, and whole eggs. If you are overweight and want to see your body in perfect shape, say no to such foodstuff.
Most of the people also start skipping their lunch or dinner to lose their fat. If you also do the same, stop doing it right now. It is not an accurate way to shape your body, it can only weaken your body nothing else. Health coaches or doctors always suggest people avoid this technique. According to them, you can put your health at risk by doing such things.
Instead of doing this, you can include following items to your diet plan.
Fruits
Vegetables
Soup
Green Tea
6-8 Glass of fresh water daily
Grains
Brown rice
Juice
Oats
A healthy diet will make your immune system stronger that can help you stay away from the serious illnesses. Additionally, you will feel more active and stress-free.
Set a Smart Goal
You should have a clear vision for your aim.
What changes do you want to see in your health?  How can you accomplish your goal? What are the necessary guidelines that you will have to follow to fulfill your dream? You should have a right answer to all these questions.
Make a list of those things that you want to get with your whole health wellness plan. For example, you can set a target to lose some extra inches in 15 or 20 days. Such targets can encourage you to speed up your process of physical activity and inspire you for taking a healthy meal.
Take the Help of Health Experts
This is one of the most effective ways that one can do to get a right guidance for living a healthy life. A health coach not only prepares a suitable plan for you but also understands your overall personality.
By understanding the past and present concerns of their customers, they start the further planning. They know every client is different and his or her targets are also separate. Professional health trainers give special attention to every client.
They also help their patients to eliminate their personal issues or worries so that every client can live a stress-free life. They also guide clients to do exercise in a perfect way so that results can come positive.
Keep Your Health on Priority
We all know that "Health is Wealth."
If our body is fit and strong, we can live a happy life. So, for us, our health should always be the first priority. We should follow our plan regularly that includes exercise, walk, meditation, and a healthy diet.
If sometimes, you are not able to do exercise because of important stuff, you should still go for 15-16 minute walk. Always try to keep yourself away from the negative thoughts. Like, sometimes you may feel tired or lazy to do your regular exercise. But, you should always keep motivating yourself with the positive thoughts. How a healthy body can change your entire life, you should never forget this fact.
These were some helpful tips that you must follow to achieve your target of whole health and wellness. By following these simple guidelines you can make your body fit, strong, and more energetic.