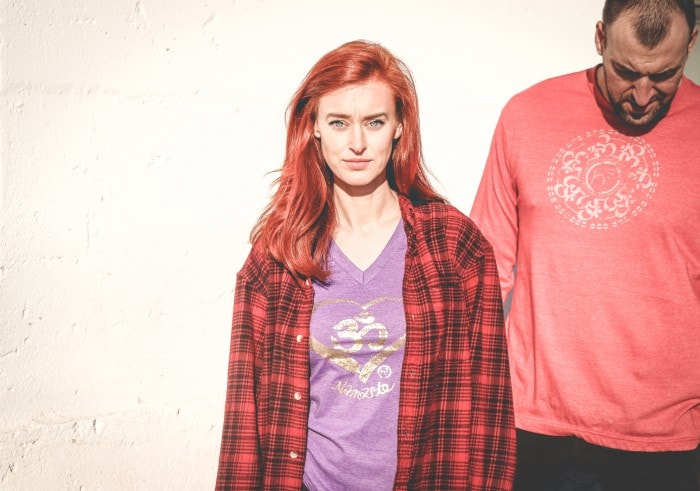 There's no end to the styles of clothing for men nowadays, thanks to designers who constantly work on bringing new designs and clothing options to suit various needs of men. However, when there is a call from your friend and you have to go out in the next half an hour, all you do is rummage through the wardrobe in search of the perfect clothing combination. In fact, surveys have shown that boys do take longer time in getting ready for an occasion than girls. They fret over the simplest thing because all they want to do amidst the crowd to make their presence known. And, for that, they need impeccably style clothes pairing, if not anything else.
Be it a high school party or a date with your girlfriend, the first clothing item that comes in the periphery of your vision is the shirt and the t-shirt. After all, no other clothing can provide the comfort that these two particular pieces can give. When paired with the perfect accessories, you will be more than ready to go out on the roads and boast about your masculinity. The best thing about these two outfit combinations is that you can always take off the shirt whenever you feel like and tie it around your neck or waist to adhere to any sudden changes in the weather.
If you are contemplating on what to wear on your next outing with your buddies, then we can help you out. Let us take a look at these shirt and t-shirt combinations to get an idea of what works for you.
Checkered Shirt with the Plain Tee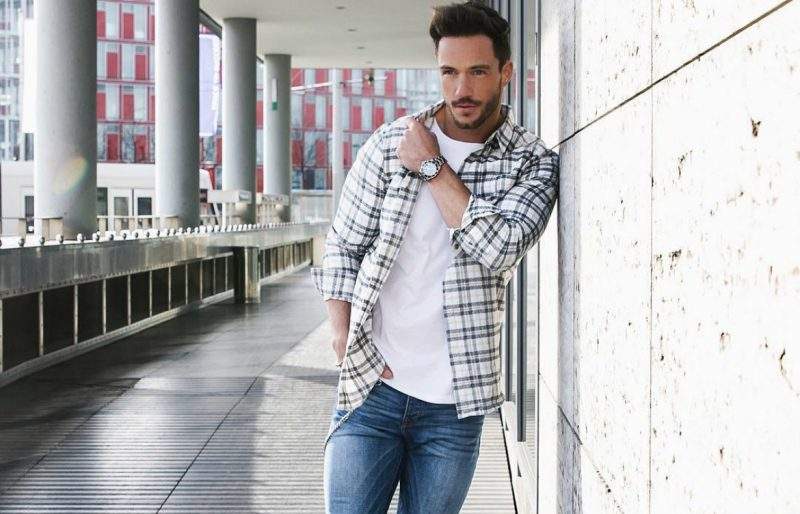 Checkered shirts are quite simple and yet they are quick at becoming the center of attention in a crowd. This classic print has some sort of captivating power that creates a lasting impression on the on-lookers. When paired with a contrasting t-shirt underneath, the entire look screams a mischievous innocence, something that shouldn't be meddled with. Pair this combination with washed jeans or normal pants and finish the look with your regular boots.
Dark Colored Shirt with the White Tee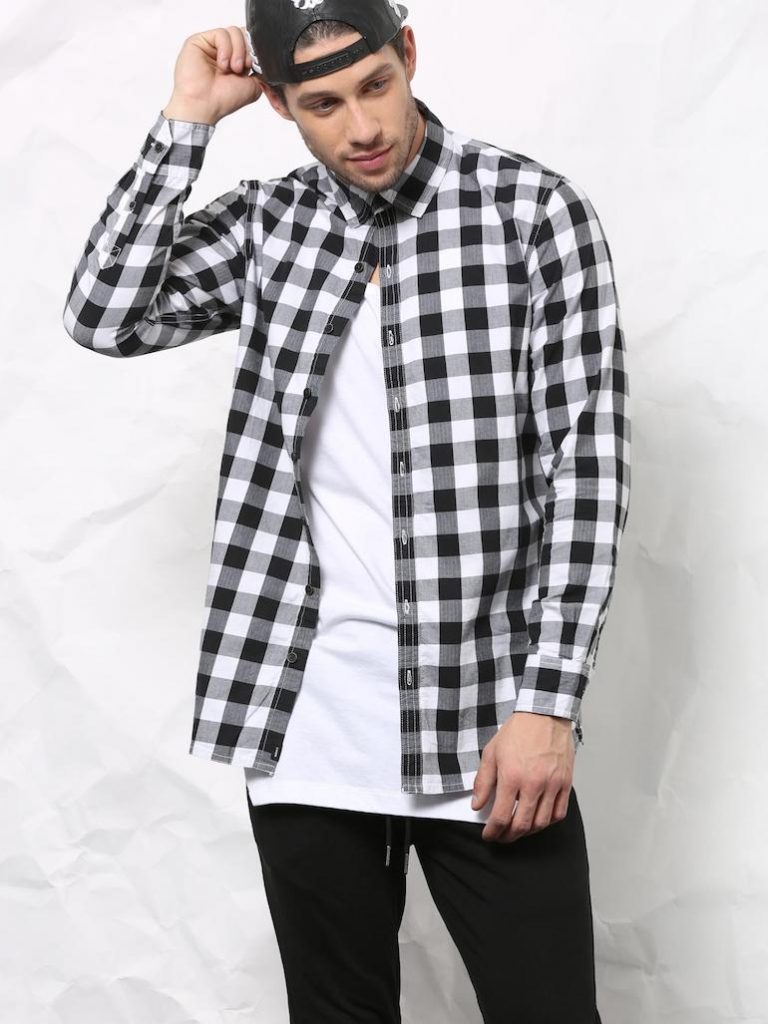 Dark and white colors have always been a complementary pair, a style that can stand out even in the midst of a huge crowd and make you look ravishing. Pair your white t-shirt with a black or deep blue shirt and get ready to rock the scene. You can either keep the shirt open or you can button it up leaving the first three buttons open to show off a bit of the t-shirt. White sports shoes would look perfect with this outfit.
Corduroy Shirt with the Plain Tee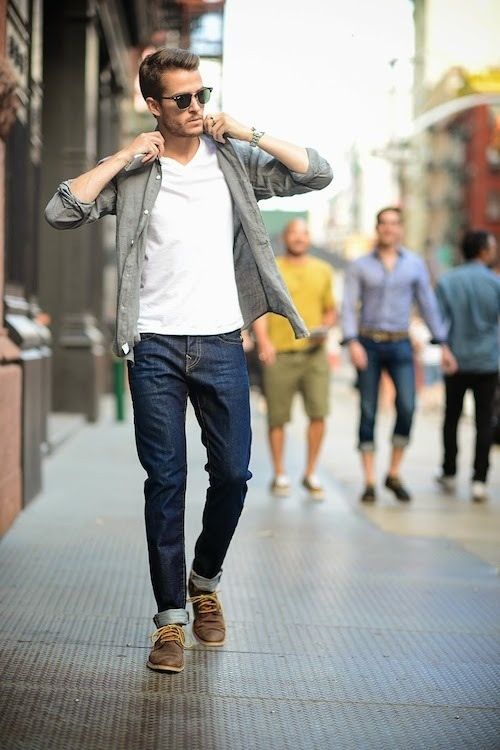 Corduroy shirts look best when paired with denim jeans or dark colored dress pants. However, even then the look is somewhat incomplete, not vibrant enough to make you look dazzling. Pair the shirt with a white or cream-colored t-shirt underneath it and don't forget to keep the shirt open. This will give an illusion of a jacket worn over your t-shirt. Corduroy shirts are perfect for dates or parties where you actually need to make a good impression.
Plaid Shirt with the Graphic Tee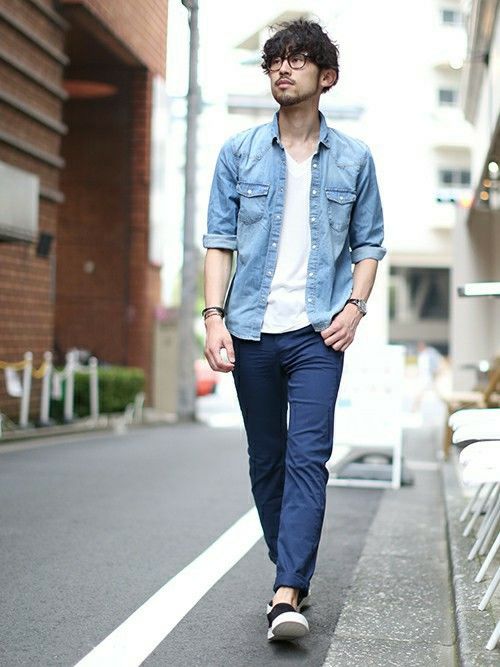 Graphics are all around us, starting with your favorite GBA games to your rooms. Now, if you are a die-hard fan of the wonderful and abstract graphics then why not wear a graphic printed t-shirt this time? This particular print has emerged to be a trending fashion style and boys or men, both are seen wearing this particular style too often. Wear a bright looking graphic t-shirt with a plaid shirt to make it look ravishing and classy. Wear a pair of converse sneakers or boots to give an edge to the outfit.
Denim Shirt with the Cotton Tee
Denim is a wonderful fabric for casual occasions. It gives the comfortable relaxed feel to the wearer and looks cool too. Be it a shopping spree with your friends or a night out, a denim shirt instantly makes you look edgy and stylish. But wearing this fabric only in the form of jeans every time is not so appealing. Why not introduce a difference in your taste and wear a denim shirt over a white-colored cotton t-shirt with cargo pants.  You can choose from the shades of blue, black and greys to set a beautiful contrast against a cotton tee in lighter tones such as white, green or yellow. Wear a pair of sports shoes or boots to complete the outfit.
Striped Cotton Shirt with the Black Tee
Stripes never go out of fashion. But wearing a striped shirt with trousers can get boring sometimes. Bring a plain black tee into the mix and see your striped shirt acquire a whole new definition. Keep the buttons open to reveal teeny weeny bits of print done on the t-shirt. Wear this shirt and t-shirt combination with a pair of denim trousers. Add a neat brown belt and brown leather boots to add a masculine touch to the outfit.
Printed Shirt with the Dark Tee
Shirts with the leaf or other natural prints have become the latest rage in men's fashion. These shirts lend an appealing charm to your masculine features and give a new dimension to men's neutral toned clothes.  Wear a dark colored tee underneath to fuse together contrasting elements in the shirt and the t-shirt. Wear this shirt pairing with black or grey jeans and boots.
About the Author
Amanda is a hard working Professional with a degree in Business Management. Apart from her daily job, She loves working in the Fashion Industry. She has been working with TshirtIdeal.ca for some time now. Amanda Keeps up with the fashion trends and loves fashion blogging and makes sure that her lifestyle reflects the same.