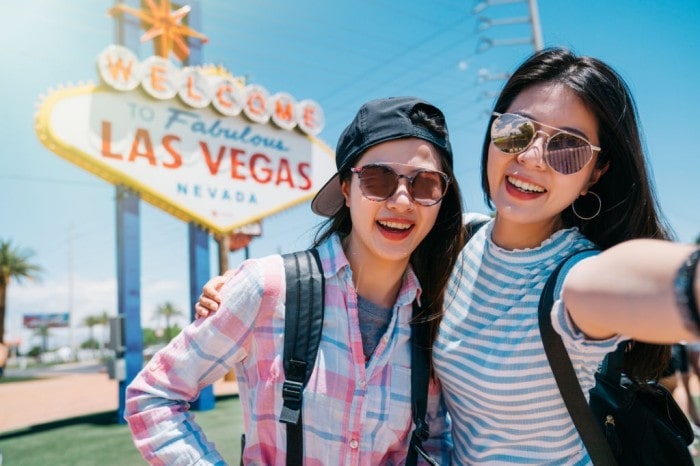 Going to Las Vegas for a gambling vacation might seem like just every other vacation. Most people who intend to go on vacation here might have the misconception that the weather in Vegas is the same at any time of the year. Well, this isn't the case. There is need to have the proper wardrobe when heading for a vacation to this location. Remember you would not only be playing at the casino or trying your hand, but there is the possibility you would be heading to different other places like Night clubs, Restaurant for some fine dining, hanging out by the pool, taking some long walks around the strip, so you have to be properly armed with the right kind of gear for every place and activity you would be engaged in when in Vegas.
Casuals
Well for most regular folks this is the go to form of dressing. When you have made your plans to visit Vegas, packing some great casual wear is the best way to go. The casual wear would cover you when you go into a nightclub even when you go sightseeing. If you decide to hit any establishments that require some dressing up, as long as you are comfortable not looking out of place in such locations, then you are fine. If you also do not intend to hit any clubs, packing enough casual gear is the way to go. Although it is advised you carry that single piece of versatile clothing e.g. the little black dress for women. Once you have this single piece of clothing, a pair of heels and you can go clubbing, some sneakers and you are good to go gambling and sightseeing.
Keep the seasons in mind
Remember there is are different types of clothing for different seasons. If you intend to go to Vegas in the summer, then some light weight, airy clothes such make up most of your clothing. You should be thinking along the lines of shorts, t-shirts, skirts made with cotton amongst others. Jeans might also not be a bad idea, but it isn't advisable as the desert gets hot in the summer and you don't want to be caught in jeans when the heat hits. Although having your denims might be good for nights as the desert gets chilly at night time.although you might be packing for the summer and going with light clothes, having a jacket or two is a good idea as much places will have the air conditioning on full blast because of the heat outside.
The winters in Vegas as also pretty chilly because the desert is real hot during the day but gets real cold at night. When it is winter however, it is really cold at both times of the day. You would need to have a sweaters and jackets packed if you are heading to Vegas for the winter and make sure you wear them when heading outdoors. When indoors though, most hotels and nightclubs will keep the temperature at a comfortable level so you might find yourself losing some articles of clothing because it would be warmer indoors. For footwear, have you sneakers, boots and proper winter shoes to keep your feet protected and warm.
Nightlife
Most casinos have accommodations available and some big casinos have nightclubs. The city truly comes alive in the night time so going out at night in Vegas is a must. For an outing to a Las Vegas, you should make sure you look the part. Dress and look you best. First off, you don't know who you will bump into when you hit the clubs. Second, there are dress codes. Yes, Vegas clubs have allowed dress codes most especially for men. While most women can wear whatever they fell like, the men aren't offered this freedom. Most night clubs in Vegas will not let you into the club if you are dressed wearing a t-shirts, face caps or caps, denim, jerseys. Entrance would be barred to you as a guy dressed in any of these. That said, even when you are dressed in a way you think is appropriate, it is best to find out if your dressing meets the allowed standards of the club you intend to visit.
The Pool
Lounging by the side of the pool is another pastime which you might engage in when in Vegas. Packing the appropriate outfit for the pool side is crucial. You don't want to get to the pool in a pair of denims during summer. You would likely cook yourself in those denims. Another reason to pack appropriate pool gear is, it might not be allowed when you are by the pool. If your pool outfit shows way to much skin, you might just be politely asked to cover up. This is the practice at most general pools in Vegas. At the adult pool however, you would most likely not be told to do so. This might come as a surprise to most people, but Vegas has a lot of rules regarding dressing and you need to be aware of such rules while in the city and also pack appropriately for your trip, so you aren't caught unawares. Some comfy towels, sunglasses, flip-flops should also be in your bag if you plan on spending some time at the outdoor pool. For the indoor pool, the sunglasses would not be a necessity.
There you have it. The packing for a trip to Vegas isn't as haphazard as you would think. Appropriate clothing is important for every establishment you plan to visit. Consider packing clothes which cover up a bit more than usual even if this is not your style. Remember there are different seasons in Vegas and you would need the right clothes for each season. You can't go wrong in denims is the popular saying but you can when you wear them at the wrong season in Vegas like summer. Pack light, pack right and you would  have a great trip in Vegas.