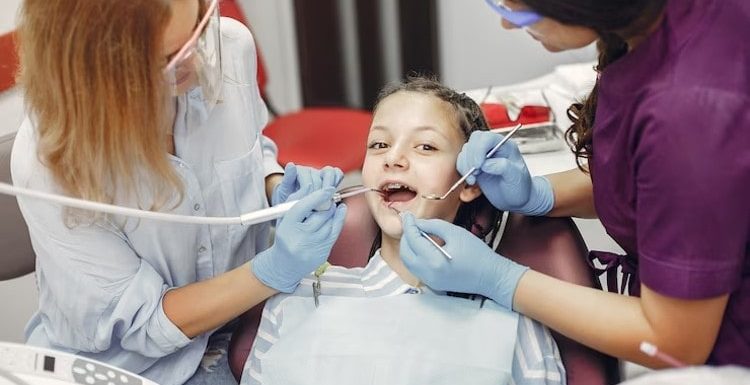 According to the American Academy of Pediatric Dentistry, your child's first dental checkup should come by their first birthday. Although only a few teeth have developed at this age, dental problems can start early. One in four children in the US has at least a single cavity by the time they're four years old. Early visits to your family dentist introduce your child to services that can help to prevent long-term issues.
What Happens During the First Dentist Visit?
Your child's first visit to the family dentist can last a few minutes up to an hour. The interaction can include a full exam of the teeth, gums, jaws, bite, and oral tissues. Your dentist will assess the growth and development and can recommend a gentle cleaning. Most visits start with a quick appointment with the parent to discuss the services, medical history, and more.
The dentist will ask questions to identify risk factors and issues impacting the child's health. Be prepared to answer questions about your child's diet, feeding practices, health conditions, teething, pacifier, thumb-sucking, and brushing. Once the questions session is over, the dentist will begin their evaluation and recommend various solutions.
Cleaning involves removing stains, tartar, and plaque and polishing teeth. The dentist can also demonstrate proper home cleaning procedures and advise you on fluoride use. If there's decay, the dentist can recommend an X-ray, which is uncommon because baby teeth eventually fall out. An X-ray can reveal if the root of a jammed baby tooth interferes with the growth of an adult tooth.
How Dentists Perform Knee-to-Knee Examination
Most first dental visits for children involve the dentist examining from a knee-to-knee position. The dentist will ask you to sit on a chair with your baby on your lap facing you. They'll then sit on a chair facing you. Once in position, lower your child's head to the dentist's lap, so you can both see clearly into the child's mouth. Your baby can also look up at you, which helps to keep them calm.
Dental examinations will reveal any tooth-related concerns, such as cavities, plaque, and misalignment. The dentist may apply gentle fluoride between the child's teeth depending on the decay potential. After the exam, your dentist may provide tips for teething, development, and oral care.
You can ask the dentist questions before, during, and after the visit. Once the session is over, the dentist will recommend a follow-up visit based on the child's risk factors. The process should be straightforward and help you as a parent feel confident in caring for your child's oral hygiene.
Working With a Family Dentist
Your child's first dental visit should be to a family or pediatric dentist. These are trained professionals who know how to work with small children and can help put them at ease. Leading dentists can also help you prepare for the first visit. They're ready to answer your questions concerning their services or your child's overall health. Schedule an appointment with your local dental office to learn more about children's care options.