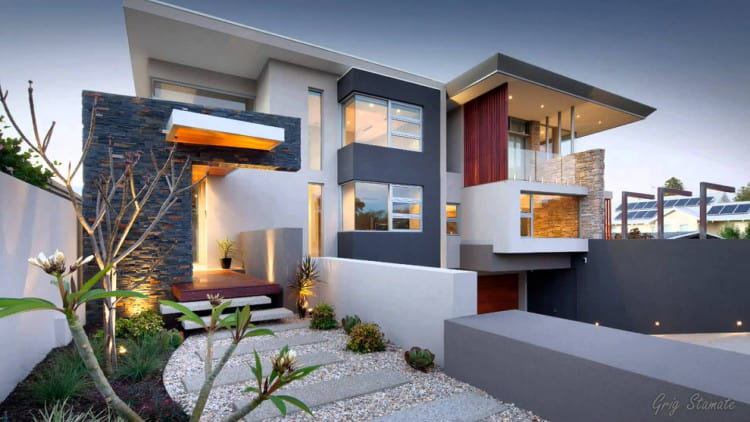 Modern designs are simple and distinct. It generally features flat surfaces, geometric forms and little or no ornamentations. Modern houses usually have a more streamlined look. They mostly include neutral colours but you can incorporate any colour you prefer.  Just make sure they complement each other and are well balanced. The mostly neutral look is brought to life with decor items, furnishings and tactile elements that are visually stimulating.
Here are 10 ways you can give a modern look to your home:
Minimalistic look
The first thing to remember if you're opting for a modern look is to keep things minimal. Intentional minimalism makes a huge impact. Overloading accessories and decor items can make the place look and feel overwhelming. Instead opt for a few decent ones that make a good statement.
Avoid clutter and keep your home mess free. Access unused storage to move linens, newspaper and items that are not used frequently away from view.
Coordinate the Colour Palette 
Keeps your colour palette simple by using a few coordinating colours rather than a wide variety of colours. For the walls, stick to neutrals like white, gray and earth tones for a refined contemporary look.
You can pack a punch with bright furniture like a yellow chair or use bright coloured cushions that will act as the focal point of the room and add visual interest. Or simply opt for furnitures in the same colour family like a sage coloured sofa in a lime green room. Crisp and fresh.
Textures and Patterns 
The patterns used in modern homes are usually clean and well defined with dynamic textures. Ideal patterns are solids, geometric shapes and abstracts. Some of the popular ones are argyl, chevron and fretwork patterns. Use of lace and ruffles are a strict no-no. You can use some animal prints in your decor but make sure to keep it subtle and balanced.
Black and white animal prints work wonderfully in a modern look. Some patterns create a marbling effect that looks fresh and exuberant. Select patterns that match with your fabrics, rugs and dramatic textiles for a unified, compact look.
Keep It Spacious
Barely there glass coffee tables can make your space look neat and spacious. You don't even have to worry about matching it as clear items blend right in. Also, sofas with exposed legs make the room looks airy and fresh. Avoid bulky and large furnitures in small spaces. They can make the room look crowded and cluttered. Using a mirror opposite to a window can also make the room appear bigger.
For floorings, separate spaces with the help of textured rugs and carpets. A break in the texture of floorings can help to give illusion of a bigger space. Make use of light colours as they create a feeling of openness and freshness to a room.
Outdoor Spaces 
Modern homes often feature outdoor dining spaces. If you don't have enough space, you can revamp your dining room to incorporate large glass windows. This way you can enjoy the view while eating your food.
You can also make a simple outdoor space by adding woven chairs, hammocks and seating areas in your backyard or porch. Add a classic table and you have your own DIY outdoor space where you can enjoy summer meals or just relax with friends and family. To make it weatherproof, you can consider like metal, tiles and synthetic roofing materials for a modern aesthetic. 
Kitchen 
Cabinets and counters play a major role in making your kitchen look modern and sophisticated. Sleek, well designed cabinets make it look polished and expensive. Metal and industrial tone appliances can help to achieve a trendy look for your kitchen. Black marble countertops and floors make quite a statement.
Tile floorings also gives an overall simple, elegant look. Materials like wood, ceramics and plastics also contribute in building a modern kitchen. Cookware and utensils are now available in bold colours that reflect a trendy, updated look. 
Indoor Garden 
Introducing outdoor greenery inside your space is huge with modern homes right now. You just need a little space, like under the stairs, to make a major decor statement.  Opt for indoor plants and succulents that do not need much after care. A simple bonsai plant will work as well.
Green plants add an organic appeal to your home while working to purify the air by removing harmful toxins. They also bring positive energy into your home atmosphere like no other decor can.
Let in Plenty of Natural Light 
Modern homes usually have large windows that allow a lot of light into the room. Lighting can make a significant difference in enhancing the look of any place. It creates an unexpected welcoming look. Make sure your room is flooded with natural light.
If you don't have windows, put up a striking light fixture. It sets the tone of the entire room space. White walls reflect light and the combination of both makes the room look spacious and airy.
Combine Modern and Traditional
Modern decor does not mean using expensive items you just bought recently. Traditional decor has its own charm and glory and when mixed correctly with modern decor, it can make your place look magical. Hang contemporary art in colours that compliment your current furnishing.
Vintage tiles add an instant grandeur to your place. While antique furnitures may not be the correct match, traditional furnitures can be used in a modern home. It will make the overall look more interesting.
Bathroom
Modern bathrooms are usually vain. It features plain tiles and dark colours. But it really depends on the personal taste and preference of the owner. You can also incorporate adventurous bathroom designs filled with bold patterns and colours. Get the extra decor items you'd put away and use it as a bathroom decor.
Vibrant tiles and polished concrete can make you never want to leave the bathroom. Experiment with new fixtures and fittings in different styles. If you don't want to spend too much on fixtures, opt for an all white theme for your bathroom.