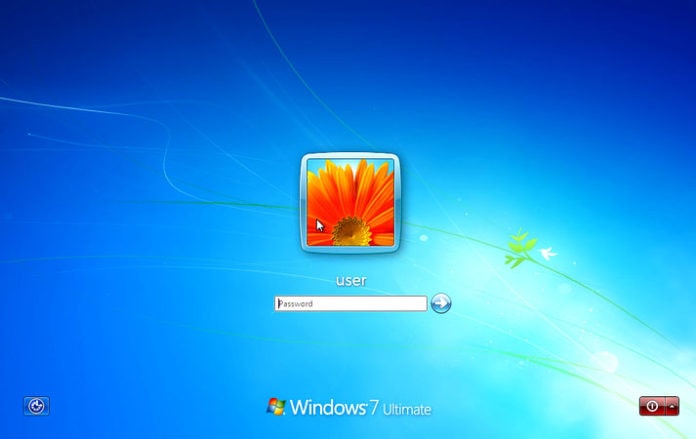 There are so many passwords we need to remember, so it's easy to forget these passwords. But the existing technology administrator provides a basis for cracking. The machine used to crack a password depends on the operating system installed. We have 7 windows, windows 8, Windows XP and Windows Vista etc. There are various windows operating systems. Password cracker tools are either used properly for recovering the administrator password or hacker used for their ill intentions.
There are many windows password cracking tools though we are going to discuss the five most used tool with the help of all these tools you can reset your windows 7 password and use your computer very easily.
1. PassFolk SaverWin
PassFolk SaverWin is the best and the amazing tool of all windows password recovery tool in 2018 . This tool is totally free PassFolk SaverWin password recovery tool easily recover your Windows password in minutes. It is the best tool and has become a favorite password recovery tool for the Windows users. It supports the Windows 7, 8, 8.1, 10, Windows Vista, Windows XP and supports both local and Microsoft account it doesn't matter your window is 32bit or 64bit versions. It allows you to create reset disk before password recovery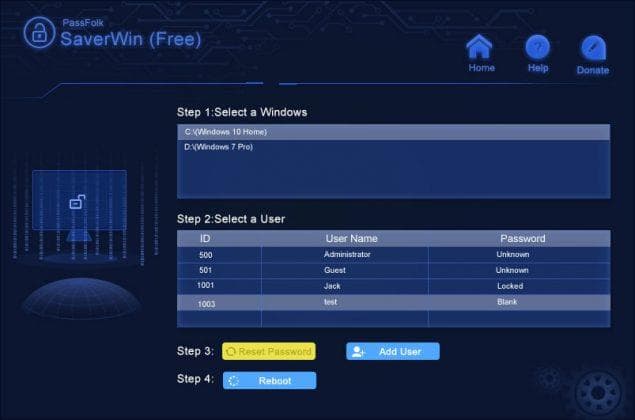 Pros:
Best tool in 2018
Supports all windows and also 32bit and 64bit both versions
No need of the previous password
Reset password in few minutes
iSeePassword Windows Password Recovery Pro
iSeePassword is a third-party professional password recovery software for Windows ,You can create a password reset disk and you will be able to reset any windows password with it . As well as iSeePassword supports the Windows 10, 8, 7, Windows Vista, Windows XP and supports the server 2000 to 2016 and many more. you can reset a windows password with the help of iSeePassword in simple steps, select the operating system, select the user and reset the Windows password. Now , follow iSeePassword steps to reset password for locked Windows 7 computer.
First, you have to download and install the iSeePassword Windows password recovery tool. After installing the software insert an empty USB Drive or CD/DVD and start the software now the software window will open and click on the USB Device or if you are using CD then click on the CD/DVD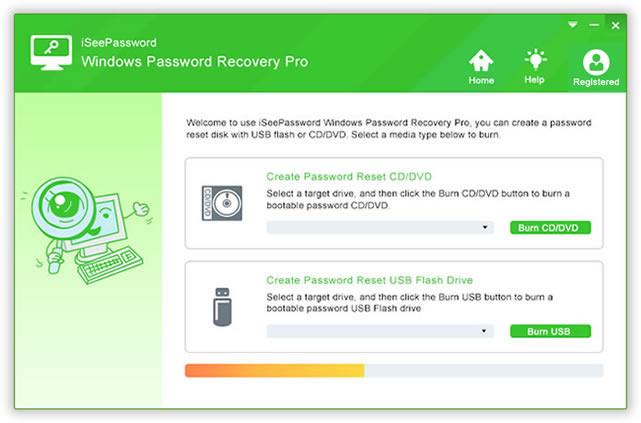 Now select your device name from the drop-down menu given on the screen and click on the Begin Burning button remember that before starting this software automatically format your USB Drive
Once the burning process will complete this software will inform you. After completing the process select the Windows on the main screen and the user account and then click on the Reset Password Button remember that only select that user account for which you want to reset the password.
After this confirm it by clicking on yes and all done next time you will start your computer without a password.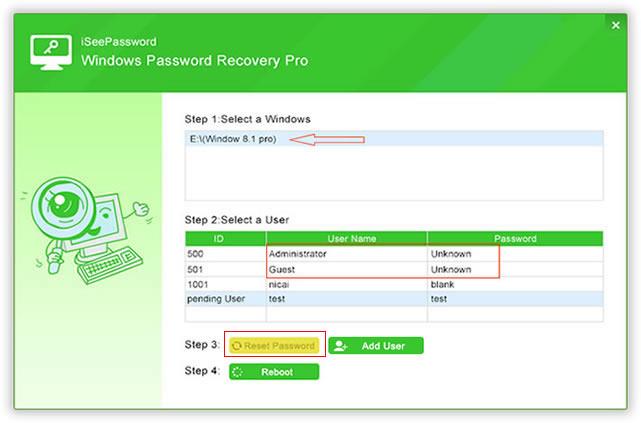 Advantages:
Without login, this software creates a new user account
Fast and reliable software
Provide a user-friendly interface
Supports all windows
With the help of this software, you can access to your Windows in a few minutes
Offline NT Password and Registry Editor
This password reset tool works better as an online recovery tool, as well as NT and Registry Editor. The cracking person needs to download free software from any CD, DVD or flash drive such as the Offline NT password and the Registry Editor ISO file and burn it to a storage. Then boot the computer from the burned device and you can easily log in without requiring a password. In case you would like to erase the password, the software is very convenient.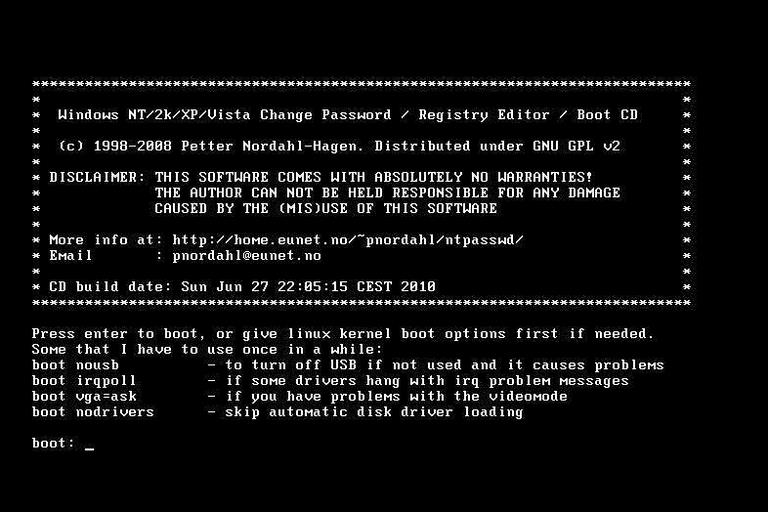 Offline NT password tools are very compatible with some versions of Windows such as Windows 7, Windows 8, Windows Vista, Windows XP, Windows 2000 and Windows New Technology. During some frequencies, it is very easy to use a command line to program this program but it is very easy to follow the instructions for users until you are wiped through a password.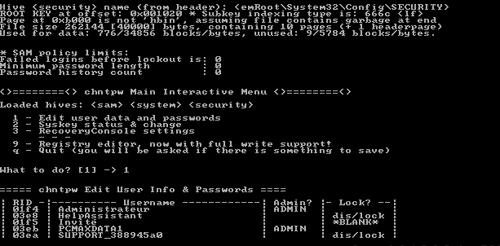 Pros:
ONTP and RE is a very fast password cracking software
There is no need of the previous password
This password recovery tool is totally free
It supports Windows 7,8,10, Windows Vista, XP
The size of this software is too small as compared to other software tools
Cons:
This software is totally text based like a command prompt
Difficult in use for new users
Conclusion:
These are the best free and paid tool and all are really helpful to all users. i have tested these tools on my computer,they all work ,Especially iSeePassword , With the help of iSeePassword you can easily reset your Windows password only in few minutes,and it's more comprehensive than the other two tools .