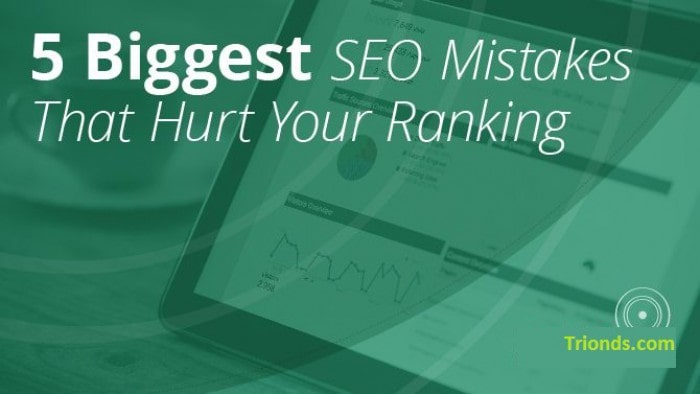 There's no doubt about it, SEO is a bit of a minefield, and a difficult strategy to get right. There's lots of information available regarding how best to implement SEO, however, there are some common and key SEO mistakes that many websites and businesses make that we wanted to make you aware of. Google's Search Engine Results Page (SERP) SEO ranking factors are ever evolving and changing, so it's important to stay on top of the latest changes in order to ensure that your website is not adversely affected. Notably, some SEO mistakes are hard to dodge, because the competition is high, and it's not always that easy to verify whether your SEO strategy is working or not.
Stuffing your website with Keywords
It can be quite tempting to spam your website content with all of your keywords, after all, the more keywords present, the more likely you'll show up on a search engine result, right? Wrong! Keyword stuffing can actually be very harmful to your SEO, and Google will penalise you if you don't create the right balance. Ensuring that your keywords are relevant and appropriate for your website is great, but going overboard will flag your website as spam to most search engines. Your content should be engaging, and an easy read for your users; no one wants to visit a website that's frankly unreadable because there's a keyword stuffed into every single sentence.
There are lots of tools available on the internet to analyse your website's keywords, that can provide a tailor-made report guiding you as to how and where to use your keywords. It can also flag up any mistakes you're currently making. Google AdWords Keyword Planner will provide you with tips and information in order to build your SEO campaign, outlining trends, and content you might be missing out on.
Avoiding quality link building
Some people may consider their website content to be of the highest quality, that it doesn't require any form of link building in order to generate traffic. Unfortunately, no matter how good your content is, you do require a certain amount of link building; if you don't implement a strategy, up to 90% of your content could be left untouched and unread, making it completely null and void. So, don't let your efforts go to waste!
Link building is all about quality, not quantity; if you're going to link to outside sources (which you should), then these sources should be considered highly-ranked. Looking at the results of the 2016 State of Link Building Survey, 90% of participants recorded that guest posting on relevant and high-quality websites formed the most popular link building tactic. However, if you're going to use this method, your links must be relevant, for example, if your anchor text displays 'Graphic Design', and a user clicks on your link which directs them to a food website, that's both useless and misguiding to the reader. This in-turn will lose your readers trust, and they certainly won't be returning or recommending your content to anyone else.
Lacking a mobile responsive website design
Unfortunately, this is such a common mistake people make, yet it's so easily rectified. Statista's 2017 mobile internet results showed that 90% of Japan's population who access the internet, did so from their mobile phone. 87% of the population in the United Kingdom, and 73% in the United States. Literally millions of people are accessing the internet from their mobile phones and smart devices, including those who will visit your website. If your website is not mobile responsive, or optimized for mobile, then these potential visitors are going to abandon your website faster than you can say 1, 2, 3. Google's ranking factors will also penalize you for not having a mobile ready website, causing your ranking score to drop rapidly.
You may be surprised to learn that most web hosting companies now include 1-click installs within their plans, making it easier than ever to host your website, and create it on a user-friendly CMS platform like WordPress. Finding the perfect web host doesn't have to be hard, and once you do find one, the majority of free themes and templates offered by website builders are mobile responsive and optimised, meaning that you can create a stunning website, that looks great on desktop and mobile devices. Once you've created your mobile-friendly website, you can double check it's page speed score using Google's PageSpeed Insights to learn how to further improve your users' mobile experience.
Missing Meta Tags and Meta Descriptions
Another easy mistake to make, but forgetting to including your website's meta tags and meta description can be extremely detrimental to your SEO. Meta tags aren't seen by your users, but they are certainly seen by search engines, and if you don't include them, your website isn't going to be found. Again, if you're not sure how to correctly implement your website's meta tags, there are a variety of tools available to help you; 5 minutes of your time could be the deciding factor as to whether your website's SEO is going to springboard into 2018, or drop off the search engine map.
The same applies to meta descriptions; this is the information you see when performing a search, which provide a brief summary of your website, and could be the content that invites or deters users to/from your website:

If you don't include a meta description, Google will penalise you, your website will likely not appear on the search engine's results page, and if a user does come across it, they'll know nothing about it, so why would they want to visit your website? A simple mistake that could cost you your entire SEO strategy.
Copying Content
Going back to quality content, the content on your website must be your own. Long ago, SEO wasn't affected by copying and pasting other people's content, but search engine ranking factors will now heavily discipline you for doing so. Understandably it can be difficult to create unique quality content on a consistent basis, but it has to be done. Even if you're simply updating existing content, this will have a much better result compared to copying someone else's.
Tools, such as, Copyscape are a great way to double check that the content you're posting and writing isn't posted elsewhere, and isn't a duplicate of someone else's work. Producing meaningful and relevant content is the way forward, whether it's text, video, or infographics, putting in the effort yourself, and thinking outside the box, is a key to your website's SEO success.