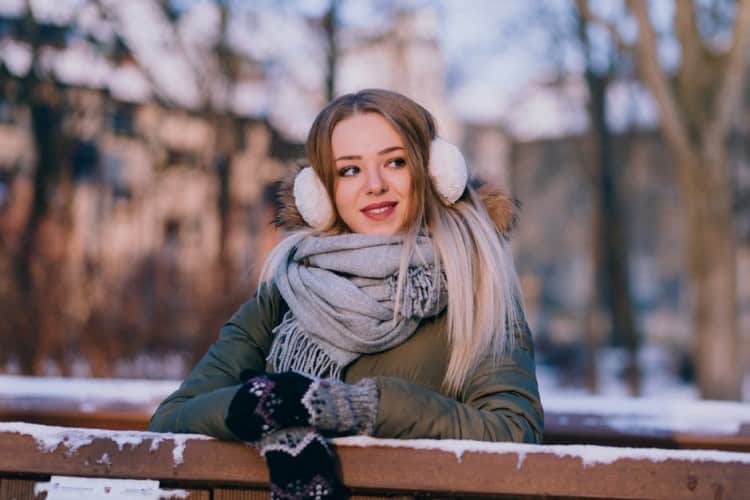 Winter is all about looking your best and taking your winter clothes out of your closet. You can try several outfits this winter to make this season exciting. This winter is all about experimenting different pieces of clothing together. It is not only about looking good, but also being creative with the way you dress. Here are five exciting ways to dress up this winter consisting for five different looks that you can try. We assure you that your dressing game will increase, because all outfits are just too good.
Just the right kind of formal 
Sweaters are your best friends during winters, since they keep you warm like nothing else. A nice bright colored sweater will add all the color that is necessary for winters. Take a loose turtleneck sweater or any oversized sweater that is bright in color. Pair it up with straight blue denim jeans. Wear your favorite locket that represents your personality fully and adds value to your outfit instead of making it look bulky. For shoes, you can wear leather boots that are not too long, as you do not want your shoes to take away all the attention. There is a wide variety of winter boots for women. To add a chic touch to this, just wear a plain classic watch and you are ready for any casual outing. This works best for a casual lunch with friends, or a professional meeting. 
They call me a party animal
This style makes you look wild and daring. If you want to go for a party then this look is your friend, because it sets you apart from everyone. A leopard faux fur over black tights is all that you want with black high heel boots. For hairstyle, give your hair warm effortless curls. Make sure your lipstick is red, because red lipstick looks even better in winters. Go for daring shades and some statement jewelry. It is important to use faux fur, because in this time and age, we need to pay attention to these issues and look for alternative. Having said that, there are other reasons as well, for why faux fur is a more appropriate choice.
I feel sun kissed in this chilly winter
Who said tank tops are only for summer? You can rock sexy tank tops for women any given day. This look comprises a lot of mix and match, which will add value overall. Wear a pastel colored undershirt and then take a bright colored tank top with strings. With this look, your body will get the shape and your outfit will even emphasize the curves. For lowers, wear bell-bottom jeans that give your legs a nice cut. You can wear any type of closed shoes with this, since bell-bottoms will cover your feet anyway. This look is perfect for an outing during the day and it is fresh and uses colors that look better during the day.
I am ready to go everywhere
This fourth outfit is for days when it is so cold that you are afraid to get out of bed. Take some striped pants of any color. Make sure they have a nice fitting, meaning they do not look too loose or tight on your body. Wear a white crop-top turtleneck sweater over it and then wear a mustard colored cardigan over it to complete the look. Mustard makes you look chic and is definitely the color for these winters. Take a nice small black bag with it and wear a black cap and you have succeeded in creating an amazing look. Amongst the entire look, this look is our favorite because it makes me feel less cold and it is appropriate for all kinds of places. It is casual, chic, and formal as it should be, but more than anything, it is fun.
Denim is always going to be my bestfriend
Last but not the least, this is another look that is so chic but different. To bring diversity in your outfits, you should have a beige or peach colored skirt that can be of full length or just a bit longer than your knees. If it is too short, then you can wear skin colored socks with it. Wear a cool sexy tank top and wear a classic denim jacket over it. Whatever happens, denim jackets will never go out of fashion, because they are so stylish that they always blend in very well. Wear a bright muffler and drape it around your neck to bring that pop of color in your outfit. Heels of the same color as muffler would multiply the value of your outfit and you will realize how beautiful it looks overall. Make sure your inspiration is Gigi Hadid.
Conclusion:
With these five different outfit ideas, you can experiment even more, by adding your own personal touch to it. This was more for giving you an idea of what kind of pieces work well together, and what is in fashion these days. Once you have built that understanding, and know what makes you feel comfortable, then there is little help that you need from our side. It is important to remember that individual items look different when they are worn with a bunch of other things. Happy warm and cozy winters, and hope you do not spill any coffee on your clothes.