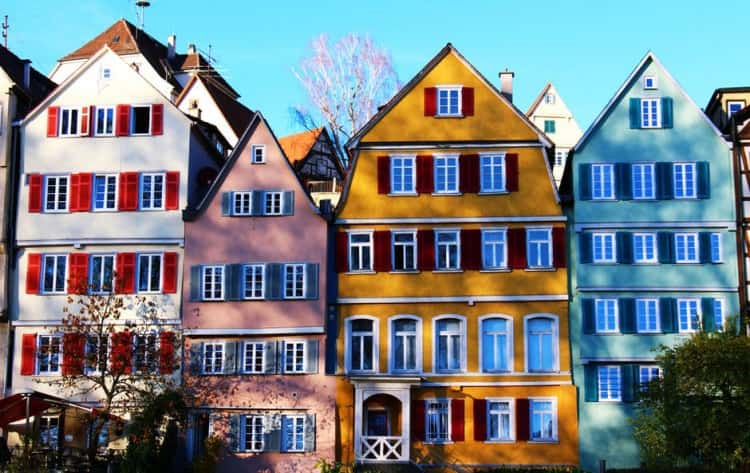 We all want a little splash of colour in our lives. Colour helps to set the mood and tone of a room, as some colours are vivacious and lively, whereas some as much more relaxing and calming. Whether you want bright bursts of colour here and there or want to pack a more colourful punch, here are some unexpected and creative ways to add some more colour into your home.
Paint Your Front Door
Having a colourful front door gives you the opportunity to create an impression and wow your visitors before they have even been welcomed into your home. Nothing is as inviting as a warm welcome, and your door is the portal into your home. It should be reflective and inviting and mirror the feel of your home. An appealing front door suggests to visitors that a home is well kept and styled.
A dark front door, such as navy or black indicates you have a sophisticated style. A yellow or red door suggests that you're bold and love bright colours and dusky pastels, such as pink or blue could indicate that you love surprises. Painting your front door is an easy way to add a bold splash of colour to your home.
Add Colourful Appliances To Your Kitchen
This trend, like many others, started in European kitchens. When it comes to interior design, European trends are more daring and adventurous compared to others. Colourful and bright appliances are not only all the rage but are becoming much more commonplace around many home kitchens. Blue, orange and reds not only add a bold pop of colour to your kitchen space, but add character, dimension and energy.
Use Natural Additions
Perhaps one of the easiest and most adaptable ways to add colour to your home, adding small and natural additions is one of the best ways to transform a room. Whether you choose an ornate floral arrangement or a collection of potted plants around a room, natural additions can instantly revamp a room.
You don't need to stop at the inside of your home, either. Your garden is an extension of your home decor so you should put as much consideration into that as you do the rooms in your house. The addition of luxury garden furniture and bright and colourful plants will completely overhaul a tired garden space and make you want to spend time in it when the weather allows.
Upcycle Tired Furniture
If you're renting or just prefer to have neutral colours on your walls, then you may find that you long for small but statement packed touches of colour. You don't want to be having to buy new accessories for your home every time you change your mind on decor when the furniture you already have is perfect.
When it comes to tired or old furniture, there are easy ways that you can completely transform these pieces. For bookshelves, simply painting the inside of the shelves will make a huge impact with minimal time and effort needed. A fresh coat of paint and some ornate door handles will update any cupboard or set of drawers and an old shelf painted in a pastel colour becomes a beautiful place to sit some potted flowers and plants.
Accessorise When You Can
You can instantly add colours and tones to a room by changing or layering different accessories together. Change throw blankets and cushions to those of a different colour or hue from time to time to keep things feeling fresh. This quick and inexpensive update can dramatically alter the mood and ambience of a room.
You could change your accessories to suit the change in seasons, for example, adding chunky blankets and festive scented candles in the winter and light throws and vases of fresh flowers in the spring. Be sure that whatever accessories you buy suit the colours and tone of your room.