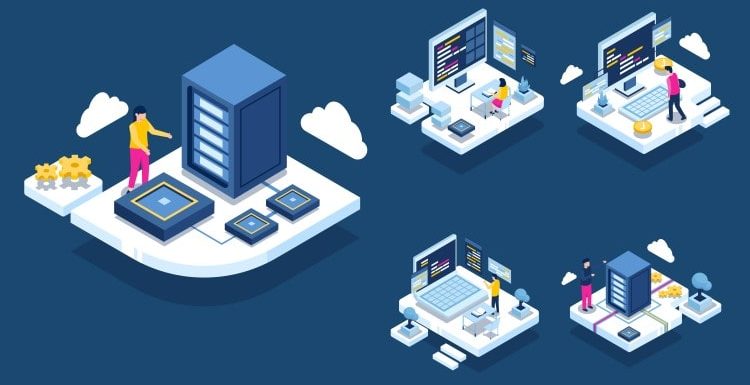 A business needs to keep itself up to date with the technological changes taking place in the macro environment. Surely, traditional IT infrastructure can help you keep your business activities up to date. However, if you switch to using Cloud in your business, you can see a massive improvement.
Cloud has several benefits. It allows you to conduct your business operations remotely. If you are looking to make your business more competitive, it is an ideal solution. But before you switch to Cloud, you must know how to choose the best Cloud service provider.
So, let's explore the top 7 benefits of migrating to the Cloud.
Scalability
Scalability is an important benefit of using the Cloud. You can easily scale your business's infrastructure by using Cloud. It allows you to add or reduce resources as the situation demands.
A business that uses Cloud can easily expand or contract its operations. Besides, it eliminates the hefty expenditure that it might have to make on getting hardware and software. For instance, if you own a website business and see a sudden hike in the number of visitors, you can easily scale up the resources to add extra users.
It is possible because you can access Cloud services on a pay-per-use model. So, businesses need to pay only for resources that they use. Undoubtedly, scalability makes Cloud a very feasible option for such businesses.
Cost Savings
Traditional IT infrastructure can leave you drowning in hefty expenditures. After all, you need to maintain different systems to keep a record of everything. However, Cloud offers the perfect solution for this problem. It acts as an ultimate cost-saver for the business.
As long as you have enough storage, you can store abundant information on your Cloud. Also, this information is highly accessible from anywhere and at any time. Besides, you don't have to worry about spending or investing in any additional software or hardware. Thus, your business expenses can come down significantly.
Increased Flexibility
Gone are the days when your employees had to rush to the office to get information on something important. Traditional IT systems were not flexible enough. However, Cloud services have made working more flexible for employees.
Your employee can access any business-related information from any corner of the world. So, there is no question of any hindrance in getting things done on time. As long as you give the employees access to the Cloud, they can stay updated with every piece of information stored there. Also, it is easily accessible on several devices.
Disaster Recovery
Gone are the days when you used to store all the data in traditional IT infrastructure due to technological constraints. Now the times have changed and this is your sign to switch to Cloud-based services.
Cloud keeps all your data safe and secure. You can find everything in one place, ranging from your payments to employee records and much more. It is a storehouse of all your business information that is accessible anytime.
A business can opt for Cloud's disaster recovery services to recover the data anytime things go downhill. You can subscribe to these services and start using them immediately.
Improved Collaboration
With the traditional IT infrastructure, it was so difficult to help teams collaborate. However, if you switch to Cloud-based services, you can make your employees and teams collaborate effectively and efficiently.
There are various collaboration tools available in Cloud. For instance, you can opt for file sharing, document collaboration, or even video conferencing. Another great thing about using Cloud in your business is that you can also indulge in real-time messaging.
You can share ideas, thoughts, etc., with your team or employees instantly. So, it allows you to have perfect brainstorming sessions.
With Cloud, you can even collaborate with your suppliers and customers easily. It allows you to operate systems such as CRMs, etc. So, you can have more streamlined business operations and better workflow management.
Better Security
The cloud offers you the added benefit of better security. Traditional IT systems are always prone to various malicious activities or hacking. But Cloud solves that trouble for business owners. It has robust security features that businesses can use to keep their data safe.
You can opt for encryption, access controls, etc., to make your business data more secure. In addition, it allows you to use the identity and access management feature in which you can authorize people to access the Cloud services. So, the chances of someone spying on your data are very low.
Access To Advanced Technologies
As soon as you switch to the Cloud, your business becomes more advanced. Cloud constantly works on evolving itself and introduces many new features that make operating your business efficient.
The Cloud allows you to access several advanced technologies. For instance, you can access AI, machine learning, big data analytics, and the Internet of Things. So, your business can gain more insight into how to streamline routine activities. It helps you stay competitive in the long run.
If you use Cloud-based services in your business, you can switch and adapt to the changing business scenarios. It makes you more dynamic in the changing world.
Conclusion
So, if you have been stuck on traditional IT systems, it is time to switch to Cloud-based services. Incorporating the Cloud into your business will only make your business operations smoother. As technological changes take place, any business needs to adapt to such changes to stay competitive.
Using Cloud in your business will allow you to be more flexible with your business. It will reduce the efforts involved in everyday business tasks. So, you can save such efforts and use them in expanding your business.
Author Bio:
Kavya Deshmukh works as a Sales & Marketing Manager for Mark IT Solution Ltd – Certified Sales and Services Partner of Tally Solutions Pvt Ltd. Her core interests lie in sales & digital marketing strategy. Apart from being passionate about her work, she adores the idea of bringing people together by creating meaningful content for brands who want to grow.