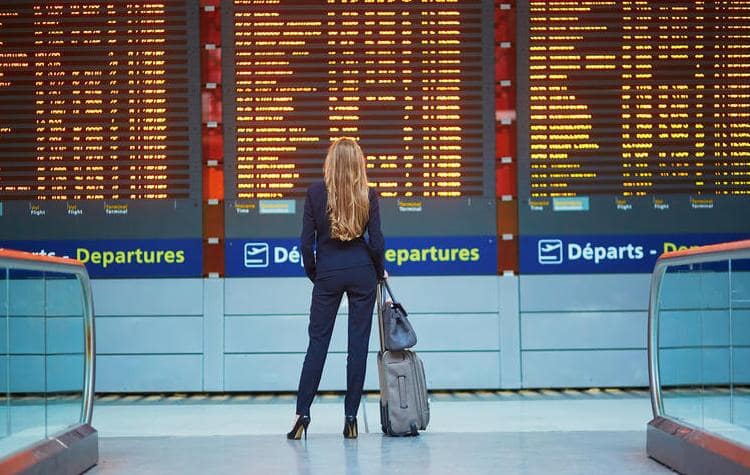 As most experienced business traveller knows, it's only a matter of time before inconveniences such as delayed flight, lost baggage, and poor hotel service take place. Bit by bit, these annoyances can lead to stress build-up, which in turn affects your level of productivity and make you feel sluggish all throughout the trip.
Fortunately, there are some excellent ways to ease tension and restore calmness and vitality when travelling for work. Beyond just taking a deep breath and trying as hard as you can to "relax", here are eight effective tips to reduce the stress of business travel.
Pack Smart
Packing is one of the most tedious parts of travelling, but also among the most crucial aspects to ensuring a stress-free journey. Even forgetting to bring your laptop charger or an important hard drive can leave you helpless and unproductive during your trip.
To make sure that you bring everything you need, work with your travel partners, or consult your travel managerin advance and keep a list of necessary items as the countdown to your trip starts.
Arrive at the Airport Early
The long lines and tedious screening process can leave you totally frazzled even before your trip starts. The best way to avoid such sources of stress is to arrive at the airport with plenty of time to spare.
Check in with your airport website to know the estimated screening wait times, and make sure to get there at least an hour before your flight is scheduled to leave to prepare for a less stressful trip.
By doing so, you will have more extra time for yourself, whether that's noshing or web surfing while having a cup of tea in the lounge.
Install Useful Mobile Apps
Your Internet-connected smartphone can do wonders in simplifying virtually every aspect of your business trip. With different mobile apps, you can book your flight and hotel, schedule an appointment, make dinner reservations, and locate a nearby gym or recreational facility, and more.
Useful business travel apps can also help you manage essential travel documents such as boarding passes, Visa, passport, etc. There are also several mobile apps where you can book a chauffeured car service, with guaranteed pick up times and full price transparency, so make sure you have them installed in your smartphone.
Choose the Right Accommodation
The hotel or lodge you choose to stay and the area which it's located can heavily influence your stress level throughout the trip. When travelling solely for business, make sure to choose a hotel that is near to your appointment place. This way, your chances of being stuck in stress-inducing traffic is much lesser, and you're likely to get to your appointment in a timelymanner.
Choose Your Ground Transportation Carefully
You need to evaluate your ground transportation choices and choose one that offers the maximum safety, comfort, and productivity. While taking public transport or ride-hailing services seems more practical, you should consider if these modes of transport will compromise your safety and punctuality, given your lack of first-hand knowledge about the traffic condition in the city you intend to travel to.
Renting a car, on the other hand, will provide you with better flexibility with regards to the places you can visit, but that still depends on many factors, such as your driving skills and proper documentation, and know-how about the local routes.
Along these lines, hiring a chauffeur driven car is becoming a significant trend among business travellers these days not only because of the comfort and ease of booking it provides but also most chauffeur companies provide more security and reliability which are extremely critical to ensure the Duty of Care obligations of travellers' employers.
Keep a Healthy Diet
The right diet can help significantly in taming stress by bolstering your immune system and lowering blood pressure. You can make your body produce more serotonin aka feel-good chemical by including foods such as whole-grain bread, fruits such as oranges and bananas, spinach, fatty fish, and black tea in your daily diet. Light carbohydrate meal at bedtime can also speed the release of the serotonin and help you achieve better sleep quality.
Keep Your Health In Check
Business travelling can put a dent in your health routine, which in turn can make you more prone to stress and sickness. To avoid this scenario, make sure to get plenty of rest, drink lots of water, and keep your hygiene up.
And if possible, schedule a light workout in the morning and before you go to bed to get your blood flowing and lower your stress level.
Stress is an inevitable part of travelling. However, these actionable tips will go a long way in helping you manage it, and you should notice benefits in your productivity as well your overall well-being and comfort during your business trips.