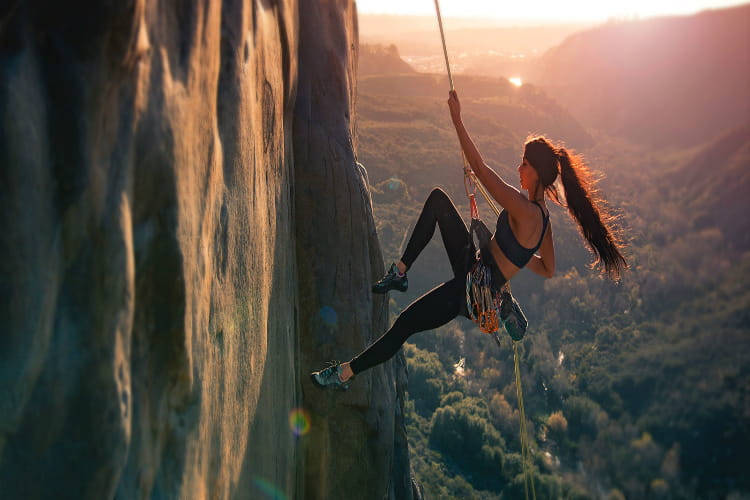 Switzerland is a place well known for its towering peaks and glistering glaciers. So, it is no surprise that it houses numerous breathtaking spots for climbers. The Swizz Alps are the largest climbing spots in Switzerland. Many people from all around the world visit Switzerland for experiencing the fun and adventure activities this place has to offer. One of the most famous activities among them is rock climbing. However, if you are a beginner, you need guidance for rock climbing in the towering mountains.
Rock climbing tips for beginners
Do some stretching and warm-up
A beginner usually thinks that climbing is an easy task. However, it takes a lot of efforts and strength to climb a mountain. It is equivalent to heavy workout sessions. Like any other physical activity, you must do a little warm-up and stretch your muscles before climbing. Stretching will improve the flexibility and circulation in ligaments, joints, and muscles. It also helps in warming up your body slowly.
Either you are a rookie or an expert, you must plan your whole route before starting climbing. It is rather important to plan your route. You can visualize the route in your mind before starting to climb.
Planning before climbing helps you to climb easier, safer and longer.
Both over and under-gripping is dangerous. Under-gripping can be a cause of fall and over-gripping might wear out your forearms which create a hindrance in your climbing. Rather than pulling yourself in the upward direction try to balance with large holds. Larger holds allow you to make balance while climbing.
The great technique works more than body strength. Don't do the hard work focus on smart work. Use your legs to move forward rather than pulling yourself upward using arm strength. Try to grips the holds loosely by moving forward using your legs.
Watch, practice and learn
If you are a beginner, you need proper practice and training before climbing. You can join a rock climbing course or can watch, practice and learn through someone else technique. Focus on making your techniques and style. You need to develop muscle memory before attempting for a real rock climbing adventure.
You must wear proper gear
Appropriate gear is a must to climb in the Swizz Alps. Your protection should be your first priority. You can't stake your security in the name of adventure. You must invest in fine quality shoes for rock climbing if you are an expert. Wearing the right gear is the right step to your safety.
Keep your body close to the wall
You must keep your body close to the climbing wall to maintain the balance while climbing. Your center of gravity remains maintained when you keep your body closer to the wall. Leaning Away from the wall will waste unnecessary arm strength.
Prepare indoor before going outdoor
There is much indoor rock climbing gym, a beginner should build up and learn rock climbing skills before going for such adventure activities. You will get a very different atmosphere when you climb in outdoor. However, practicing in an indoor gym will help you find your techniques. Prepare your body for an outdoor climb and practice in indoor like you are climbing outdoors.
Essentials to pack
You need to be fully equipment with the essential gears while going a trip for rock climbing in Switzerland. You must pack:
– Mosquito repellent
– Climbing shoes
– Food
– First Aid Kit
– Sunscreen lotion
– Climbing gear like outfit, belt, clips, and etc
– Water
These are list of basic things that you will require during rock climbing tour. You may need some additional gear like ropes, that will be available at the climbing spot. If you are going with a guiding company you don't have to worry about the right gear they will provide you.
Places for rock climbing in Switzerland
There are bountiful of fun and adventurous climbing places in Switzerland. Swizz Alps are one of the top places in the bucket list of many adventure seeker. This is a place that has something for every kind of traveler. Below-mentioned is some rock climbing places in Switzerland:
Magic wood tops the list when it comes to rock climbing in Switzerland near Zurich. It is a beautiful spot for climbing especially when the weather is too hot. It is one of the best forest mountain climbs that take up to a few hours to climb. You can fly to Zurich than take public transport to reach magic wood.
Brione is a great place for adventure-seeking eyes. It is an amazing place for climbing offering you various other fun activities after you are done with climbing. You can reach Brione by reaching Zurich first, it the easiest and convenient way to reach your destination.
The Gotthard pass connects the northern part and southern part of Switzerland. This has a number of boulders and spectacular and picturesque views. This place tops the bucket list of many adventure enthusiasts.
In final words
Now that you know all about rock climbing in Switzerland, you can fly to Switzerland for your next adventure activity. You can even seek guidance from touring companies if you are completely new to this place. You can even enroll for beginner climbing courses, if you are a rookie climber.