Have you ever heard about "Banh Mi" and "Pho"? If yes, you may know a little bit about Vietnam – the motherland of these famous worldwide dishes. We are lucky to have a trip to this peaceful country with an unique and amazing cuisine. The Vietnam culinary tour lasted for 7 days, visiting several cities and provinces in the country. The trip is so great that I can't wait to share with you the most awesome dishes to try and essential tips to experience the beautiful culinary of this southeastern country.
What to eat in Vietnam
Pho (Noodle Soup)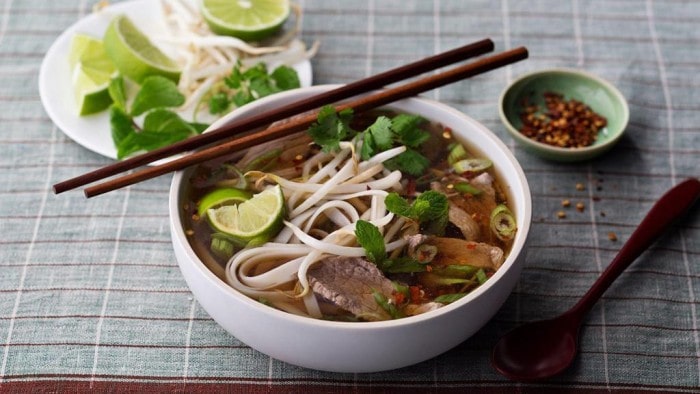 "Pho", of course, should be on our top list. It receives so much love from both locals and foreigners. From very early hours, "pho" stalls are open along the sidewalks of Hanoi. Inside the bowl, there are "bun" (pronounced boon) or rice noodles and some slices of meat and a handful of herbs at the top. The sellers pour the broth with an excellent taste over.
There are numerous types of Vietnamese noodles different in shape, size, and the ingredients. Some restaurants use rice vermicelli, egg noodles, or glass noodles but the best version is with flat "banh pho". Besides, it can be served with beef, pork, or chicken. We highly recommend trying beef noodle soup to enjoy the perfect combination of the meat and deep flavor of the broth made from beef bones. With a history of more than 200 years, this is still a wonderful classic noodle dish that you should not miss when visiting Vietnam.
Where to try: Pho Thin – 13 Lo Duc street, Hai Ba Trung district, Hanoi
Banh Mi (Vietnamese sandwich)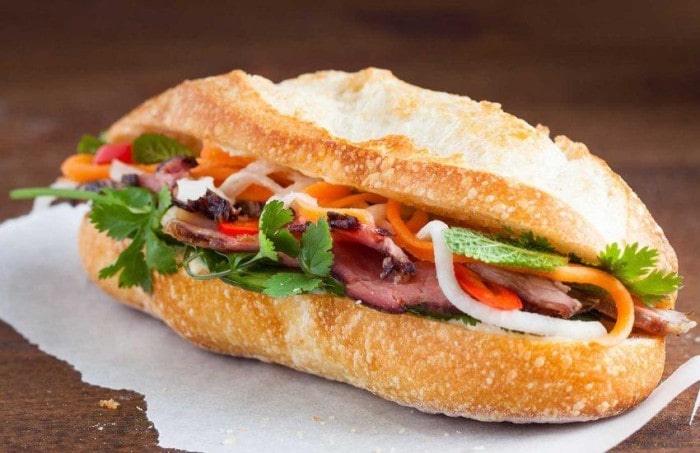 I can say that Banh Mi is the best Vietnam sandwich to fall in love with. Consistently ranking as one of the best sandwiches in the world, this is surely a worth-trying dish in Vietnam. It is a kind of a crunchy and airy French-style baguette that is stuffed with a varying combination of traditional meats, vegetables and herbs, and incredible sauces. The meats normally include pork, cured ham, and pate. Additional ingredients are cucumber, carrot, radish, or slices, depending on the province you are in.
The Banh Mi originated from the French influence on Indochina during the 1950s. It has gained popularity around the world after the Vietnam War. There are different versions of Vietnamese sandwiches but it is better to try the one in Hoi An where Anthony Bordain recommended and called it as "a symphony in a sandwich".
Where to try: Banh Mi Phuong – 2B Phan Chu Trinh street, Cam Chau ward, Hoi An town, Quang Nam province.
Bun Cha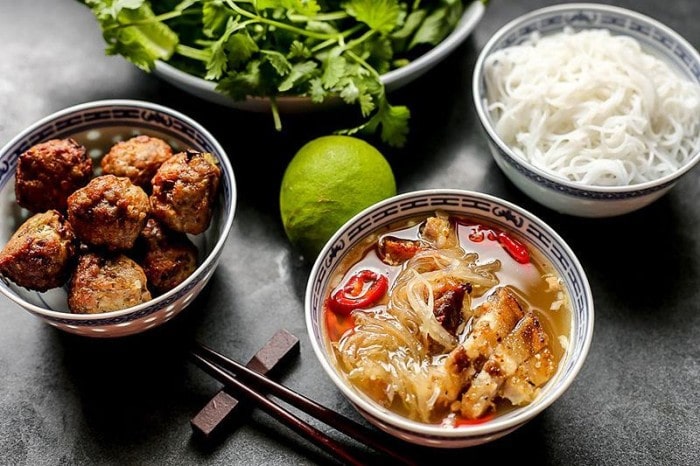 Among the dishes we have tried in Hanoi, Bun Cha (vermicelli with grilled pork and fresh herbs) is a delightful dish with a seductive taste and aroma. Visiting Hanoi city in the summer, there is nothing better than ordering savoring Bun Cha in a small food stall and surrounded by the intriguing scent of grilled pork.
The dish is a really healthy and harmonious combination of grilled pork, rice vermicelli, and fresh herbs like lettuce, perilla, coriander, and basil, etc. There are both thinly-sliced belly pork and minced pork patties in the bowl of a special sauce. Dipping soft noodles in this sauce will awaken all your senses. Though this dish is not as famous as Banh Mi or Pho, this is also a wonderful dish to try in Vietnam. I even heard that President Barack Obama used to use Bun Cha for his dinner in his visit to Hanoi.
Where to try: Bun Cha Huong Lien – 24 Le Van Huu street, Hai Ba Trung district, Hanoi.
Banh Xeo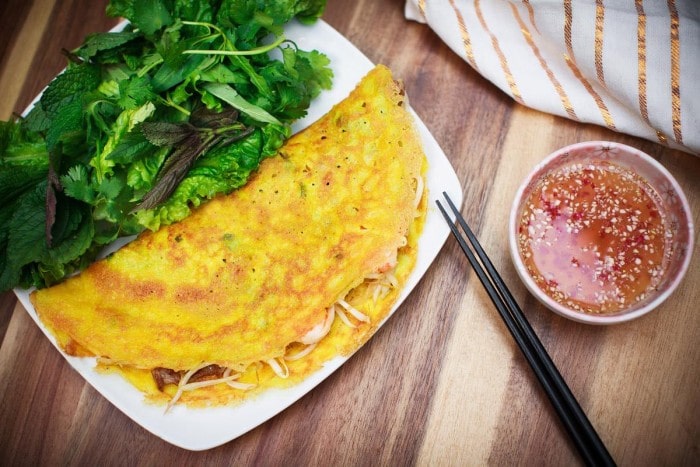 Banh Xeo is a famous street food which originated from central Vietnam. It is also known as crispy Vietnamese pancake. This pancake looks beautiful with a yellow outer layer packed with shrimps, pork, bean sprouts, and spring onions. It is a brand new eating experience to eat Banh Xeo. You have to take a piece of it and put on the rice paper. Then, you can add your favorite vegetables and roll them tightly. Finally, don't forget to dip it in the sweet and sour sauce. It will make you fall in love from the very first bite by the savory fillings, crunchy crust, and an impressive taste. Each region has different ways of making this dish. But, maybe this difference brings an irresistible attraction to not only Vietnamese people but also many foreigners.
Where to try: Banh Xeo Ba Duong – K280/23 Hoang Dieu street, Hai Chau district, Danang city.
Activities to experience Vietnam cuisine
Joining a cooking class
For those who really love Vietnamese cuisine, you should not miss a cooking class in this country. By this way, you will have a chance to learn about some special cooking techniques and differentiate several kinds of ingredients as well as cook a Vietnamese meal on your own. In some centers, they also offer a visit to nearby local markets so you can explore the vegetables and ingredients and buy necessary stuff for your upcoming culinary conquest. The skillful chefs will guide you during the class and give you some tips to create the best dishes. After that, meals will be served and you can enjoy your own handmade dishes. There are many cooking classes to register in cities like Hanoi, Ho Chi Minh city, Hoi An, and Hue. Just searching a little bit online, you will find a lot of interesting classes. Normally, a cooking class just takes around half a day, so there is no reason to miss this wonderful opportunity.
Taking part in a food tour
We definitely don't know the best places for delicious dishes as well as local people. Therefore, taking part in a food tour will be a wise decision. You don't need any local friends to take you to the off the beaten path places, you still can hang out, eat, drink, and make some noise. The tour guide will introduce the tasty local specialty and plenty of local street food which are sometimes hidden in a valley. Some Vietnamese food tours usually combine other exciting activities so the tour is not just eating around. For example, a food tour in Hanoi may include visiting some places in the Old Quarter Area and one in Hoi An may have floating colorful lanterns at night on the romantic river in the itinerary. These kinds of tours will help you save a lot of time but still can enjoy finest Vietnamese local dishes.
Tips on visiting Vietnam
If you are a first-time visitor, don't miss these following tips to get a nice trip in Vietnam.
Prepare Vietnamese dong (the currency of Vietnam). USD is commonly used for booking tours or hotels but Dong is more preferred and cheaper to use in restaurants, markets, and shops.
Bring mosquito repellents as Vietnam is a tropical country with wet weather, there are many mosquitos in the countryside and mountainous areas.
Bargaining is only good in the markets. In the restaurants, the price is usually fixed.
Tipping is not required or expected in most places in Vietnam. However, if the service is great, tipping is highly appreciated.
Above are just our food experiences and travelling tips we want to share with you. Hope that they will give you useful information when having a culinary tour in the motherland of "Banh Mi" and "Pho".
About the author:
Hi! It's Jane. I have spent more than 10 years travelling around the world. Writing about the places I've set my foot on is my major passion. By doing this, I wish to share my journey with the most useful and honest travel guides and tips to every traveller. Now, you can find my articles at Vietnamdiscovery.com!