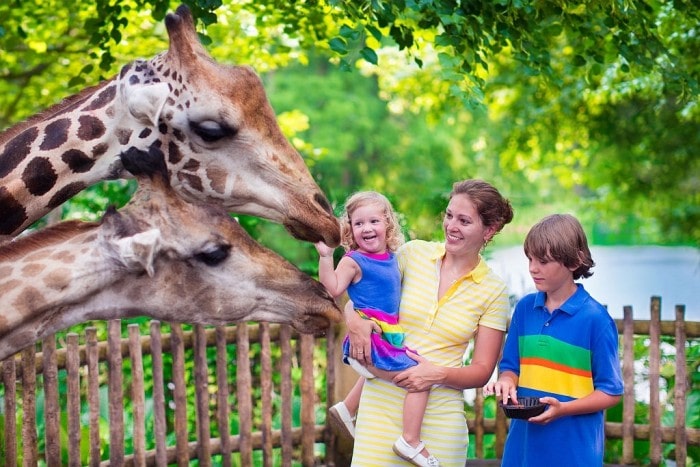 Besides leisure travelers and couples, Singapore is an ideal destination for families with kids. There are plenty of kids-friendly places in Asia,but Singapore will always hold a special spot on the list. Whether it's the indoor playgrounds, adventurous theme park rides, or educative city tours, there's simply no paucity of kids-friendly attractions in Singapore.
Places to visit in Singapore with kids
If you are traveling to Singapore with kids, here are a few adventures in Singapore you must not miss out at all cost:
1. Singapore Zoo
An encounter with wildlife is a staple for kids, especially when they are learning about the animal kingdom in school. What could be a better place than the Singapore Zoo to give them this delight? It's not like any other zoo where you witness them in a plastic environment. Singapore Zoo harbors a number of activities that can make your kids' day.
What to do:
Attend the animal token feeding sessions to know about animals and their habitats in detail. Purchase some food at the store for a fee and feed the animals, especially the giraffes.
Head towards the exhibits from Asian small-clawed Otters to see the white tiger and Asiatic elephants in their habitats.
Go to Orangutan Island to see these lovely creatures frolicking freely.
Go for the Night Safari to see nocturnal animals roaming about in their natural habitats.
How much: Adult Ticket S$33 and child Ticket S$22.  Night Safari: S$68 for kids and S$88 for adults.
When: The zoo opens at 8.30 every day.
Where:80 Mandai Lake Road.
3. Universal Studios Singapore
Universal Studios Singapore is a must-visit for kids if they are Hollywood sci-fi fans. Established in 2010, this world-class setting has seven themed sections that house plenty of rides and shows. Your kids can witness all the major chartbusters here and click pictures with stars such as Marilyn Monroe and Charlie Chaplin.
What to do:
Hop on the tallest intertwining roller coaster in the world and get a thrilling ride over the Sci-fi city.
Enter The Lost World to replicas of worlds shown in Waterworld and Jurassic Park.
Stop at Madagascar to witness the movie's characters along with some exciting boat rides.
Shop for t-shirts, toys, and local souvenirs at the shopping center here.
How much: One-day ticket for adults: S$76.00 and for children: S$56.00
When: Between 10 am and 8 pm.
Where: 8 Sentosa Gateway, Sentosa Island.
3. Adventure Cove Waterpark
While looking for places to visit in Singapore with kids, you are less likely to miss this gem of adventures. If your kid is looking for some water adventure, the Adventure Cove Waterpark is where you should head. A splashing good time is surely in store for everyone in your family here.
What to do:
Get on the thrilling slides and get a close look of the diverse marine life here.
Go on a snorkeling trip to see over 20,000 tropical fishes over a colorful reef.
Attend fun games and activities like jumping on floats and lip-sync battling on water. Your kids will be delighted.
How much: One-day ticket for adults is S$38 and for children it's S$30. The Adventure Express fee starts at S$15.
When: 10 am to 6 pm.
Where: Resorts World Sentosa, 8 Sentosa Gateway, Sentosa Island.
4. Admiralty Park
Indoor playground ideas in Singaporecan be plethoric. But you shouldn't miss out Admiralty Park. The park has the widest and longest slide that can be a part of a public urban park. The inclusive playground provides an ideal setting for your kids to enjoy and socialize.
What to do:
Check out the games at the park's three playing areas, namely Adventure Play, Junior Play and Family Terracing Play.
Let your kids get the thrill of their lives with the Double Barrel Slides in the family play area.
Go on nature walks, observing monkeys and dragonflies along the trail.
Head to East Coast Park to find an assemblage of eateries, pubs, restaurants and the hawker center.
How much: Entry to the park is free.
When: 7 am to 7 pm.
Where: 31 Riverside Road
5. KidZania Singapore
The list of kids-friendly attractions in Singapore would be incomplete without mentioning this amazing edutainment center. This is a place where kids dreaming of a vocation work can experience it in real. Or at least, they can pretend to be in one. From a policeman to a firefighter, an actor to a pilot, your kids can slip into multiple roles here.
What to do:
See the full-blown flying simulators at the Aviation Academy and give your kid the joy of flying a plane.
Head to the Fire Station to educate your kids about fire safety and prevention in a fun and interactive way.
Put the apron of a professional ice-cream maker at the Ice Cream Factory and let them take home their own creations.
How much: $25/two to three-years-old, $58/four to 17-years-old, $35/adults.
When: 10 am to 6 pm.
Where:31 Beach View Rd, 01/02 Palawan Kidz City.
The above are just a few of the many kids-friendly attractions in Singapore. Make sure you plan your trip early to get the best travel deals.