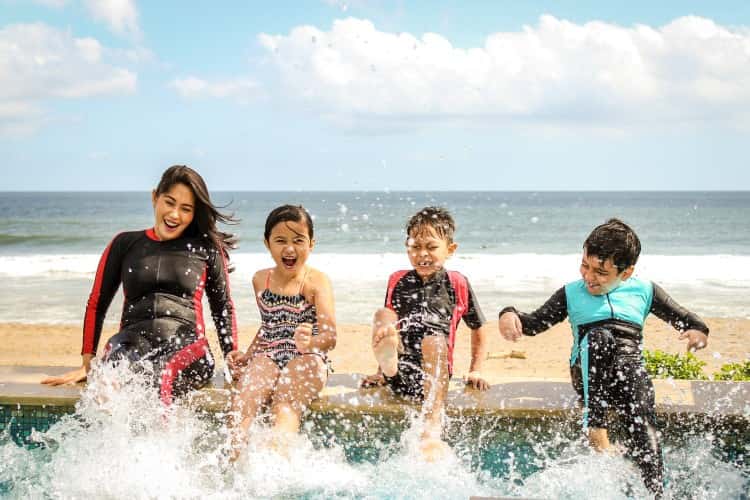 Planning a vacation with your kids is exciting and thrilling. You get the opportunity to leave work and spend some quality moments with them. These small moments last for life, and your kids will grow up cherishing them for life. If you wish to keep the interests of your kids in mind, summer seems to be the perfect time for you to plan a vacation with them. However, keep in mind summer is not the only option you have.
Where should you do for your summer vacations?
Summer is the time when children have their holidays however you can plan your vacation during winter and spring breaks if you want.  If you are looking for an affordable period to travel with your kids, you can plan your trip during those three weeks between Thanksgiving and Christmas.  However, check the academic schedule for your kids as if they are a little older, they might have their examinations during this period.  They might have other school activities like concerts at this time of the year.
Where should you travel with your kids?
Travel during the off-peak seasons
Traveling to famous destinations of the world is cheaper during off-peak seasons. If you have shortlisted a place in the northern hemisphere, you will find they are expensive during the summer so try to explore them during the winter if you are on tight budget. During this period, you can plan a trip to Europe with your kids and have a fabulous time. You can take them for short ski trips during late spring because they are not the perfect time for you to visit these places.
Planning your vacation with kids
If you wish to take your children out during the middle of their school year, you should plan in advance. You should talk to their teachers and make sure their work is completed ahead of the trip. However, do not take your child out when they need to appear for examinations.  These examinations are hard for you to reschedule and can be tough for the child after they return from the trip.
Make arrangements for the trip
It is prudent for you to make early arrangements for the trip you plan with your kids. Check the fares of flights and book them in advance. This will help you to save money and get attractive offers by airlines. Travel experts say you should plan to buy them at least 6 to 8 weeks before the trip.  If your kids are under the age of 2 years, they are allowed to fly free of cost however you need to hold and keep them on your lap during the whole flight. Before you book your flight, make sure to compare them online so that you can get the best deals and offers. Besides the above, you need to be aware of the luggage limits that airlines impose on travelers. Most airlines limit your luggage to 2 bags for check-in and a hand carry bag for one person. Take into consideration the days of the week for flying. Tuesday and Wednesday are the cheapest days for you to fly while Sunday and Friday are the most expensive days to fly.
Plan activities with your kids
You should make a list of the group activities you can do with your kids. You can take a trip and book a bike rental Central Park service to explore the place with them. This gives you the chance to bond with them and create special moments together. You can also travel to museums and galleries together. These trips are educational, and all of you can enjoy these trips. If you have really small kids, you can take them to the theme or adventure parks and have a great time with them.
Planning your accommodation
Like your air flights, you should book your accommodation in advance. You can get a wide range of vacation rentals and condos at sites like Airbnb, HomeAway, and VRBO. When are you about to book your accommodation, check whether it is in a central place or far from the city amenities? Check whether the place has a kitchen or a place for you to cook? If you do not want your children to eat outside food, you should plan for a place where you can cook meals for them.
Learn more about accommodation
Check the online reviews and customer testimonials of the hotel before you book it. Check its pictures online compare it with the other hotels that you have shortlisted for the trip. If you are traveling with other families, you should opt for a bigger space like a vacation rental.  You can also book accommodation at a resort if you really wish to chill out with your kids. A good resort will give you food and drinks. There will be many activities for you to do with your kids.  If you have small kids, take them for outdoor sightseeing in parks. They can run around and play with balls while you can sit back and relax with your spouse.
Plan other fun activities with your children
Besides bike rental Central Park trips, buy tickets in advance for theme parks, theatre parks,and sightseeing tours. Ask your kids to participate in group activities so that all of you enjoy doing them together. Spend quality time with one another and enjoy doing those things that you normally cannot do at home.
Create a budget. When you are in a foreign land, always use your card, however, do carry cash if you wish to buy things from local stores.  Take a local sim so that you can save on calls. Another advantage of local sims is that you will never face network problems.
If you have not been on a family vacation for a long time, you should take out time from your busy schedule and plan one today. Your kids will be happy, and you can get the chance to bond with them and create wonderful memories together.
Author Bio: Sujain Thomas is a leading blog writer and expert travel photographer. She has written numerous articles and blog posts on topics related to Travel, Food, Lifestyle, and Photography etc.