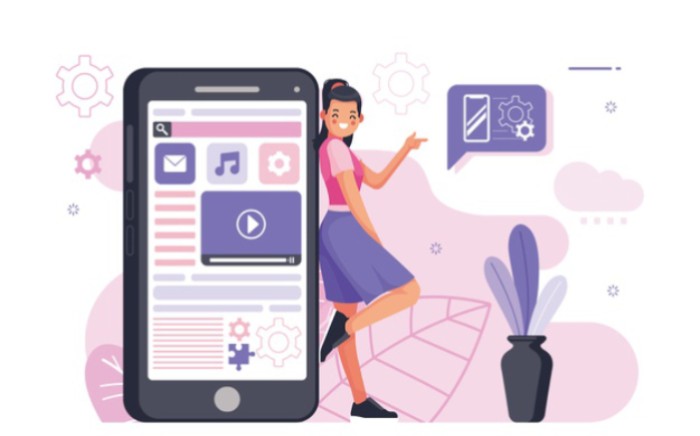 Are you planning to launch a mobile app? Confused about whether to use android or iOS platform for your mobile app? You are at the right place. This blog shows you benefits of choosing Android platform over other platforms. So, let's discuss these benefits one by one.
Number of Android app downloads is always high
According to App Annie, 90 billions of android apps were downloaded in the year 2016 while 25 billions iOS apps were downloaded in the same year. Also, android apps can run on the large variety of devices as compared to their iOS competitors. One thing is sure that paid apps have the higher tendency of generating higher profits while free apps have more reach and downloads. But Still Android has been the best platform to choose while creating a mobile app for a business.
Easy Customization
Android being an open source platform is created in such a way that it can easily deliver customizable and powerful products. The android apps can be easily integrated into the systems that are available in the market just to enhance the functionality. Moreover, android apps can be implemented as the stand alone tool for making the present processes more efficient.
Android comes with Easier Installation
It is quite simple to download an android app online. Android apps have wider availability on the internet. Not only play store, you have the complete freedom to download an android app from any other third party websites. One of the reasons behind this is that it is quite simple to host android websites on third party websites.
Android apps are Compatible with more devices
Android apps can operate smoothly on the largest part of devices available in the market. It is always seen that demand for android compatible devices is always more than the devices compatible with iOS only. So, in a way we can say it is quite easy with android to target larger number of audience. That's why as an entrepreneur you should choose android platform to create a mobile app for your business.
Creating mobile app in Android has a Lower Development cost
You need to pay 25 USD for single time to the subscription for the Google play store. But, it is expensive as much as 99USD per year to get subscription of apple play store. It clearly gives a proper indication about which would be more profitable to use in the app development. So, it is quite cheaper to go with android as compared to iOS and other similar platforms.
Launching an Android app gives High return of investment
Android software development kit is easily available on the internet.   Moreover, it is good for mobile app development companies as they dont need to purchase the software development kit for their android developers.
Furthermore, one more plus point is there. Since, android SDK is easily available, it is a green light for an android developer to build and do more experiment with the product to give the best results.
With android, deployment is quite Easy for Developers
If we look at the android app development cycle, it is small as compared to app development cycle for another operating system such as iOS. And this is again a plus point for an android developer. He/she can use this small development cycle to create android apps in the lesser time and to stay ahead in the market. In this 21st century, if you want to stay ahead or at least survive the competition, you must look at the platforms that can create apps in lesser time. And Android is the answer here.
Android apps have high Scalability
If we look at the scalability of android platform, then it is no more restricted to mobile phones only. However, it was created with the intention to serve as a crucial part in efficiency of digital cameras. But as the time is changing and world is heading towards newer technologies such as IoT, AR/VR etc., android is scalable enough to integrate with devices based on AR/VR & IoT.
Android comes with High Security
Everyone knows that android is open source platform for mobile app development and it is a Google product. Hence, it is quite sure that Google is putting a big amount of money and efforts to make Android highly secure.
So, if we talk about security of mobile apps built with android, then I would say there is a top notch security that android mobile apps have.
Wrapping Up
It is completely normal that an entrepreneur may get confused whether to launch his mobile in android or iOS. Android has several features that make it best platform for mobile app development.
Some of these are Android's larger access to customers, high scalability that it has, its high security, customization, easy installation, lower development cost and high return of investment.
In case you are an entrepreneur planning to launch a mobile app in the market and want to make your business BIG, you can contact certain mobile app development companies that convert your idea into reality. And hence provide you proper IT consulting and mobile app according to your demands and that too at lesser cost as compared to the market.
I hope that you liked my blog and found it rich with information that is worth your time. In case you have some suggestions in your mind, please leave a comment below.
Author Bio:
Aman Mishra is the CEO and co-founder of a company called TechGropse; an Android application development company. He is an active participant in the open-source collaborative ecosystem with many years of experience in mobility solutions and implementation.