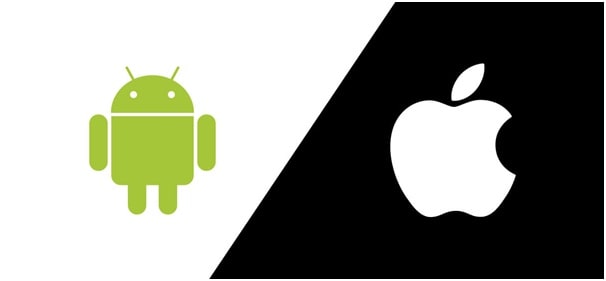 None of us is unaware of the heated arguments in favor of and against Android and iOS platforms. Both the Android users and Apple enthusiasts boast about the credibility and ample of features of their platforms. And this debate gets more intense when you have to choose the right platform for your mobile app development. Isn't it so?
Being a part of the mobile industry, I understand how crucial yet tough is to decide the right platform for your business app. So, keeping the same into consideration, we will compare Android and iOS in this article. And this way, help you to determine which platform you should invest in.
Factors to Consider for Choosing Your Mobile App Development Platform – Android or iOS
Target Audience
Android holds over 70% of the mobile market, which implies Android is the right fit to target a wider audience. But, at the same time, Android targets mostly the developing nations. Whereas iOS cater to the needs of users from developed countries. So, if your demographics data matches with that of iOS, hire an iOS app developer. Otherwise, go with Android app development.
Development Timeline
iOS platform is confined to certain devices and OS versions. But, Android is not. The Android platform is free and available on different devices and OS versions in the market. This means you have to cater to a wider set of devices and OS versions while creating your app, which eventually means higher development timeline.
So, if you want to make your app available on limited devices and at the earliest, look forward to iPhone app development.
Mobile App Development Cost
Since the mobile app development cost depends on the number of devices, OS versions and app complexity, Android is expensive than iOS for app development. But, at the same time, the iPhone app developers are costlier in the market when compared to Android experts, due to the strict rules of iOS app development. Apart from this, Google takes a one-time developer fee of $25 whereas Apple demands $99/yr as developer fee. This implies, the answer to which platform to choose for cost-effective services depends wholly on your project.
Customization Options
Apple manages the iOS platform, due to which everything has stringent rules and regulations. Whereas, Android is open-source and encourages developers to customize the mobile app development elements. Android empowers you to create the app design as per your requirements, whereas the iOS compels to follow its design layout. This signifies that Android is a better option over iOS if you want to build a customized application.
Revenue
When it comes to revenue generation, iOS apps earn nearly double the revenue of that of Android apps. This is because the Android platform basically targets the audience of developing nations who are less comfortable to go for paid solutions. Whereas, the user base of the iOS market is from developed countries, who are ready to pay a heavy amount for better services.
So, if your core motive from mobile application development is higher revenue generation, pick iOS over Android.
Security
Android, being an open-source platform, has lesser under the control of Google. Due to this, anyone can download, modify and update the app codes as per their wish. This results in sky-high risk at the privacy and security front. However, it is not so in the case of iOS. So, from a security point, choosing iOS app development is a profitable deal.
App Release
Apple due to its stringent guidelines takes a long time for app approval. It rejects the application until it passes the set of quality constraints. However, Google is much reliant. It let your mobile app enter the market even if it seems genuine and does not pass all the tests. This indicates that iPhone app development should be the second choice when you want to enter the market at the earliest.
Marketing Options
Apple's iOS is a closed ecosystem. It does not get affected by anything around. Whereas, Google Play Store is an open ecosystem and is influenced by external factors. This brings the opportunity to improve the app ranking by working on the external factors.
In other words, you can upload your Android mobile app on third-party app stores or promote it via backlinking and other such mediums. However, you cannot do the same in the case of an iOS app.
So, if you want to leverage the benefit of these external marketing methods, prefer Android app development.
Hope that you have found what platform you want to choose for mobile app development by now. If so, hire the best mobile application development company and launch your app successfully. And in case you are still confused regarding app development platform, feel free to leave a comment below and I will help you at the earliest.