Apple is working on the next versions of iOS 14 which is expected to release soon. In this new version, Apple is expected to work on the quality and performance of the operating system since the last version has faced many complaints from the users.
Even though Apple is focusing on performance issues, there are some appealing and unique features that will be made available to you in this iOS 14.
There are still months to go before the final launch of the version but a test version gives us glimpses of some exciting new features that will be introduced in this new iOS 14.  Though like every other version of iOS, iOS 14 will have thousands of tweaks and add-ons, there are some features which are astonishing and unlike any other features which are available in the market.
Below we have mentioned some of the key changes and unique iOS 14 features that will be introduced in the latest release.
UI and navigation
The new iOS 14 version will have a MAC styled cursor for iPad in place of the traditional arrow pointer and hand icon. It will also have a smart keyboard as well for IPAD along with a trackpad. This will make your experience more enjoyable.
Home screen features
In the new version, the home screen will show you a list of all apps which are installed on the phone. Also, the list view will have the option of sorting the apps using which you can sort the apps based on unread notification, frequency of use, etc.
In addition to the grid view, in iOS 14 iPhone will have a grid switcher which is an iPad style multitasking screen. In this advanced feature, you will have two rows featuring recent apps which you can see once you swipe on the home indicator.
Third-party wallpapers
Unlike the older version, the new version will allow third party artists to share wallpaper. Also, it will have new categories for wallpapers such as earth, moon, and flowers. In this new version, developers can access wallpaper collections which will be accessible inside the settings. Essentially it will provide you more wallpaper options to choose from.
The new Carplay and maps app
As a new iPhone app development, iOS 14 will allow you to set up wallpaper in car play. In previous iOS versions, this function is not available.
In the maps app, iOS 14 will have some path-breaking features. It will provide some useful and additional information to you about any particular place, like for a restaurant whether it has got seating arrangements for a couple or whether a park has got a special place for children and more. Some additional features will also be available in the map feature e.g. a movie theatre has IMAX facilities or not.
In iOS 14, the map app will also provide you supplementary information about any particular place like additional services offered in apple stores. As for example, whether any store provides a screen or phone repair services or device exchange.
iOS and iPADOS 14: Apps
iOS always comes up with new apps in their upgraded operating systems. iOS 14 will similarly have some new apps with exciting features that will make your experience memorable.
The AR app
The iOS 14 version will have a new AR app. using this augmented reality app, you can have a more real feel about the world around you. Using the augmented reality app you can feel many things which you can see only in 2D mode in previous versions.
Fitness app
Also, in iOS 14 you will have a new fitness app that will help you to avail guided fitness related videos which will help you to do various workouts. This fitness app will have multiple options for different workout videos which you can download as well.
This work out app will work in synchronization with the current fitness app. This feature will also guide you through apple watch post synchronization.
In this new version of iOS, the Apple Watch will track your fitness movements. This version will have the option where it will track your progress against the set goal. It is designed in such a way that it will track your all movements be it yoga, dance, walking, running. It will track various other activities of yours like cycling, rowing, running, etc.
Messaging features
The new iOS 14 will have exciting features in iMessage using which you can retract any message in case it has been sent accidentally. A fine print will be visible to you once you retract the message. This notification will be visible to you as well as the receiver.
The new message feature will also have the typing indicator feature for a group message.
In iOS 14, the iMessage is upgraded in such a way that even if you mute the conversation in a group iMessage feature, it will notify you when your name is mentioned. In the new feature, it will have a mention system alike slack where you can tag contacts with their name. It will also support a feature using which you can tag other people in the group chat.
Third-party app
In the previous version of iOS, users need to use the stock app such as Safari and mail for opening links, but in new iOS 14 users have the option to change the default apps in iOS 14.
This change will essentially help you in opening the emails with Gmail in case that is your preferred service provider. You can use Google Chrome as the default browser or say any other browser which you prefer.
Even the music app which is used to be played only with Apple music will have the option to play with Siri.
This access will essentially make the apple device experience more flexible.
Sleep Tracking – Health App
In iOS 14, you can set a personalized sleep goal. This sleep tracking feature will be integrated with the existing health app. The health app will have a feature where it will provide you suggestions about how to improve sleep by analyzing your sleep pattern.
iOS and iPad 14: Apple Pencil
The new optical character recognition feature in iOS 14 has got a unique capability in which it detects any handwritten notes. This feature also converts the handwritten note into a text. This feature will be available in all features across the device such as notes, messages, mail, calendar, reminders, etc.
So, when you tap a text field with a pencil a floating popup will appear for written input. It is widely being predicted that this feature will be available for third-party apps as well.
iOS and iPADOS 14: HomeKit
In the previous versions of iOS, the home support system was not that great. So Apple has updated the same in iOS 14. In this new version, Apple will let you choose the default audio output option such as airplay audio. As an example, if you want to go for Apple TV, the sound will automatically connect to your default audio option.
iOS and iPADOS 14: Accessibility
iOS14 is expected to have some exciting accessibility features. There is an exclusive feature that will alert persons with hearing issues. Like it will alert them about different sounds such as fire alarms, bells, knocks, etc.
Also, it will have the features where the camera in your iPhone will be able to read hand movements which will help you to control things on the screen.
These entire accessibility features will provide you more adjustability while using the device.
Shot on iPhone Photos App Integration
Apple normally does contests where the users are asked to take photos using the iPhone and apple rewarded them with cash upon selection. In the new iOS 14, Apple is expected to integrate the same with the photo app
So, now you can submit your entries using the photo app only. You can also view the results of the contest in the app itself.
iOS and iPADOS 14: Compatibility
It is expected that iOS 14 will run on all devices where iOS 13 is running. This includes iPhone 6s and later, the new iPad mini and iPad air. This version is also compatible with iPhone SE and iPad Pro models
Camera options
In iOS 14, the lights and camera will have some new and exciting features like smart lighting. The light color temperature in the bulb will be changed automatically in this new feature. Also, in this new version, the light and dark modes will change automatically as per lighting. Your camera experience iPhone is surely going to be an exciting one with the introduction of these new features.
The conclusion
Apple is expected to release iOS 14 in September 2020 at the worldwide developers' council followed by the beta testing group and public release.
There are many iPhone app development companies looking forward to implementing some features in their next iPhone app development.
So, if you are an Apple device owner wait for a few months before the release of iOS 14 which is all set to make your life more resourceful.
Author Bio: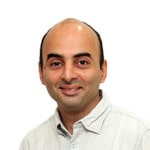 Sagar Sharma holds the position of Chief Technology Officer at
Credencys
 Solutions Inc. He is responsible for all the technical operations, as well as leading the company's revolutionary offerings. He is helping companies navigate the Digital journey in an Agile environment.