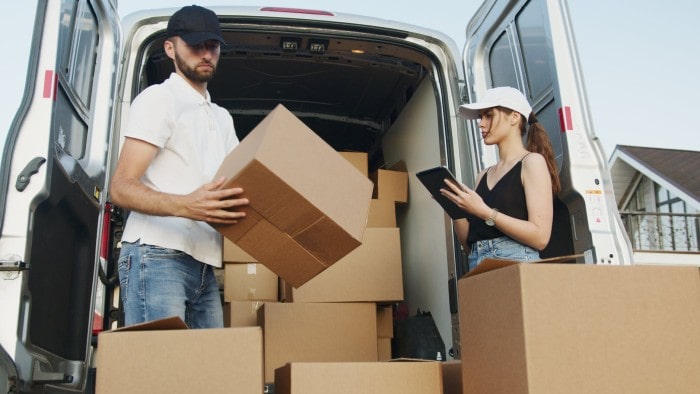 Moving to a new house or office can be exciting but it can also be physically and emotionally draining unless the right planning is in place. The moving process comes with a lot of plans and decisions to make, including how to pack your possessions to occupy as little space as possible. One of the main concerns expressed by movers is how to decide on hiring moving experts or going for the DIY option. Most people opt for the latter in the hope of saving some pounds but the extra expenditure in time and energy may be more costly in the long run.
Though it sounds expensive to hire movers, it can save you a lot of time, energy and money. This post will help you understand the benefits of hiring moving experts rather than doing it yourself. Additionally, it will highlight the challenges of moving to a new office or house during the pandemic and tips for overcoming these hurdles.
Moving During the Pandemic
Moving on an average day is stressful but doing it amid a pandemic can seem more overwhelming. While home renters are frantically finding ways to stay safe and healthy, this pandemic has brought a new set of challenges to people looking to move. For example, interstate lockdown and movement restrictions have restricted the ease of movement from one location to another. Homeowners with plans of moving to a new house before the pandemic hit now find it harder to progress with their move. Additionally, the pandemic has affected most sectors of the economy, resulting in the closure of businesses and leaving many people jobless. Unemployment means people have to reassess their expenditure and they may even find it harder to meet their moving costs. Despite some states easing travel bans and restrictions, people are still reluctant to move for fear of contracting the virus. Homeowners may also feel insecure about moving, especially those with families to consider.
A survey by PEW Research Centre among residents in the US confirmed that one in five Americans (about 22%) said that either they themselves had relocated, or they knew someone who had moved, owing to the pandemic.
Moving to a new office during the pandemic also has its challenges. With a reduction in business activities as a result of the pandemic's impact on the economy, it may be harder for businesses to meet moving costs. Downsizing has been witnessed in some of the hardest-hit sectors including: hotels, sports and the performing industries, as well as travel and tourism, to name just some of the most affected areas of business.
Why Hire Moving Experts
Deciding whether to hire movers can at first seem overwhelming or a luxury because of the perception it adds to the cost of moving. However, there are many benefits to hiring professional movers, especially at a time when people might be glad of additional support and the reassurance of experts. Below are some points to consider that aim to help you make a more informed decision about hiring professional movers.
Benefits of Hiring Professional Movers
Saves Time
Hiring moving experts gives you more time to focus on other vital issues. The moving professionals can handle everything from packing and loading to transporting. This gives you ample time to shift your attention to other activities such as caring for your family and changing your mailing address. Additionally, you may send your clients a notification to inform them of the change in office location and set up your utility bills. Time is valuable and if you find a chance to save it, go for the deal!
Experience
When you decide to go for the DIY option, you may be overwhelmed by packing and loading your items in a truck. However, the professional movers have years of experience in the moving sector and are conversant with every tiny detail. They know how to wrap your furniture and other valuables to reduce damage. Additionally, they know the most effective ways to position the items when loading to conserve space. Also, the movers have experience in driving large trucks weighed down by heavy possession. Responsible driving reduces the damage of goods while in transit. Generally, hiring moving experts gives you peace of mind and confidence that the moving process will occur without a hitch.
Use of the Right Equipment
In a DIY approach, the truck you use may lack the right equipment for moving, such as hoisting straps and appliance dollies. Moving your belongings using such a truck may expose them to damages and breakages. Your possessions are valuable and so you might not want to risk damaging them trying to save some pounds. Moving trucks are fitted with the right gadgets to make moving simpler and more secure to reassure you of the safety of your valuables.
Saves Energy
With movers, you won't spend your energy doing any heavy lifting. You don't have to worry about lifting that heavy couch or carrying the printing machine down the stairs. With a reputable moving company, all your lifting needs are met. Save the packing, lifting and loading energy for other essential activities.
Efficiency
Unlike the DIY approach, where your friends or colleagues may disappoint you at the last minute when packing or loading, movers guarantee total efficiency. Depending on the terms of agreement with your mover, they will strive to deliver according to the terms of the contract. They are good at keeping time and following orders to the letter. A reputable mover is your best partner when relocating!
Safe Storage Facilities
In case there is a change of plans so that you need to reach your destination later than originally thought, the moving company will offer a helping hand. They will provide safe storage for your valuable home or office stuff, usually at a small fee. The storage fee will depend on the value of the items as well as the length of stay, be it overnight, short term or long term. Most movers also insure your belongings during transit and storage.
Saves Money
Saving money may sound strange since you incur a cost to hire the moving experts. How then could they help you save money? Though expensive to hire, movers may help you save a lot in the long run. Through movers, you save on the cost of repairs and replacement on damages incurred while moving. Additionally, it is important to note that the cost of moving varies from one company to another. Therefore, you should take your time to shop around to find one that meets your budgetary needs.
Conclusion
Moving to a new office or house can seem an overwhelming affair but with the helping hands of professional movers, it can be a simple and even enjoyable task. The above points highlight many of the ways that moving professionals can save you time, energy and money, making your decision on how best to move an easier one. Get a reputable moving company operating within your locality that fits with your budget and enjoy a hassle-free moving experience.