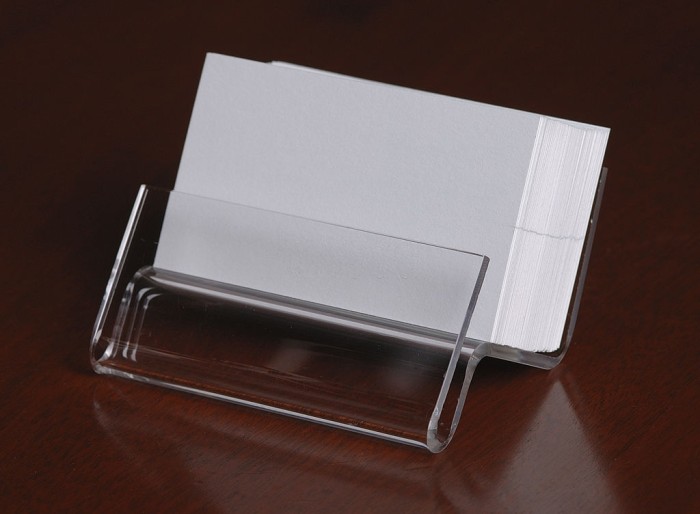 A plastic business card holder is small stuff yet comes with a lot of benefits that we cannot even notice. Probably this is the smallest stuff in an office that contributes a great aesthetic to the entire office environment. There are a lot of business card holders available in the market yet more and more people are tending towards plastic business card holders. Why? There are a lot of reasons or benefits of having a plastic business card holder. Nearly all offices have business card holders for desk and if you are yet reluctant to choose one, this article is going to help you.
Before exploring the benefits of cardholders, we should know why these cardholders should be on the table or desk. There are so many places and cabinets in an office, why these card holders should on the desk! First of all, it creates an amazing professional appeal that might help you in winning the attention of your client. Secondly, business cards should at a place where you can reach at any time and offer one a card at any time. If you need to spend hours to find your cards, the receiver can get irritated or may find you unprofessional or unorganized. It can affect your business impression and reputation. For all these reasons, we suggest having plastic business card holders on the desk so that they can be truly accessible during the need.
Benefits of plastic business card holders
Aesthetic appeal- plastic business card holders come in various shapes, sizes, and colors. According to your office theme and style, you can easily have one in order to create an amazing aesthetic appeal. When you maintain an aesthetic appeal inside your office, impressing clients become a bit easier. Clients prefer to work with businesses that are organized and have a good sense of creativity.
Amazing durability- plastic business card holders come with great durability. Even if they fall on the ground, you will not find any wear and tear. But that does not mean you will drop that on the ground on a regular basis. A plastic business card holder runs for years so there is no need to buy many in a year. You can save a lot of money while maintaining a great environment of professionalism inside your office.
Card protection- we all know that business persons print their business cards in a bulk quantity and they need to save everything for future use. If they fail to save them well, they will not able to offer a business card to a potential client during the need. Plastic card holders protect cards in the best way. They keep the cards away from moisture, dust, sunray, and so many other things that damage the cards.
Easy to carry- It is not that business card holders should be always on the desk. Sometimes, the business owner or any marketing guy may need to carry that in a business tour or during a meeting with clients. If they carry cards along with a card holder, their way of presenting cards to others will be impressive as well as professional. A client will easily realize that when a business person takes care of business cards in this great way, how great he/she will treat his/her clients via services. It will simply create an amazing impression.
These are the 4 amazing benefits that you can easily enjoy with plastic business card holders. These card holders are inexpensive, run for a longer span of time, and easily available in the market. So, grab the best ones for you as soon as possible!