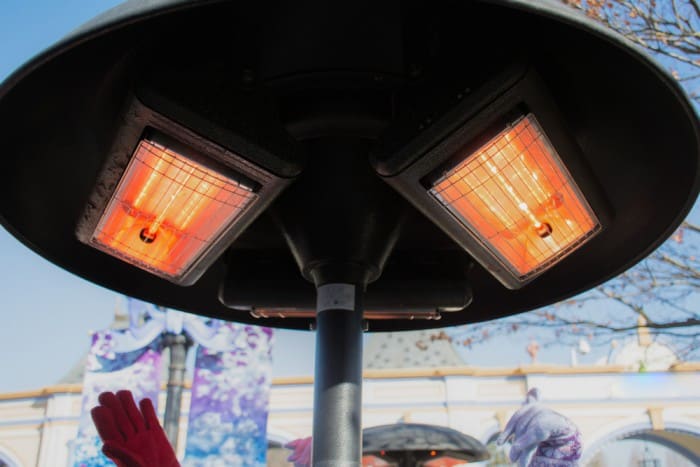 Spending a night out on the patio doesn't have to be hard during the cold season. Outdoor electric heaters are designed to provide the much-needed warmth on a cold night. They can be used to keep party-goers warm as they catch up with friends and have some fun.
A typical outdoor electric heater uses direct radiative heating. Unlike fan-powered heaters, outdoor heaters use an internal element that heats adjacent bodies rather than heating the surrounding air. They are affordable and do not waste energy. Also, they can be placed on the ground or mounted on the wall and ceiling to deliver adequate warmth in the outdoors.
Some features cool-touch glass that protects kids and pets from any burns. They also run on electricity, making them more efficient than gas or propane-powered heaters. Below is a list of the best outdoor electric heaters you'll love in 2023:
Bromic Infrared
The Bromic Infrared is a patio heater that features smart control settings and a wide heat range. It has an output of 4,000 watts, which is enough to adequately heat its surrounding area. Its overall construction features stainless steel coated with ceramic plating for style and heat insulation. Inside are heated tubes designed to depict a candle-like glow. Under an electric current of about 240 volts, the Bromic Infrared is capable of heating objects as far as 120 square feet. The entire heater only weighs 20 pounds. Smart controls allow you to dim the heating and lighting as preferred.
Ener-G+ LED
The Ener-G+ LED is a remote-controlled electric heater that provides several heat settings. All you need is to plug it into 100-volts of electric current and set it to your preference. There are three heat options available: 1,500 watts, 800 watts, and 700 watts. The heater can be mounted on a wall or ceiling. It also acts as a source of light in the outdoors. Inside, it comes with a light bulb that doesn't release any carbon monoxide or UV rays. Its key advantages are its LED light and remote control features.
Comfort Zone
The Comfort Zone outdoor heater provides a great alternative for those that are on a budget. It's a quartz heater that comes with two heat settings: 1,500 watts and 760 watts. It can be mounted on a wall or ceiling. It features an easy-to-use control pull switch, 3 prong heads, and an 80-inch long cord for insulation. At 13.2 pounds, you get an affordable heater that provides enough warmth for a night out. Its key advantage is providing two different heat settings for different weather conditions.
Nomura Patio Heater
The Nomura Patio Heater is an outdoor heater designed to sit on a patio table. With a 110-volt head and a 72-inch long power cord, it's designed to connect to a standard socket and deliver the much needed outdoor warmth. It also features a 5,000 BTU output and 1,500-watt heating range. It's highly efficient and capable of raising temperatures by up to 15 degrees Fahrenheit.
Fire Sense Hanging Heater
The Fire Sense Hanging Heater is a stainless steel electric outdoor heater that weighs only 8 pounds. It can only be attached to a ceiling and features a 110-volt head and a 96-inch long power cord designed to blend in with the overall sleek style. For optimum performance, it's best to hang it just 36 inches from the patio table. It's sturdy, easy to turn on and off, produces enough heat, and does not produce any carbon monoxide or UV rays.
AZ Patio
The AZ Patio is one of the most interesting electric heaters available today. It not only provides outdoor heating but also performs as a small table that measures 24 inches wide and 42 inches high. The heater is inbuilt and is made out of stainless steel. It churns out 1,500 watts of heat that radiate up to 15 square feet. An 8-feet long power cord comes attached. It also features multiple temperature settings that users can enjoy during cold nights.
TPI Quartz
The TPI Quartz is an outdoor electric heater built from quartz and stainless steel. It weighs just 10 pounds and can be connected to a 120-volt power source. Attached are hooks for mounting and two chains that allow users to hang the heater from the ceiling. Its key advantages include a wide heat range and energy efficiency. Thanks to the quartz core, energy is distributed evenly to the surrounding area.
Lava Heat
The Lava Heat is an electric heater designed to be used both indoors and outdoors. It features a 1,500-watt electric current that can heat up to 10 feet away from where it's placed. The heater also functions as an LED lamp. With it come a wall mount, stand, base, and remote control. Its greatest advantages are that it's highly portable and can be moved about to achieve adequate heating.