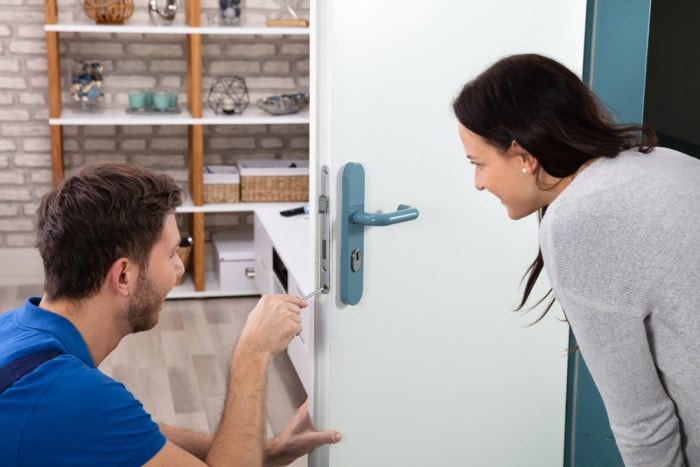 Determining if you need locksmith services may prove difficult. You may opt to try and solve your lock issues on your own in order to save time and money. However, many bigger issues will require locksmith services in Toronto. Moreover, a locksmith is not limited to simply repairing, replacing, or unlocking locks, door, and windows. Today, locksmiths can install state of the art security systems and access systems, and many other services pertaining to security. Here, we breakdown some of the services that a locksmith in Toronto can provide.
When do You Need to Call a Locksmith Service?
If you are locked out of your house, office, or car, and don't have the tools required to enter, or concerned that you may damage your vehicle or property by trying to get in, then calling a locksmith will solve your issue. They have the know how, experience, and specialized tools required to rectify any issues pertaining to locks and security. They can also replace old or damaged locks, repair broken locks, or add extra pieces of technology to your security system to augment its features.
Some are also available on call, 24/7, rain or shine, in order to help with emergency situations that may occur from time to time. Also, if your home or office has been broken into then a professional locksmith can help install the latest security safeguards to prevent a break-in from occurring again. Many doors and windows have basic and cheap locks that burglars can easily break. A locksmith will install the more durable locks and high tech security technology on the market that will be very difficult to next to impossible to bypass.
Also, keys and locks can take a beating over time, with wear and tear issues and erosion being the norm. A locksmith can either replace your locks or keys so that they don't break. On that note, locksmiths can also duplicate, repair, or fabricate new keys for locks as well. Today's locksmiths are also very tech savvy, and can install locking systems that use biometric, retinal, voice activated, or remote access technology. For instance, you can remotely open and close doors and windows from anywhere in the world using your smartphone or tablet, but also have physical key access as well as an auxiliary option.
How to find the Best Locksmith Near You
Not all locksmiths can perform the tasks that you need. Some are specialized locksmiths, such as residential, commercial, or emergency locksmiths. As such, when determining which locksmith to go with you need to first determine the project or issue that needs to be worked on or solved. Be open and frank with the person you are talking to, so that your problem can be taken care of asap. At the very least, they may be able to refer you to a locksmith who is qualified to deal with the problem at hand.
Different Types of Locksmiths
A residential locksmith will fix issues pertaining to home security. A commercial locksmith will also fix issues pertaining to security, but will specialize in commercial properties, such as prisons, schools, restaurants, military bases, and offices. Automotive locksmiths specialize in lock issues involved vehicles such as cars, trucks, bicycles, motorcycles, and trains, while emergency locksmiths are on-call specialists that will respond to emergency issues that are brought on by natural disasters or other such issues.
Advanced Security Systems

Tips for Selecting a Locksmith Service
The first thing you should do is to ask friends, family, or co-workers for recommendations. You should also check online reviews to help you determine if the locksmith you are considering hiring is a reputable. The locksmith should also have a physical address, phone number, and email, in the event that you need to contact them, and the address should also be local. Also, when you call up the company check for red flags. For instance, if they provide generic or vague answers to your questions then it is probably best if you looked elsewhere. They should also provide you with the full legal name of their business.
Getting an accurate estimate is also paramount. The locksmith needs to provide you with an estimate of all the parts and labor involved in the project. A reputable locksmith will have no issue giving you an estimate over the phone. Some locksmiths may also charge for travel costs, such as gas mileage, so ensure that the estimate that they provide will cover all possible costs incurred to rectify the issue, including possible extra charges for working nights or weekends.
You should also never, under any circumstances, sign a blank document to authorize work. If the locksmith comes to your home or office and provides an estimate that is higher than the estimate they provided on the phone then do not allow them to start working.
The locksmith you call should also be fully licensed, bonded, and insured. For instance, if some of the repair work leads to property damage, then you will be protected and covered if they are insured. Accidents, while rare, do happen, so you need to be prepared for the worst.  Also, when the locksmith arrives at your door, ask them to provide you with a business card and proof of identification.  A reputable locksmith will also ask you to provide them with your identification before they start working to ensure that you are their client and that your property is the property that they are supposed to be working on.
Author Bio
Cindy Williams is currently working as an outreach coordinator for Protection Plus. She is a graduate in Business Administration from the University of Toronto. She is interested in technology.