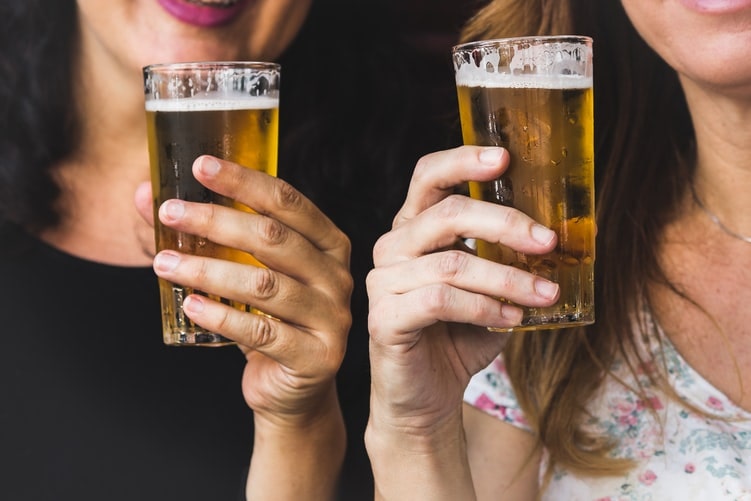 Manchester is a city where you can dance on the tables in a bar and head to a theatre show on the same day. It is a place which is well known for its excellent bars, great restaurants and energetic nightlife and, as the quality of restaurants and bars rapidly increases, so do the experiences which are on offer.
It's not just the number of bars in Manchester which is extraordinary, but the wonderful variety of them all. At night, the city turns into a drink-lovers paradise, from whacky bohemian Alpine bars or secret cocktail dens, to sticky-floored metal clubs, you'll find it all here. With so many places on offer around the city, here are 5 of the best places in Manchester where you can enjoy a beer.
Hawksmoor
Not only is Hawksmoor one of the best steak restaurants in Manchester, but it also does incredible cocktails. Set inside an old Victorian courthouse on Deansgate, Manchester's bustling business quarter, inside, you'll find a stylish, low-lit bar where the staff serve a selection of boozy cocktails, all of great quality.
Whether you choose the Finer Colada or the special Hawksmoor IPA, you're sure to be in for a drink sensation. With intimate dining rooms and a quiet bar area, this is a great place to come if you want to get away from the busy city centre. Many of the beers and wines are paired with some of the dishes on offer on the menu, such as the Vietnamese oysters, Chatreaubrand steak or even the South Coast monkfish, Hawksmoor is an ideal location if you're on the lookout for both great drinks and food.
20 Stories
Whether you're in Manchester for a city break or a long-standing resident, you're sure to love 20 Stories. Located on the 19th floor of No.1 Spinningfields, a very tall and vast skyscraper in the stylish Spinnigfields quarter, this an area of Manchester which pays homage to its industrial past but looks forward to its modern future.
This expansive rooftop bar offers diners and drinkers unrivalled 360-degree views of the Manchester skyline (on good days, you may even be able to see all the way to Wales!) and, with 56 whiskies, 30 gins, 25 rums and a wide selection of bottled and draught beers and ciders to choose from, you can easily spend hours here.
Crown & Anchor
Crown & Anchor is located just a stone's throw away from the busy shopping area of Manchester and is nestled next door to Manchester Cathedral. This city-centre Joseph Holt pub is well known for its great pub food, live sports and real ales. With traditional stone-clad features on the outdoor exterior and a modern pub indoors, this cosy little retreat is perfect to get away for an hour or so and enjoy a nice meal and refreshing beer.
As the pub is directly associated with Joseph Holt, you know that the drinks here will be good, especially as it is located less than a mile away from the Joseph Holt brewery  – no matter whether you're searching for a cask ale, craft variety or just a great traditional beer, the Crown & Anchor is a must visit.
The Wharf
A short walk away from the city centre and you'll find yourself in the Castlefield district – a cosmopolitan residential area within the city. There are quite a few quirky bars and pubs here, but perhaps one of the best places for a beer is The Wharf.
Designed to look like a country pub, you'll feel miles away from the hustle and bustle of Manchester. However, the site still pays tribute to its heritage as the building is a mock 1820s warehouse. With a huge canal-side terrace to enjoy on those rare days where the sun shines and cosy little nooks and crannies to nestle into when the weather is not so great, you've got a great selection of draught and bottled beers to choose from.
Lock 91
Deansgate Locks is an area of Manchester often associated with students and hen and stag parties thanks to its selection of clubs and bars but, hidden away in the corner, you'll find the beautiful Lock 91.
This is a real home away from home, with the once derelict building restored to its former glory and reopened back in 2012. It was originally a working lock keepers cottage, so it is a location which is packed full of character. Since its renovation, Lock 91 has become hugely popular with locals and tourists in the know, providing a place to unwind, relax and wash away your stresses and worries of the day with a refreshing pint or two.
The Lounge and Terrace space on the lower ground floor is filled with comfy Chesterfield sofas, church pews and stories outlining its building transformation up to date. You'll also find double doors which lead out onto a covered canalside terrace, which is home to one of Manchester's most secluded and secret beer gardens.