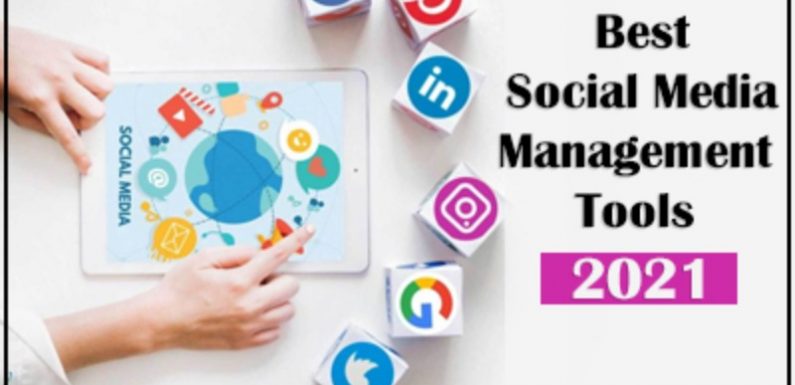 In today's competitive world, every single company either a start-up, a big organization, or a fortune 500 company, wants to have a strong presence on social media platforms. For which, most companies invest a lot of bucks just to develop killer content and also on social media optimization services for YouTube, Twitter, LinkedIn, Facebook, Instagram, Quora, and the several other social media platforms out there.
But there is no point in investing a lot of time as well as resources on the wonderful Instagram posts, amazing Facebook posts/videos, and great tweets if you actually don't know how to efficiently supervise their impact as well as influence. So don't worry, we are here to help you!
In this blog post, we have collected the top six social media management tools that can facilitate you with everything right from scheduling to automatically sharing deep-rooted content, creating social media pictures/images, perfectly analyzing performance, and others.
Hootsuite is one of the best social media tracker tools. Its key objective to offer an all-in-one platform for social media management all over manifolds sites. In this tool, there is a simple option to search and filter via existing social media, in order to search page insights, brand mentions, and demographic information. Also, this permits you to make sure any marketing campaigns are appropriately timed as well as targeted when and where you require them to be.
With this tracker tool, you can also find analytics feature through which you can easily track and measure performance against key performance indicators (KPIs). All the reports you can download in customized formats so you can make sure that you get and examine the data you need to and stay focused on that. Moreover, this is particularly as Hootsuite is built to work for teams, not merely individuals.
Buffer is one of the most popular post tracking tools. It is another all-rounder that permits you to post to your social media platforms and then quickly analyze the results. One of the most important things about this is just how easy and straightforward it is to use, whereas also offering you flexibility. The key fact that it presents crystal-clear analytics in real-time makes promptly judging the impact of your unique content a doddle.
Hubspot is a highly famous social media automation tool. The key objective of this software is to save a lot of time by just prioritizing social connections you place the most value on all over an array of social media platforms like YouTube, Twitter, Facebook, Instagram, and LinkedIn.
This tool has a lot of in-built management features like publishing & sharing content, monitoring mentions and reporting. These features help you to let know not merely levels of engagement but also how these effortlessly translate into real business metrics.
SEMrush is a highly used social media management app. It is best known for being a comprehensive search engine optimization (SEO) software platform, but it also integrates a couple of helpful and highly beneficial tools for social media management all over LinkedIn, Facebook, Pinterest, Instagram, Twitter, and Google My Business.
This tool permits you to effortlessly schedule as well as posts to these diverse social media platforms. It comprises an image/picture editor, UTM-builder, and link shortener, for tailoring your posts, which you can then publish instantly or as per the automated schedule. It also helps you to track cross-platform engagement with users, permitting you to gather pages' analytics for reports in a single dashboard. This comprises both mentions as well as reactions to posts. And, the best part of this tool is that you can also supervise competitors just to identify how frequently they are posting.
The major strength, thus, is the fact that SEMrush permits you to integrate your social media management with your complete SMO services and social media marketing strategy, and gives a beneficial platform that takes everything together in one place.
Sprout Social is one of the highly demanded social media posting software. It is likely first and foremost called a one-stop shop for managing as well as scheduling all of your social media platforms via one easy-to-use software. Extremely convenient undeniably for your organization's social media administrator when they're struggling to juggle Twitter, LinkedIn, Instagram, Facebook, Pinterest, and many more at once.
But it doubles up as a prevailing tool for examining your important data, too. You can easily sort by several demographic as well as geographic measures to measure precisely what particular content is working for which particular followers. This tool also manages manifold accounts and supervises relevant hashtags/keywords across all social media so that you exactly know and understand when your brand is being discussed. It also facilitates your organization's response to patrons by directing messages to the folks within the company who need to action them.
Ripl makes social media management quite simple and easy. It gives a good platform that makes it very simple to create professional-standard content for social media accounts. As well as presenting lakhs of templates and more than half-a-million stock uses to utilize for content as well as animated images, this tool makes it simpler to create media like branded videos with merely a few clicks.
In addition to this, posts could be effortlessly written, edited, and scheduled on the go, as social accounts can be straightforwardly managed from an Android or iOS mobile device for simple use. Through this tool, you can also track engagement statistics in one place, and suggested relevant keywords/hashtags are provided for audience targeting.
Bottom Line
Social media optimization services or social media marketing is extremely important to surging traffic. Therefore, you cannot perform a marketing campaign easily without the perfect and advanced social media management tools. These tools facilitate the social sharing procedure organized as well as make your work butter-smooth.
To recap, here are some of the best and latest social media management tools you can use in 2021:
Hootsuite – a unified social media marketing dashboard.
Buffer – easily schedule posts for all your social accounts from one spot.
Hubspot – a comprehensive platform of marketing, sales, customer service, and CRM software.
SEMrush – SERP tracker, online site health & backlink checker, traffic analytics, and many more.
Sprout Social – a single hub for social media publishing, analytics, and engagement across all of your social media accounts.
Ripl – effortlessly create, post, schedule, and monitor professional-looking social media content in just minutes.
 Author Bio
Vivek Sharmais an SEO Expert with rich industrial experience and knowledge. Currently, he is working with the PNJSharptech that offers varieties of services such as web development services, web designing, and SEO services to the customers. He is famous for his excellent work and provides guaranteed results.