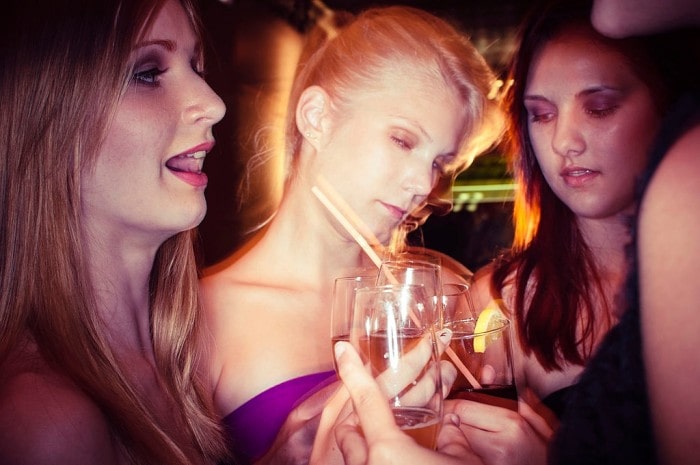 According to the College Alcohol Study (CAS) by the Harvard School of Public Health, two out of three college presidents from participating schools identified binge-drinking as a serious campus problem, and are actively seeking ways to address it.  Since the early 1990s, according to recent research, binge-drinking has maintained a consistent presence in college social life.  Heavy alcohol consumption currently affects more college students than all other drugs combined.  The CAS identifies various factors that influence this phenomenon, including "genetic and familial predisposition, social and peer influences, college traditions, uncontrolled policy environments, and the easy availability of alcohol".  Binge-drinking college students experience and cause various serious problems at a much higher rate than their non-binge-drinking counterparts; some of these problems are life-threatening.
Although the study noted that binge-drinkers are more likely to be male, Caucasian, and under the age of 24, the single most common factor among binge-drinking college students is affiliation with a Greek organization—i.e. a fraternity or sorority.  According to the CAS, four out of five members of sororities and fraternities are binge-drinkers.  In addition, athletes are more likely to binge-drink than non-athletes.  Asians and African Americans, students age 24 or older, and married students are the least likely to binge-drink or alcohol addiction.
 What is Binge-drinking?
Binge-drinking is generally defined as the consumption of five or more alcoholic beverages in a row for males and four or more drinks in a row for females.  A drink is defined as a four-ounce glass of wine, a 12-ounce wine cooler, a 12-ounce beer, or a shot of liquor taken straight or in a mixed drink.  The CAS study also differentiated between occasional binge-drinkers (students who binge once or twice in a two-week period) and frequent binge drinkers (students who binge three or more times in a two-week period).
Statistics on Binge-drinking
According to the results of the 2006 National Survey on Drug Use and Health: National Findings (NSDUH), college-age youth represent a significant portion of underage alcohol users and binge-drinkers in the United States.  The 2006 NSDUH study found that the rates of current alcohol use and binge-drinking increase significantly between the ages of 18 and 20.  Only 16.6 percent of youth age 12-17 reported current alcohol use, compared to 28.3 percent of 12-20-year-olds; and 10.3 percent of 12-17 year-olds reported binge-drinking, compared to 19.0 percent of 12-20 year-olds.  Similarly, heavy alcohol use, defined as binge-drinking on at least 5 of the last 30 days, was reported by 6.9 percent of persons aged 12 or older, by 2.4 percent of persons age 12-17, and by 6.2 percent of persons age 12 to 20.  These figures indicate that the rate of heavy drinking more than doubles between the ages of 18-20.
However, the Harvard CAS found that college-age binge-drinkers are more likely to have been binge-drinkers in high school, which suggests that binge-drinking behavior does not originate on the college campus.  The CAS indicates that frequent binge-drinkers are at least five times more likely to experience various problems, including educational, social, sexual, psychological, medical, and legal problems.  Women are the most likely to suffer negative sexual consequences from binge-drinking; the CAS found that 10 percent of binge-drinking female students reported rape or non-consensual sex, as compared to 3 percent of non-binge-drinking female students.  The study also discovered that frequent binge-drinkers are 17 times more likely to miss class (binge-drinking is strongly correlated with poor academic performance), 10 times more likely to vandalize property, and 10 times more likely to get injured.  Over 60% of all students who damaged property, had trouble with the police, or were injured are frequent binge-drinkers.
Binge-drinkers also appear to increase on-campus problems for non-binge-drinkers. Students at schools with high rates of binge drinking are more likely to be insulted, humiliated, pushed, hit, or assaulted; are more likely to have property damaged and to have study time interrupted, and are more likely to experience unwanted sexual advances or be victims of sexual assault or rape.
Frequent binge-drinkers represent approximately 23% of the college student population but drink about 72% of all the alcohol consumed on college campuses.  The majority of college students support campus policies designed to curtail binge drinking.  These policies include restricting alcohol at fraternities and sororities, cracking down on underage drinking, prohibiting kegs on campus, prohibiting students from advertising that alcohol will be available at parties, holding party hosts responsible for alcohol-related problems, and enforcing alcohol rules more stringently.
Administrators from colleges participating in the CAS reported utilizing various strategies to address binge-drinking on campus.  The strategies include implementing alcohol education programs, restricting the supply of alcohol, limiting alcohol advertising, offering alcohol-free dorms and living spaces, and conducting "social norms" campaigns to address prevailing attitudes about binge-drinking.
Treatment for alcohol addiction
Treatment for alcohol addiction is twofold, one part being an inpatient program for rehabilitation that involves multiple levels of care, and then an outpatient program for further recovery. So if you are someone who is undergoing the symptoms of withdrawal from alcohol addiction, no worries there are multiple alcohol treatment centers that are designed for those who are physically addicted to alcohol or suffering from substance abuse. Alcohol Rehab programs usually run from 30 to 60 days however depending on the individual and their addiction this can vary. Their rehabilitation program is designed for full-time recovery by make addicts to understand that how to detox from alcohol, intensive therapy, alternative therapy and relapse prevention. Alcohol Rehab also offers outpatient programs for those who may not be able to commit to a residential substance abuse treatment, or have completed a residential program and are furthering their recovery.
Author Bio:
Yamini is a content strategist who researches the latest topics about what drug and 
alcohol addiction
 industry speaks about and what kind of therapy's treatment center offer. She loves to read a lot about the happenings, particularly in the addiction/ recovery sector. She also shares her review of the recovery center of America. Specializes in handling blogs in potential means of marketing and circulating across social media.