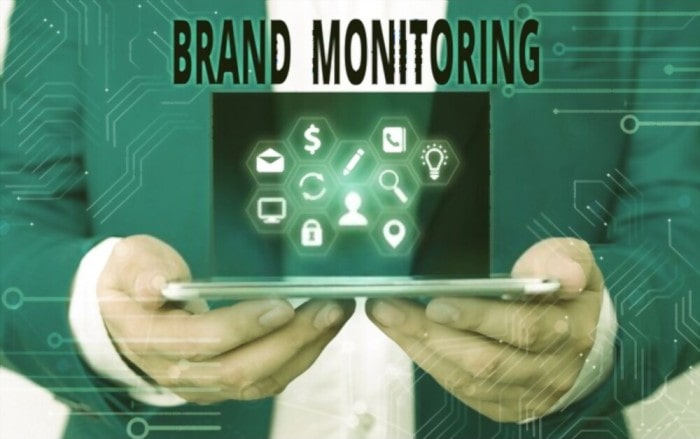 You work extremely hard to make your brand recognizable. You carefully craft a message, modes of communication, and aesthetics (logo and brand colours) to stay in the mind of your customers.
However, what happens when your brand and its message reach the customer? What happens every time they interact with your brand online? Are you looking after those aspects as well?
If your answer is no, spare a few minutes to introduce yourself to the world of brand monitoring.
What is brand monitoring?
Through brand monitoring, you use multiple channels to monitor what is being said about your brand online. It helps you and your business gain invaluable insights about the way your company, its products, and services are perceived in the public eye.
Through online brand monitoring, you can not only measure the impact of your communication with consumers but also act on them in real-time. It can be in the form of responding to comments and reviews online or pivoting essential strategies as per public perception.
Brand Monitoring Benefits
Helps create a relationship with customers
As a customer yourself, which one would you prefer? A brand that replies to your queries and complaints instantly or a brand that does not revert to you?
When you respond to your customers online, you create a one-on-one relationship with them, which sets you apart from the rest. It establishes your name as a brand that is reliable and actually cares about its customers' sentiments, which make up online reputation management best practices.
Helps you learn how your product is perceived online
Let us suppose that you have just launched a new product or service in the market. How do you get to know if it is received as you intended? While sales are a good indicator to measure the success of the product, it does not say a lot about the perception post the sale.
By monitoring your brand online, you can learn about customers' first-hand experience with your product or service. It also tells you what the product got right and what it got wrong, presenting you the chance to tailor your products accordingly.
Gather insights for marketing campaigns
Would you want to market your product to someone who would be interested in buying it or waste marketing dollars on someone that has no intention of buying your product?
When you monitor your brand online, you also monitor your potential customers, along with their likes and dislikes. It presents you with the opportunity to study your customers and analyse where they spend their time online. Then, you can wisely invest your money to reach the correct customers on the correct platforms.
Helps Generate leads
An essential part of brand monitoring is to monitor industry-specific pages as well as the pages of your competitors. While doing so, you might come across a customer looking for a product that your brand offers.
By engaging with this potential customer, you can convince them to give your product a try, gaining a loyal customer in the process. It will translate into sales, eventually generating revenue for your entire organization.
Why is brand monitoring necessary in 2020?
In the year 2020, everything has shifted online, including advertising and marketing budgets. As the world has gone digital, people now have instant access to a plethora of options that might help them meet their demands. In such a scenario, your brand needs to stand out.
Your customers are facing a saturated market place, which is why you need to identify their exact needs and wants so that your brand can stand out. It can easily be achieved by using brand monitoring to your advantage.
Simple ways to monitor your brand
People are always expressing their views on social media, making it a great place to monitor your brand, along with its competitors, online.
It is necessary to keep track of the brands and pages that are linking to your site. It provides valuable insights about incoming traffic, which can help your organization.
There are a plethora of tools that help monitor your brand and its mentions online. They widen your search, reduce the chance for error, and help provide invaluable insights for online reputation management.
If there are any major industry stakeholders in your organization and the industry at large, you should monitor them online. Their expert opinion can help your brand in the long term.
An essential part of brand monitoring on social media is to track your competitors online. It helps you realize your shortcomings and triumphs, benchmarking them to the industry at large.
Review sites are a goldmine for you to learn about your brand's perception online. Do make sure to engage with comments, both bad and good, to create a good brand reputation online.
To truly transform your brand and take it to new heights, you should craft an online reputation management strategy and follow a reliable and relevant online reputation management process to stand out from the crowd. It will work wonders for your brand!