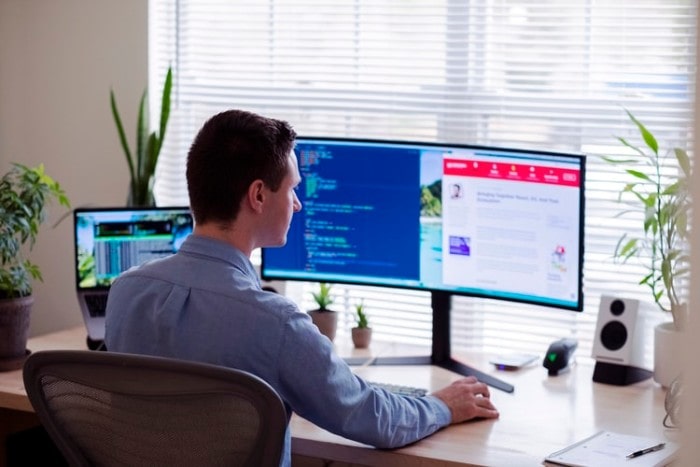 In the olden days, a formal degree in management from a top B-school was considered mandatory for managing a business. But today, times have changed. Surely a degree matters but the knack to do business and focus on the implementation of technology are the two main attributes that vouch for your business management skills.
The COVID-19 pandemic has only strengthened this notion as technology-driven businesses have saved themselves from the onslaught, whereas those that failed to take the route of automation, are crumbling.
One of the greatest plus points of tech-driven businesses is that employees can work from any nook and corner of the world. Also, automation has multiplied the speed and accuracy of humans by several times. For the first two decades of the 21st century, people were scared that machines would eventually take away their jobs, but those misconceptions are things of the past now. Modern economists and techpreneurs believe that automation will only supplement humans rather than replace them.
This article talks about how business management software helps companies to manage their activities and processes efficiently and increase their productivity exponentially.
Business Management Software – Enterprise Resource Planning (ERP)
ERP is one of the most important business management software. A business cannot conceive of thriving in the hyper-competitive world that we live in without implementing an ERP system. Be it any field – Manufacturing, Supply Chain, Finance, etc. – an ERP software gives you wings!
a. Importance of ERP software in Manufacturing
ERP helps maintain a list of verified secondary material vendors that can supply raw materials in the absence of the primary vendor.
Similarly, it maintains a list of secondary supply-chain vendors that can transport finished products from source to destination.
It meticulously checks the quality of the raw materials and ensures that they meet the guidelines set by the product quality expert.
Manufacturing ERP software creates, maintains, and tracks the Bill of Materials (BOM).
Helps switch to comparable raw materials at times when primary raw materials are unavailable.
Has rigorous algorithms to check the presence of harmful substances – dangerous chemicals, illicit materials, and adulterated components- and restrict their entry into the supply chain.
b. Importance of ERP software in Supply Chain
It prepares invoices online without the need for human supervision.
It helps repurpose the factory to produce essential products – hand sanitizers, hand-wash, soaps, masks, PPE (Personal Protective Equipments), etc.
It stores a list of essential items required for production and prioritizes the buying of critical components.
It identifies suppliers from high-risk and low-risk areas using Bills of Material (BOM).
Stores critical information about tier 1 and tier 2 vendors and decides whom to bank upon in times of crisis.
Forecasts the ability of the vendor to supply materials, in case the vendor does not share any information.
Identifies the current stockpile and the left-over inventory in the value chain.
Keeps track of spare-parts inventory that can be used for production.
Has rigorous algorithms to check the quality of materials produced.
Suggests ways to remove bottlenecks and propose ways to accelerate the arrival of materials.
Uses advanced statistical forecasting tools to estimate the demand of the final consumer.
C. Importance of ERP software in Finance
It provides the ability to store necessary client information in a single repository and access it at any time and from any place.
It provides full financial visibility, streamlines financial processes, and reduces paperwork.
Creates financial reports as per the company guidelines.
Equipped with real-time dashboards that clearly show revenue, expense, and cash flow.
It allows companies to exercise full control over payment acceptance.
Enhances cybersecurity by providing secure portals for transactions.
Forecasts financial trends and helps plan for the future.
Creates message portals for facilitating communication with clients and employees.
Automatically prepares invoices and mails them to the client.
Easily integrates with other systems such as email, calendars, and other financial apps.
Business Management Software – Customer Relationship Management (CRM)
Maintaining good relationships with customers is imperative for any company. This is because the more customers you have, the more is your probability of making the sale. Also, the COVID-19 pandemic has virtually locked people inside their homes. The government imposed lockdown has strict guidelines for people venturing outside. This has curtailed the sales of many businesses, especially micro-businesses, whose survival depends upon daily transactions with their customers. Therefore, the third point in your business revival strategy should be the implementation of CRM systems. The following points describe why they show a ray of hope in such tough times:
They help businesses stay in touch with their clients.
They create a customer database that can be used to send important emails, documents, articles, and links to help them stay safe during the Coronavirus outbreak.
They allow your customers to raise issues and get solutions instantly.
They gather important data and pin-point what people are searching for. This helps businesses to alter their offerings as per customers' wants.
They suggest the types of discounts you can give to increase customer footfall.
Once the COVID-19 pandemic is over, the concept of customer relationships will gain a deeper ground. This is because it will increase customer stickiness and thereby improve your profit-making potential. The COVID-19 pandemic has been a turning point for humanity. It has changed the way we live, interact with others, and do business. Those companies that prepare a well thought out revival strategy – implementing remote working solutions, ERP, and CRM systems – will rule the roost while those that don't will dwindle in obscurity.
Author Bio:
Nishant likes to read and write on technologies that form the bedrock of modern-day and age like machine learning, data science, AI, and robotics. His expertise in content marketing has helped grow countless business opportunities. Nishant works for Sage Software Solutions Pvt. Ltd., a leading provider of CRM and ERP Software to small and mid-sized businesses.