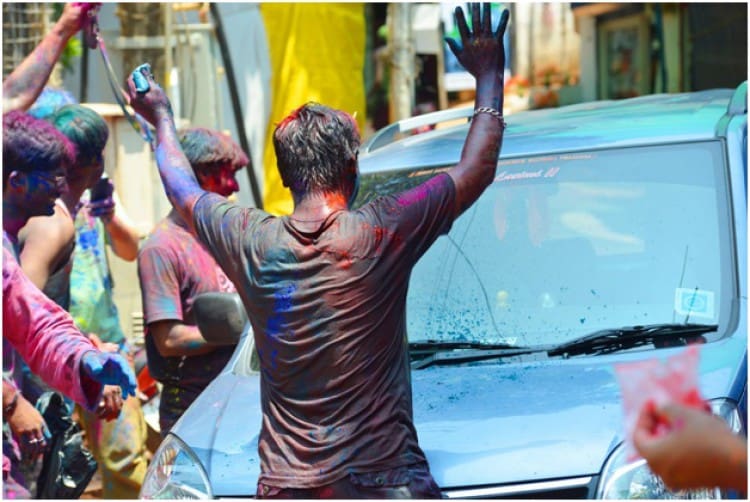 Come Holi, and the entire town is splashed with bright colours! We cheerfully indulge in all the fun and frolic that this festival brings with it. However,after the fun is over, we realise that we're not the only ones who got colour-washed. Our cars, our much-valued prized possessions too end up looking like abstract art on wheels. Right?
So, if you wonder how you can spruce up your car back to its clean sheen look, you're not the only one. Many people seek useful cleaning tips for their car right after Holi, as colour stains can be quite bothering because of all the damage they can cause.
It is advised that on the day of Holi, your caris kept covered from roof to wheel and parked in a good place to save it from all the greasy colours and water. However, if you have to take your wheels out for a Holi party or to hop from one friend's place to another, then your car will be subject to damage. In that case,many tips can be used before the day of Holi to minimise or avoid any kind of damage.However, if your car does get ugly stains after Holi, then don't worry. Here are some tips that can help you get rid of the stains and all the stress around it:
Firstly,if you opt for cleaning your car at home, then make sure that you use car care products only instead of home detergents. Such detergents have harsh chemicals and acids that will do more harm to the paint of your car, than any good. Car products, on the other hand, are specially formulated for vehicles and even offer additional protection. 
First, A Gentle Clean Up!
Before attacking the stains directly, first, give your car a shampoo wash. Use a good car shampoo to clean off the exteriors properly and then rinse it with flowing water. However, try not wasting too much water in the process.
With this, you will be able to clean the easy ones quickly. This will also light stubborn stains which will require extra efforts from your side.
Second, Attack the Stains!
For stains that have affected the paint of your car deeper, use a rubbing compound. Many compounds available in auto shops help in this purpose. You can gently rub the compound over the stain for some time, and then clean it with a dry cloth. However, do not rub too hard on the surface, as that may remove paint layers. You may repeat this if stains don't go in the first attempt.
Third, Wash and Wax!
Once the fight against the stains is over, then wash the car with clean water and dry it properly. Later, apply a thick coat of wax polish all over the surface of the car, as that will protect the paint finish. You may even use Teflon coating which is slightly expensive but works even better than wax.
Moreover, a wax coating will also save your car from harsh UV rays during summers. Also, we know how much you love your car, so we hope that you've also insuredit with good motor insurance as that can cover you against various unexpected damages and losses. You can easily buy one online nowadays. 
Fourth, Clean Up the Interiors!
Cleaning the car's exterior turns out to be the first line of action you take.However, don't just get tired and stop there. Even the interiors go for a toss when friends, family or kids jump into the car with soiled hands.
Especially, if your car upholstery gets stained, then it can be quite difficult to clean it up. Therefore, itis advised that before Holi, you cover your interiors with plastic kitchen food wrap. This can save you from great damage later.
However, after Holi, if your car's leather seats get soiled, then use a household detergent and a brush to work up a foam and clean it up. To protect the seats further, use leather polish over the covers.
With fabric covers, you'll require dry-cleaning. However, some stubborn stains still may not go. In that case, you'll have to get your covers changed. 
Seek Professional Help!
After Holi splash, if you're in no mood to wash your car yourself, then take it for a cleaning service. The professionals know exactly how to clean every part of the vehicle. From the floor mats to the tail light, they will make your car look new again. Book an appointment before-hand as around Holi; many people opt for car cleaning.
Always Have Insurance for Your Car
Holi's colours come and go, but your car's shine and beauty must remain intact. So, to treasure your car, it is advisable that you have motor insurance to avail many coverages that come with it. It can prove to be of great help in case of unexpected losses and damages. Nowadays buying motor insurance is a process of minutes with online insurers. You can insure your beloved car with just a few clicks sitting anywhere.
With this policy, you can avail coverages for accidental vehicle damage, third-party liability and many other such losses. Moreover, additional coverages like consumable coverages from Tata AIG General Insurance, help you to get reimbursement against replenishing oil or replacement of nuts and bolts after an accident. Also, personal accident cover for owner driver can be availed. All these coverages will save you a great deal of tension!
So, give your car a good clean and care regimen! And, also get it insured!