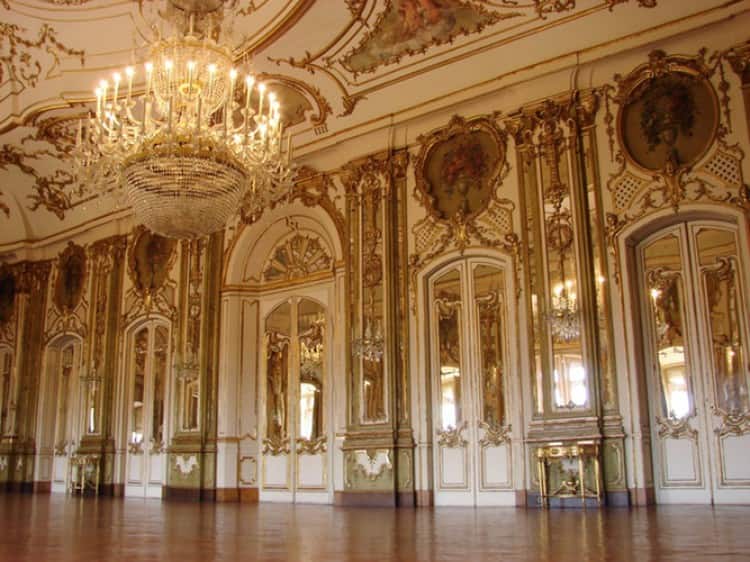 Chandeliers have always been articles which are used to showcase luxury, opulence and kingliness. In the ancient times, these light fixtures were lit daily in order to let its magnificence splendor amaze all with the complementary lightening of candles. If we talk about the largest collection of Baccarat and British Crystal Chandeliers, then you can find it in the Dolmabahce Palace in Istanbul. Even the heaviest weighing chandelier of about 4.5 tons is there, which is a present from Queen Victoria. In this modern era, chandeliers are not just something which depicts gloriousness, but they are even the perfect example of amalgamation of science and luminosity.
Here we are going to check out some of the most dynamic chandeliers around the world.
The Raimond Light by MOOOI
This piece is a mathematical art and it was designed by a Mathematician Professor, the Raymond. The light from this chandelier produces stars even when it is cloudy outside your house. This spherical shaped light fixture is created by forming a series of triangular shapes and utilizing delicate bonds of stainless steel. The addition of tiny LED lights fabricates a soft glow, which can uplift the aura of your interior. This chandelier is everyone's favorite and it is immaculate for proffering an atmospheric ambience in any conventional or contemporary setting.
Skill Scheherzade 3 tier's floral by FORTUNY
This amazing piece was made in Venice and this combines Fortuny's love for combining the oriental and the Venetian. Its structure has 3 layers, which is poised by an intricate net of cords and is embellished with Murano glass beads. This light fixture is really very charming, elegant and full of grace and provides a flawless façade to any dwelling, by creating an aura of romance to any space.
The Luna Piccola by Donghia
This alluring light fixture is transforming traditional surroundings into the modem one, but still maintains the conventional aura. This piece has been expertly crafted out by the skilled artisans. It even represents master of art and craftsmanship and it displays the serenity in the way we want to see.
This chandelier has a state of art design and it appears like water in the ocean. The designs and motifs by Terzani are scrupulously crafted including the up-to-the minute technology to produce illumination. You can make use of this striking piece of art in order to project a certain mystery, which is no less than Hollywood glamour.
The John Field chandelier by Silla
This one is even more than striking and each plexiglass piece is cut, sculpted and chiseled by the Italian artisans. This creates an elliptical silhouette and has a very solid structure. In the manner the light communicates with the corners of the motif is pure brilliance. Not only this appears stunning, but also impresses the onlookers, you simply can't get your eyes off from it.
Basics of chandelier!!!
Appropriate lightening in your room is as essential as the furnishings and there is nothing better than the chandeliers to do this. They can be adorable centerpieces for any type of abode you own. They are enough to make an elegant and a bold statement.
When you place a chandelier in your foyer, entryway, hall or dining room, then you they depict luxury and royalty in your home. Annexing a chandelier which can complement your space will proffer beauty and drama to the tenor of your home with extra charm and serenity. It doesn't matter if you choose a dramatic or a romantic chandelier as the focal point, what matters is that you have selected the right piece according to your space. Like if you want something for your living room, you need something which does not have too much glint and radiates soothing and tranquilizing light. The splendor of your interior décor will be enhanced, if you smartly choose the chandelier for your space. Also, you can even go the light fixture, which has a down light, so that it provides accent lightening.
A chandelier can even make a small room look spacious and airy and the big room will become inviting and snug. It can fabricate a scintillating environ for your party night or a pleasurable feel of leisure to soothe you after a long tiring day. There are various ways in which the light of the chandeliers can bring difference in your life and its effect is incomparable to any other lightening articles.
Chandeliers in the dining room are the most popular option for every home and the way they add mood to every meal is amazing. If your chandelier has a dimmer switch, then you can also tailor the look of your dining room with a unique fad.
Some things you must remember before placing your chandelier like there must be about 7 feet difference between the floor and tip of the chandelier, so that it doesn't interrupt the visual space and also the people don't need to mind their heads while walking.
So, now you know what type of chandelier you would need and how you have to place it, just go and get one now!!!