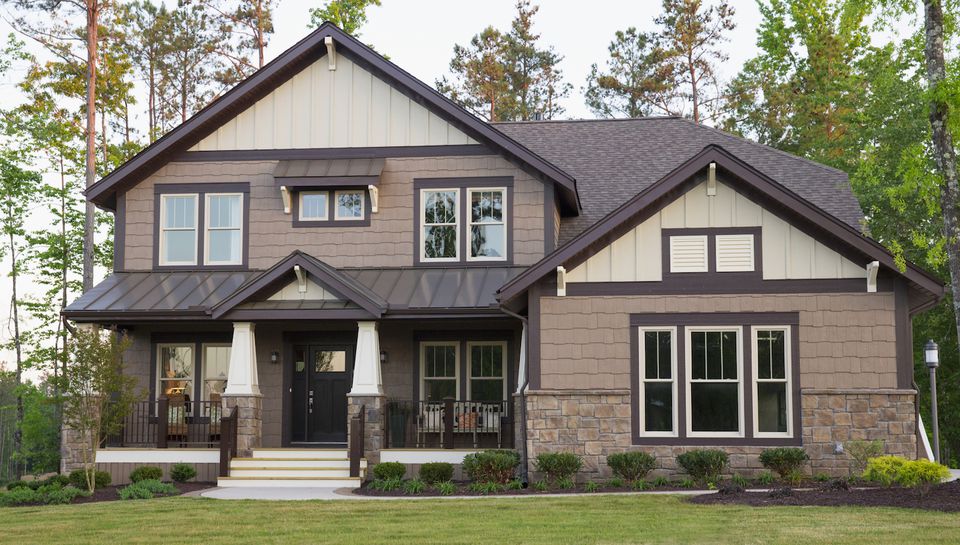 Exterior finish is an object or a type of material used for covering the exterior of a home. Many houses come with plenty of exterior finishes, including cladding, roofing, and special types of doors and windows.
Exterior finishing is an excellent way of giving your home a makeover and improving its sound and thermal insulation. This will in turn cut down on some of your expenses in the short and long term, to name just one of the clear benefits. It can also provide your home with an entirely fresh look and boost its value. Speaking long-term, exterior finishing is definitely an investment worth considering.
Still, choosing the right finish isn't as easy as it may seem. The process requires proper planning and in-depth research.
What to Consider
As all homeowners who underwent an exterior finish makeover can agree, choosing the right type and material is no easy job. There are several factors to consider to make sure that your home will be both functional and aesthetically pleasing after the renovation, and doing this on time can save you a real headache later on.
Location is paramount. Local climate and historical conditions should always be considered when picking an exterior It is suggested to incorporate materials available locally and stick to a design that fits in with the local environment – consider factors like rainfall and humidity, for one.
Colours Choose the wrong colours and the whole home will suffer. Humans are visual beings, and the colours play a crucial role in affecting our emotions and mood. Don't go for a colour that will clash with the rest of the neighbourhood.
Think long-term. Keep practical concerns in mind as well. Invest in a long-term solution that will withstand local weather conditions and pass the test of time.
Match the style of your home. If your home is a traditional one, installing a contemporary exterior finish would cause an imbalance and vice versa. This can make your home look out of place, so make sure to match the exterior with the interiors of your home.
Additionally, don't forget to establish a clear budget and stay aware of it when picking the exterior finish for your home.
Different Types of Materials
Exterior finishing is full of possibilities to look into. From various types of materials to different design styles, here are some of the options to consider.
Timber Cladding
This eco-friendly solution excels at keeping your house safe from exterior influences and creating a captivating image for your home.
Fortunately, wood is a highly renewable source and offers incredible durability and characteristics, contributing not only to the looks but also to the energy-efficiency of your home. On top of that, it also presents a cost-effective solution and comes with a quick installation process.
Stone Cladding
By applying layers of natural or faux stone, this type of cladding can add a touch of elegance to any home. While stone cladding is relatively cost-effective, this solution requires little to no maintenance and presents a long-term investment.
Stone cladding is suggested for those who wish to achieve a rustic feel. It is especially suitable for warmer climates with lots of sunlight, as it will keep some of the heat away.
Stucco
Stucco finishing is gaining a lot of popularity due to its ability to be applied over wood-sheathed as well as masonry homes. While this type of exterior finish is known to be very durable and long-lasting, the installation is quite expensive and demanding, so bear that in mind if you are on a tight budget.
Tile Cladding
Tiles are a versatile material that is relatively new to the exterior finishing scene. There are plenty of designs and colours to choose from, allowing homeowners to achieve an entirely new look for their homes. While tiles are durable and long-lasting, you should know that they are also labour-intensive when it comes to installation – but can make your home stand out like nothing else.
Fibre Cement Cladding
Cement panels are a popular choice for exterior finishing due to being lightweight, easy to install, and weather-resistant.
Metal Exteriors
Metal finishes such as aluminium, for example, can preserve their looks for years and provide excellent protection. They are also available in limitless modern designs and textures.
uPVC Cladding
Unplasticized polyvinyl chloride, also known as uPVC, is a material commonly used for exterior finishes. It offers exceptional water-resistance and durability, making it ideal for unpredictable climates and harsh weather conditions.
Since uPVC exterior finishes require no maintenance and are very economical, many homeowners prefer this method over its alternatives.
Glass Cladding
If you're looking for a sleek, advanced-looking design, glass cladding might be the right solution for you. Glass allows a lot of freedom when it comes to designing and unique shapes. It is also fairly resistant and comes in various types, including laminated and tempered glass.
Final Words
If you are looking for a way to make your home more practical and aesthetically pleasing, installing an exterior finish is worth considering. While this method provides a lot of benefits, such as home protection and insulation, it should be tackled with care. Choosing the right exterior finish for your home depends on several factors such as location, climate, and the type of your home, as well as your budget. Additionally, there are plenty of different material types and methods to choose from. Pick the right one, and you'll be able to convert your home into a contemporary beauty!