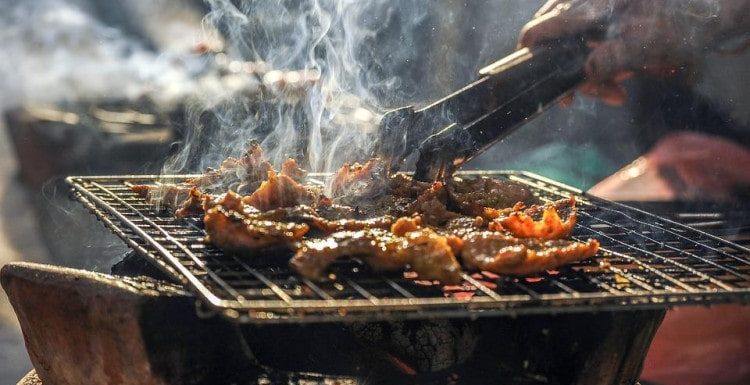 Around 75% of Americans own a grill or a smoker. Over 40 million people camp in the United States. Few activities can be as relaxing as an outing with family, friends, and good food. Not surprisingly, barbecues are more popular than ever, and we're always looking for creative ways to make outdoor culinary experiences even more fun. Let's cook up some ideas for creating the perfect portable grilling experience for your next adventure!
With so many people seeking parks and campgrounds on the weekends, the barbecue experience can be disappointing. One person with loud music, or a group enjoying themselves a little too much, can ruin the day. The only way to get privacy in some parks and campgrounds is to take a hike. Portable smoker-grills are an essential piece of recreational equipment.
Portable barbecue grills and smokers come in a variety of shapes and sizes. Some are better for patios and porches, while some are optimized for easy travel. What works best for you depends on a number of factors.
Know Your Fuel
Nothing affects portability like the kind of fuel you use for your portable grill.
Charcoal imparts flavor. Wood chips are essential for smokers. But who wants to transport big, dirty bags of charcoal and wood chips in their car, then lug them through the woods? You might need several bags. If you don't want to do that, consider propane canisters instead.
For most portable grills, a one-pound propane tank lasts about two hours at full heat. This is more than enough for an average meal. A five-pound tank lasts longer, and would be suitable for several days of cooking. 20-pound tanks are best suited for large grills and smokers.
Not all propane tanks fit all grills. Make sure you know the kind of tank options you have before buying a portable grill or smoker. Avoid complications like fuel adapters and attachments, especially where fuel is concerned. Fuel adapters can leak if mishandled and are one of the first things people leave behind at campsites and picnic areas.
Portable solar grills don't need fuel. They work by focusing the sun's rays on a central point, usually a tube or a platform. On a clear day the sun puts out more than enough energy to sizzle your kebabs. Drawbacks include uncooperative weather, and size. Solar barbecue grills tend to be small, which makes them easy to carry. Being small, they're not the best choice for cooking large slabs of meat.
Regardless of your fuel choice, be sure to check any local rules if you're cooking at a public area like a park or campground to ensure you follow local and/or state guidelines.
Plates and Utensils
Portable mess kits include hard trays or plates, bowls and utensils. They're lightweight and designed with portability in mind. Better mess kits fit together into a modular package that's compact and easy to carry.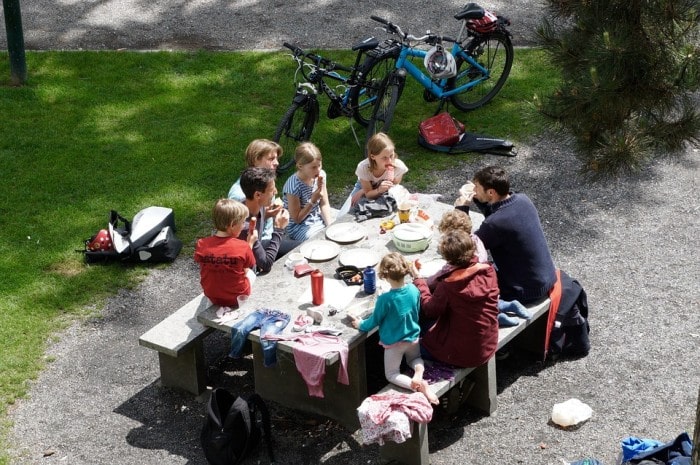 A pack of 50 or 100 paper plates can be broken up and carried among several people, and later burned in a campfire or recycled following local recycling guidelines.
Guests can bring their own cups and utensils. Be prepared for guests who don't bring anything.
Remember soap for cleanup, and hand wipes, sponges, paper towels, and plastic bags. You might need water too, if there's none on-site. Plastic garbage bags are multi-use items. They can store food, collect garbage, and cover dirty utensils if you're interrupted by bad weather.
Food, The Vital Portable
Most vegetables require little refrigeration to the point of use. Pre-cut your veggies like peppers, onions, and other grilling essentials prior to leaving your house. Place them in a ziplock or tupperware, and they'll be ready to go when you're out there grilling.
All the delicious forms of meat you crave, from Pig Shots to Armadillo Eggs, need to take one final walk to your grill. That's not far if you're cooking on your patio, but if you go to the park or campground you'll need coolers. Soft-sided coolers with built-in artificial ice packs are good for day trips. Hard-side coolers have some advantages for longer-term trips, like doubling for a food prep or condiment station and a seat. You might want to bring natural ice for drinks. Some people bring misting fans and portable freezers along. Make your barbecue experience as elaborate as you like.
Grilling Time
Portable grills should be compact and easy to move, and feel stable when you set them up. Make sure you understand your grill's fuel requirements.
Portable grills can be as small as cooktops that perch on a propane tank, or large enough to hold a turkey. Most are made with lightweight metal and alloys, and may include removable cast iron grills, and condiment shelves. Some sit comfortably on a table or stand, like Kamado grills, while others come with extendable legs.
As grill master, it's your job to safely handle the hardware, so make sure you're comfortable with your grill or smoker. Know all the parts and how they interact. Be familiar with how it heats up and cools down, and how to take it apart and clean it. The more familiar you are with your grill, the less likely you'll get distracted and leave something behind.
End of a Great Day
Do cleanup chores while the grill cools down, when there's no need to rush. It will help if you can make everyone responsible for their utensils and plates.
If you're a dog owner, consider training your pet by playing pick-up with camp gear. Their sharp eyes might find items you dropped or forgot – just make sure it's all pet-safe!
Clean your grill when you get home, if you don't do it right away. At the end of the evening you should feel pleased with yourself. You managed a lot of work, enjoyed the outdoors, and fed everyone great food. Relax, and be happy.