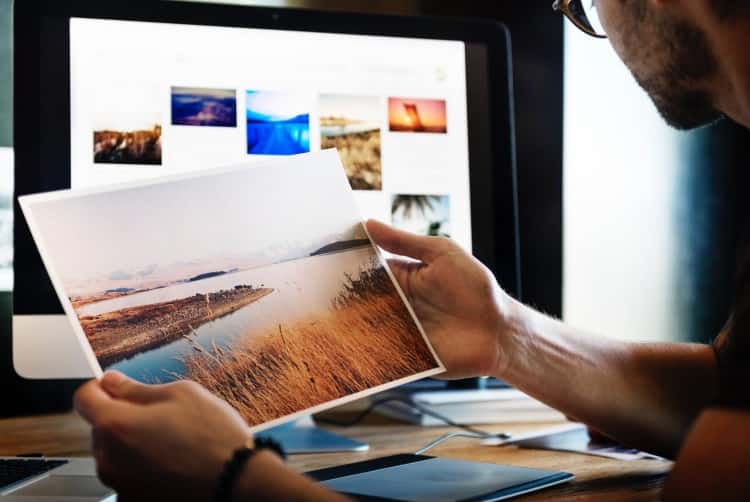 The digital junk accumulated on your Android device in the form of duplicate files & photos not only occupies valuable storage space it also makes your device run slow. These identical files may generate on your device due to various reasons that may include multiple times file downloading, file sharing, data backup etc. If you have a lot of this identical data accumulated on your system then it's time to get rid of it using advanced duplicate photo remover tools.
Duplicate Photos Fixer
Use this one of the best duplicate photo management software to find and delete all types of duplicate files on your Android device. Working as a powerful duplicate photo remover software, it helps you de-duplicate your photo collection. It works on intuitive UI and super-fast scan engines to deliver instant and accurate results. Once it completes scanning your device storage, it displays auto-mark results where it automatically marks all poor-quality files to be deleted. It also offers preview option to help you view files before deletion. It supports multiple language options to help users around the world.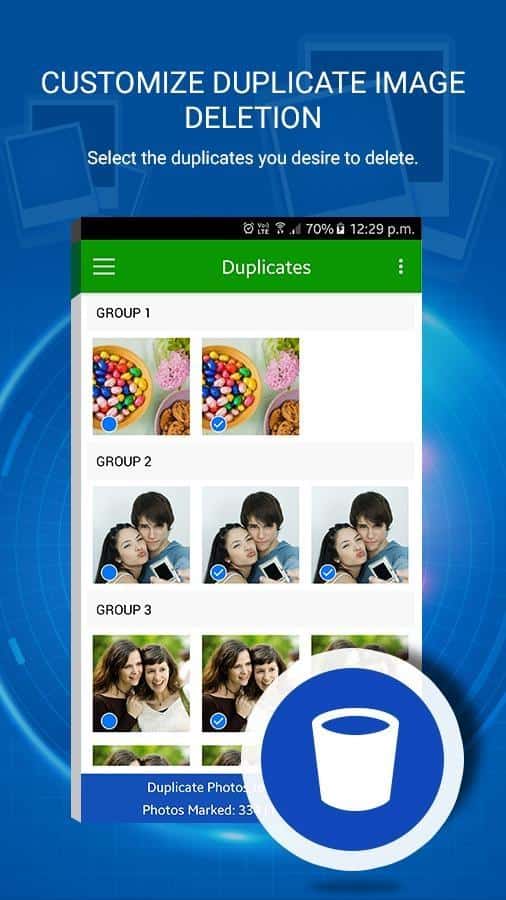 Search By Image
Use this fast and reliable tool to find and delete all duplicate photos no matter they are rotated, compressed, flipped or edited otherwise. It supports cleaning of images clicked from device camera, images shared from social media platforms, or other images. This smart tool supports cleaning images or pictures using various search engines like Google, Tineye, Yandex and others. It offers SafeSearch filter option to help you refine your search process. In addition to working as a duplicate photo remover, it also helps you edit your images when needed. Here, you can rotate the images, flip images horizontally or vertically, crop parts of images and do similar things. Furthermore, it helps you discover if an image is original or modified or even if it is new or old.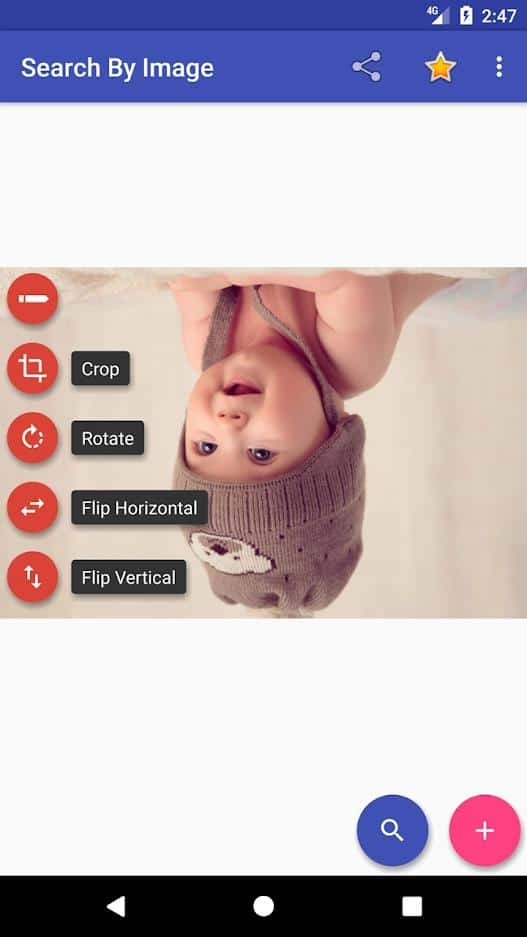 Duplicate File Finder
This free tool supports cleaning multiple file formats including photos, audio files, videos, music files and other file types. Its faster scan engines help you find & clean duplicate files even from the remotest corners of your Android device. Furthermore, it offers a preview option to ensure you are not deleting the important file. Its one-touch cleaning function helps you save time and efforts.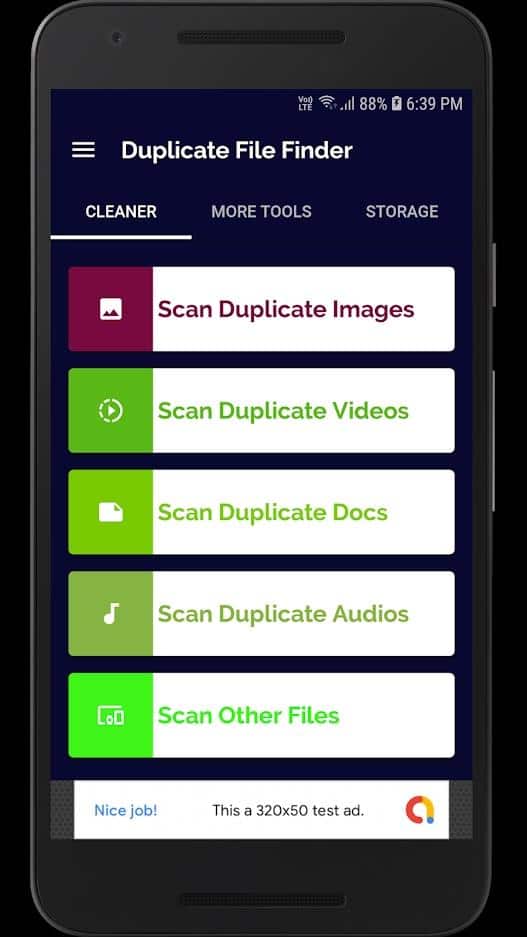 Duplicate Media Remover
Just like other tools, Duplicate Media Remover also helps you find and clean multiple types of duplicate files including duplicate images, videos, audio files and more. It supports cleaning both internal and SD card storage. Here, you can select the folders to scan and it will not touch the unselected files to keep your important files untouched. It marks all identical files including original file if it is duplicate, thus you need to be careful while deleting these identical files to avoid deleting important data. You can use this tool to schedule the scan process on a weekly basis where it will run a scan once in a day. It even allows you to share scan results with family & friends.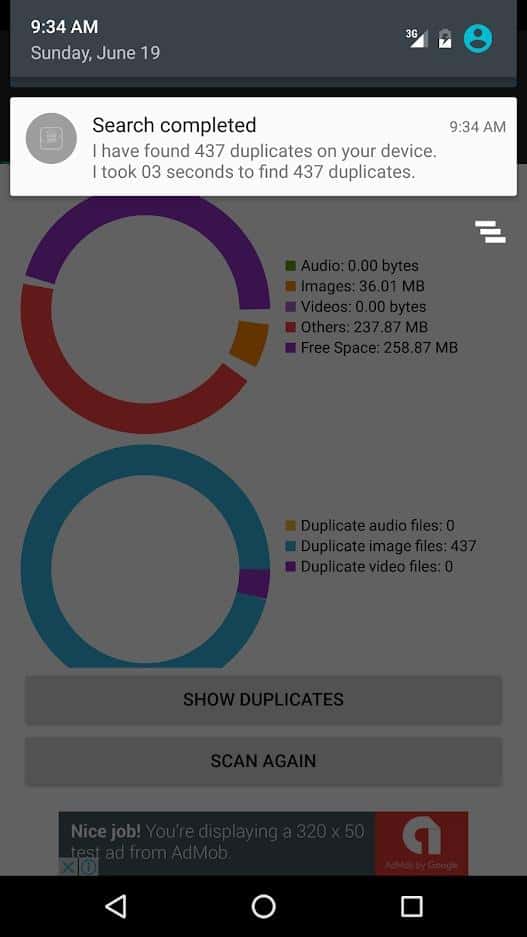 Download Now
DupX
Use DupX to search, detect and clean all duplicate files to recover valuable storage space. It helps you organize files on your device and optimize your device for better performance. You can use this tool to de-duplicate both internal storage and SD card storage. During the process, it performs a deep cleaning of your device to speed up your device performance. Its inbuilt storage analyzer provides a snapshot of your storage space to help you manage it well. Its visual search option provides a snapshot of photos on your device to help you understand which files to keep or delete. In other options, it offers schedule option (daily, weekly & monthly), multiple language support, deep cleaning and more. It even allows you to selectively search and find files based on file type.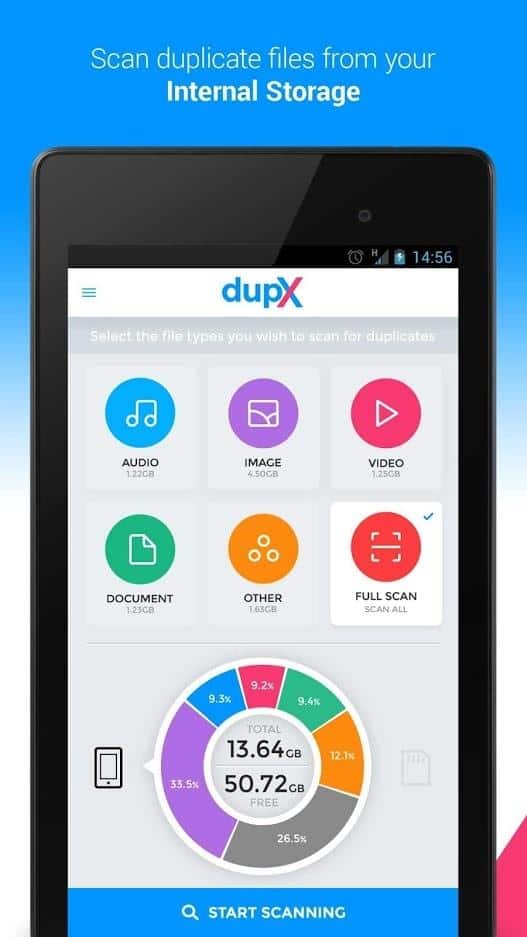 Download Now
Duplicate Photos Remover
Duplicate Photos Remover performs a deep scan on your Android device and display scan results based on groups for easy photo management. Here, it displays auto-mark results where it marks all poor-quality files to be deleted. It supports cleaning both on internal & external device storage. You can use this powerful tool to recover chunks of storage space effortlessly.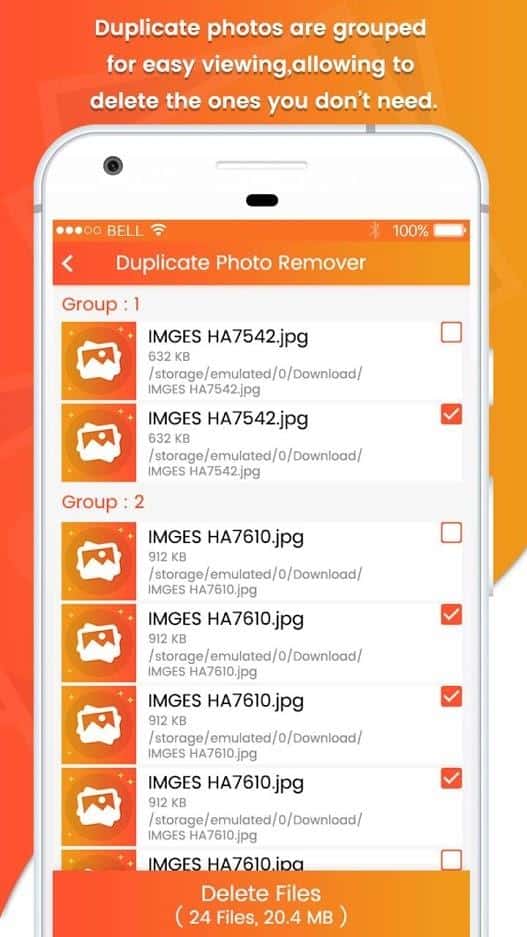 AZ Cleaner
This smart solution is highly advisable for you, if you are worried about duplicate files on your device. It finds, detects and removes all duplicate files from your internal device storage and SD card. Its one click duplication cleaning process helps you perform a deep cleaning of your device in the least possible time. It supports multiple file formats to deliver highly accurate results.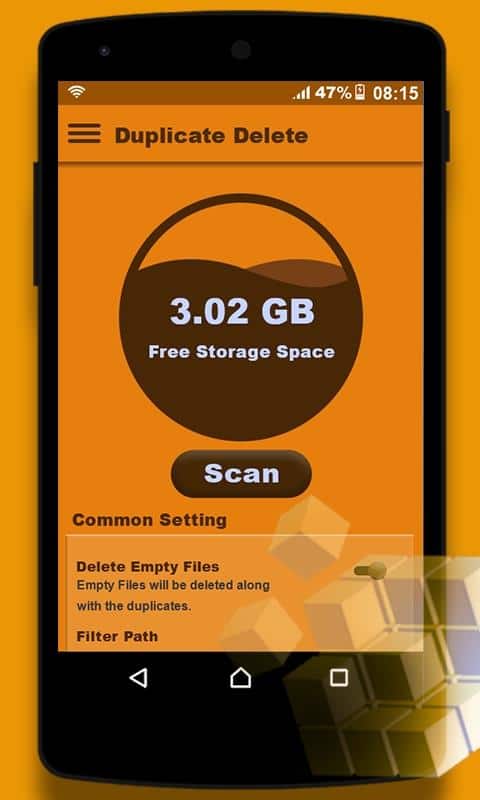 Download Now
So, using above mentioned best duplicate photo & file remover tools, you can easily de-duplicate your device storage. Using these smart solutions, you can recover GBs of storage space and boost device performance significantly. If you are using one of these tools and we have missed it in the list, then feel free to comment below.