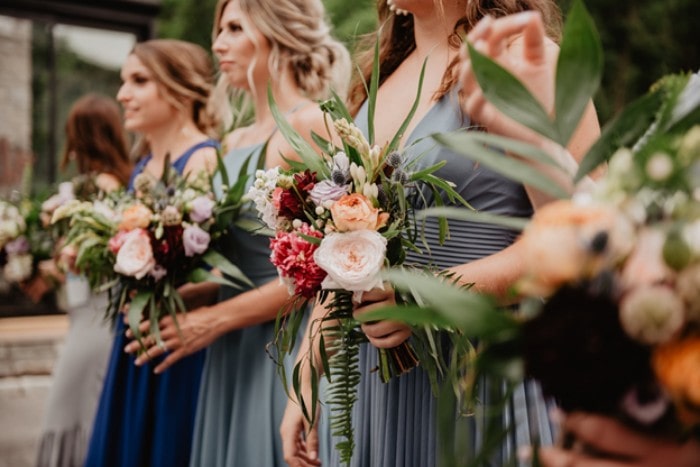 One of the most important decisions when styling a wedding is the bridesmaid look. Yes, the men are important, but it's the girls who really shine in pictures. The style for your bridesmaids can set the tone, tie in a theme, and ensure pictures look great.
Instead of going with something safe, try these unique styles that add interest without going overboard.
Mismatched
An easy way to make your bridal look a little dated is to match them exactly. The days of the same dress, same hair, and same makeup are over, and today mismatching is in. Putting everyone in the same dress doesn't have to look old-fashioned. It all depends on the dress and how you style the girls, but mismatched dresses are much more modern.
There are other good reasons to avoid perfectly matched dresses. Letting the girls choose their own dress helps them feel more comfortable. They won't feel boxed into a style that doesn't suit them. It's also a sensitive way to be conscious of different budgets.
Of course, mismatching can go wrong and end up looking chaotic or disjointed, like they don't belong together. Follow a few different rules to avoid this:
Choose different dresses in the same color
Pick one dress but allow bridesmaids to choose their own color
Mix dress type and colors, but keep them all in the same style family, for instance, the same hem length or color family
Warm Colors
Warm hues are perfect for a fall or winter wedding when everyone wants to feel cozy. These colors compliment the season and generally work for a lot of different girls. Something like pale yellow doesn't suit every complexion, but a deep burgundy looks good on nearly everyone.
Some other great options for warm colors include shades of gold and mustard, deep reds, and pale browns that lean toward neutral. If choosing different styles and colors, pick a warm palette so that all the girls create a cohesive group.
Mixing Greens and Blues
Mixing colors is another trend that can go wrong, but it can also go so right. If you're interested in trying this trend, a safe but also gorgeous combination is green and blue. Most of these hues work well together, and there are many ways to do it.
For example, pair emerald green bridesmaid dresses with a mixed bouquet of blue flowers and green foliage. Winter weddings are gorgeous dressed up in dark greens and midnight blue. For spring or summer, choose paler, dusty shades like sage, olive, and gray-blue.
Jumpsuits
Jumpsuits offer a genuinely bold look for a wedding party. If you have brave bridesmaids and love to push the fashion envelope, consider this option. It's a trend right on the edge of bridal fashion. You'll increasingly see pantsuits and jumpsuits in bridal stores, both for the bride and her bridesmaids.
In addition to creating an edgy, modern look for your event, your girls may embrace jumpsuits for the comfort factor. Not everyone enjoys wearing a dress, which can be constricting or just feel out of character for someone who never wears one.
When looking at jumpsuits, keep in mind the potential pitfall of going too casual, especially for an elegant evening affair. More bridal designers offer a pants option, so you should be able to find jumpsuits with a formal flair. Otherwise, reserve this look for a more casual event or an ultramodern wedding.
Black Dresses
Some people may say black is too gloomy for a wedding, but it's a growing bridal party trend for several reasons. For one, it's easy to match this classic neutral. Also, black dresses flatter every figure.
With a black fabric, your girls can choose their favorite styles and remain a cohesive bridal party. They'll also get more use out of the dress for other events. Black is an excellent color for many settings but particularly for elegant and sophisticated events. Choose black for a Friday or Saturday night wedding, a fancy venue, or a luxury or black-tie theme.
You Can't Please Everyone
Choosing bridesmaid dresses can be fun and a bonding experience, but it can also go terribly wrong when you come up against disagreements. Listen to your bridesmaids and consider what they like, feel comfortable in, and can afford. But also realize that you can't make everyone 100 percent happy. This is your wedding, and ultimately the choice of bridal party style is yours.