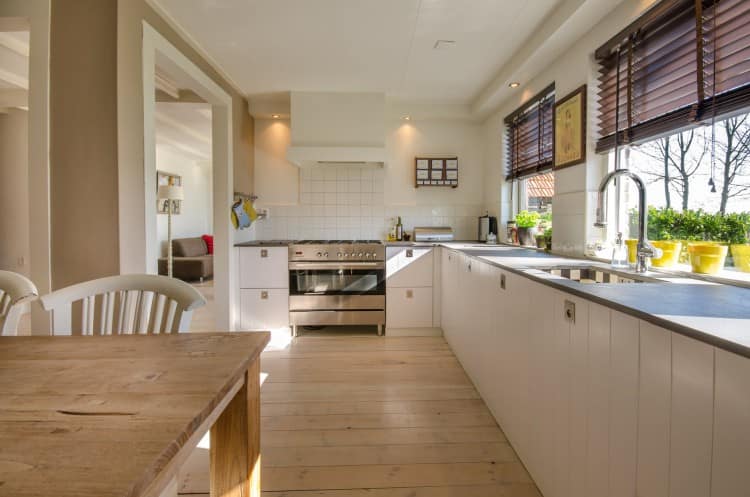 Decorating and furnishing your home on your own is neither easy nor simple, and that's why lots of people borrow ideas from someone with more experience, skills and knowledge.
And if you're trying to design the perfect kitchen at the moment, looking into professional kitchens you can find in restaurants is the way to go. Chefs know all there is to know about cooking and why you should listen to what they have to say. So, here are a few chef-approved tips you might want to think about when designing your own kitchen.
Enough Manoeuvring Space
Chefs believe that having enough space to move around your kitchen is one of the key elements that go into every tasty meal, and that's why you need to give yourself enough manoeuvring space in your kitchen. The amount of free space depends on the layout of your kitchen, so, if possible, separate your island and your workspace by at least three feet, and you won't have a problem moving around at all.
The issue, however, is that the majority of people live in small apartments that feature a tiny kitchen, and manoeuvring around these kitchens might not be as easy. This is where you need to think outside the box and come up with a new layout – switch from a U- to an L-shape layout, and you might solve the problem once and for all.
Lots of Work Space
This is the second vital element that goes into every kitchen, so take it into consideration. Giving yourself enough workspace means having large countertops and an adequate kitchen island, so you can easily prepare your ingredients, work on new recipes and serve your meals once they're done.
The thing about workspace is that you can never have enough of it, which is why you need to use every corner of your kitchen and make the most of it. Maximising it will help you turn all your culinary ideas into reality and actually start acting like a real chef – instead of being squeezed into a tiny space, you'll be able to move properly and spread all your ingredients around the countertop.
Chef-Like Appliances
Being inspired by chefs you see in restaurants and on TV is amazing, but there's one thing that requires more attention than the others – the appliances. Professionals always use the best and most effective appliances in their own kitchens, and you might think about doing the same. This doesn't necessarily mean using the latest models that are too expensive to imagine, because it's all about the efficiency and practicality.
Some of the appliances chefs can't live without are their double ovens, their ranges, their huge fridges and, of course, their powerful fire ducts that make the air in their kitchen cleaner and nicer. These are just the beginning, though, and you'll definitely realise you need more appliances once you start falling in love with cooking more and more in the future.
Spice Cabinet
All chefs rely on various spices that make their signature dishes special and different from everyone else's, and it's these spices that are going to make your meals just as unique too. That's why your kitchen definitely needs a spice cabinet or at least an adequate spice rack, so take this into consideration when designing your layout.
Spice cabinets don't have to be too big, which is great, especially in small kitchens. This means you can build your own cabinet and adapt it to your own needs, making sure you utilise every inch of free space you've got. Ultimately, this is what's going to make or break your kitchen, give you enough space and upgrade your cooking technique, so dedicate some time and effort into creating the perfect spice cabinet.
Focus on the Pantry
Although this isn't a part of your kitchen space per se, it's still crucial for your entire cooking experience. Think of the pantry as the space where you can keep all the things you use in your cooking, so making sure it's neat and tidy is essential.
An organised pantry means you won't have to waste time looking for the things you need every time you step your foot in it, and this is what chefs appreciate more than anyone else.
Organising your pantry like a chef might take some time, but after you do that, all you need to do is keep things organised in the future as well. Grouping your spices together, using see-through storage containers and labelling your mason jars are the keys towards an organised pantry, so start exploring these ideas as soon as possible.
Designing a kitchen worthy of a chef isn't easy, but it's definitely something you need to invest your time and your energy into.
After all, it's going to make you more inspired and ready to start cooking better than before!