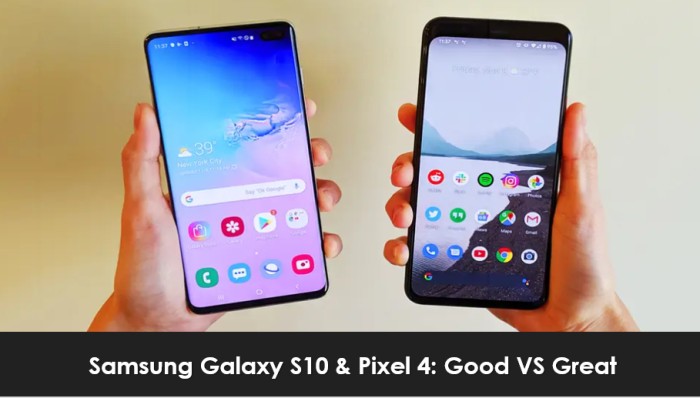 Google has recently launched Google Pixel 4 and Pixel 4XL after a couple of leaks. The October 15 unveiling left no virtual features unimagined. So, we can finally pit our wits between Google Pixel 4 and Samsung Galaxy S10. The two brands Samsung and Google are two of the most eminent Android handset producers today, however they couldn't be increasingly unique in approach.
On one side of the story, Google takes inspiration from Apple's sleek and simple design sense and puts its emphasis on streamlined productivity. The designs might look boring, yet you're certain to get a smooth, attentive all-around experience. Then there is Samsung, on the other side of the story, that goes for very good quality equipment with shiny, gleam designs and launching every flagship phone with the best in class designs, software and cameras.
What's more, the fight between the Samsung Galaxy S10 and Google Pixel 4 to be an ideal handset may imply that these lie on the extremes. If you have landed on this article, chances are you might be on the fence to decide – which mobile phone to buy? We are here to jot down the pros and cons of both of these handsets. Let's take a look at which one sways the other away and why.
●    Design: Bright or Drab


If we compare Samsung Galaxy S10 and Google Pixel 4 design-wise, Pixel 4 is no great shakes. That's quite astonishing to know that instead of improved designs than its predecessors, Google Pixel 4 has shaved off great design. Google's this year lineup has 4 color variants, black does stand out of all.  The Pixel 4 incorporates a flat display and holds a camera module at the back in the upper left corner. That camera module has two cameras, and an LED flash. It is made up of metal and glass with extensive bezel-body and a radar sensor on the top. The Pixel 4 has a fairly thick 'forehead', while its 'chin' is significantly slender.
Whereas Samsung Galaxy S10 possess a curvier body than the Pixel 4. It has 3 horizontally-aligned camera at the back. The Galaxy S10's bezels are comparatively thinner. It has a camera hole at the top right corner of the display.
Both Pixel 4 and Galaxy S10 has their own positives and negatives regarding designs. But it is an easy win for Samsung Galaxy S10 as it is one of the most incredible, premium-looking and sleek phones of 2019.
Our Verdict: Samsung Galaxy S10
●    Display & Screen: Which Feels Better?

If we say that Samsung Galaxy S10 had the best screen you could ever discover on any mobile device so far in 2019, then it would not be an exaggeration. Galaxy has got a splendid screen with a clear QHD+ 6.1 inches Dynamic AMOLED display that is fresh and dazzling. It has a refresh rate of 60 Hz which is quite low as compared to Pixel 4.
The Pixel 4 isn't as sharp, yet this has 1080p 5.7 inches display. Its OLED panel bears a 90Hz refresh rate, that makes navigation through menus feels a lot smoother and quicker. To conclude, we can say that every handset has a standout benefit which make us to draw between the two smartphones.
Our Verdict: Draw
●    Versatile Camera or Spoiler Camera

Well, we are not happy to use the word: spoiler. As none of the two smartphones have spoiler cameras. Galaxy S10 has 4 cameras. The versatile triple horizontally placed cameras are at the back, while one 10MP selfie camera is at the front. An ultra-wide rear camera with 16 MP, a regular lens with 12 MP and a zoom lens with 12 MP. These rear triple-lens setups take the best night shots but not the best ones as they should have had.
The Pixel 4 has 2 rear camera options and an additional front-facing selfie camera. It accomplishes much better shots with just two cameras, snapping every now and again astonishing shots with its wide-angle and telephoto cameras. In addition to that, Google Pixel 4 has an astrophotography mode that helps to take unique shots of astronomical objects for photography lovers. One of the most amazing features in the Pixel 4 is its 3D scanners for secure facial recognition. The Galaxy S10's, on the other hand, has a basic 2D facial scanning features which is fast but as secure as Pixel's.
Our Verdict: Google Pixel 4
●    Performance: What about performance?
So, now what about the overall performance? Which one lags behind and which handset takes the lead?
Starting from Samsung Galaxy S10, it runs Samsung's own Exynos 9820 chip. While, the Pixel 4 has the Snapdragon 855. Eventually, we don't believe that there's a sufficient contrast to bother. Both of these smartphones are swift and perform nearly equals.
Apart from the processor, refresh rate also come into consideration while questioning the performance of a handset. As discussed earlier, 90Hz refresh rate on Pixel 4 has an impact as it makes things look smoother. So, Samsung lags here.
Both of the smartphones have amazingly-designed hardware with ultra-powerful processors. The Galaxy S10 ships with 8GB of RAM, while the Pixel 4 incorporates 6GB.
Furthermore, the Pixel 4 accompanies Google's stock software, which is lighter than what Samsung brings to the table. That is assuming a job in the performance too, obviously. Mulling over all things, both have phenomena performance, and you won't have issues with possible any of the two. However, the Pixel 4 slightly takes over this department.
Our Verdict: Google Pixel 4
●    Battery: A Bigger Edge for S10

The battery on Pixel 4 is terrible, and it is hard-pressed to find a smartphone with such worse battery life even despite having a 90 Hz refresh rate. So, the battery life in Pixel 4 is extremely disappointing with 2800 mAh with less than 3-hour screen time. Shockingly true, right?
The Galaxy S10's battery life is also not that much appreciable, but it is still miles ahead of Pixel 4. It packs for 3400 mAh with continuous 5-hour screen time.
The Pixel 4 and Galaxy S10 smartphones offer 18W & 15W fast wireless charging, albeit just the Galaxy S10 gives you a chance to a 9W reverse wireless charging by keeping any device on the back of the galaxy device to share some juice.
As far as storage is concerned, you get 64GB or 128GB internal storage in Pixel 4 and that is it. You can't include anything further by means of expandable storage. Meanwhile, the Galaxy S10 begins at 128GB, or you can knock up to 512GB – and in either case, you likewise can space in microSD cards for inexpensive storage capacity. Samsung has reasonably stood out on this front.
Our Verdict: Samsung Galaxy S10
●    Additional Stand Out Highlights
Wired Headphones: Samsung Galaxy S10 comes with a wired 3.5mm headphone jack for theindividuals who preferred wired earphones over wireless earbuds as in the case of Pixel 4's.
Audio Performance: It is worth noting that both of these smartphones have stereo speakers. They offer rich audio quality with minimal distortions. But, Galaxy S10 simply offers greater performance when it comes to the sound department.
Video Quality: The Galaxy S10 can record 4K video up to 60 frames / second for a smooth video. It's really become a unique alternative in many high-end cell phones, but Google is kind of ignoring the video features in Pixel 4. Pixel 4 can record 4K video up to 30 frames for every second. That is fine, yet it's not compatible with Galaxy S10. The Galaxy S10 can likewise record video in HDR10 Plus for better hues and contrasts, though the Pixel 4 doesn't offer that choice.
Our Verdict: Samsung Galaxy S10
●    Final Verdict – Who's the Victor!
So, yeah! Here we have come up to a point of comparing two flagship phones of 2019. As you've noticed that the Pixel 4 stands out in terms of performance & camera quality but the overall winner is Samsung Galaxy S10. To sum up, I'd say that every device has its own pros and cons. What you should actually buy depends upon what are you looking for in your new smartphone. We would urge you to give Galaxy S10 a try if you wish to have a pleasurable experience.
Author Bio:
Bianca is a content creator & a passionate blogger. She is a professional tech blogger by profession & an avid reader by soul. She loves to explore topics related to news / technology, particularly content transfer In her free time, she enjoys penning down her thoughts with a cup of coffee.