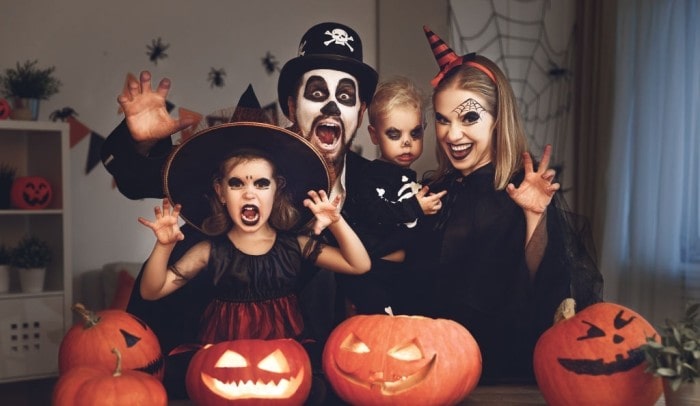 October is upon us. If you're like millions of Americans, then you're already excited about Halloween. You're already thinking about going to lots of parties, greeting kids who are trick-or-treating, having mini celebrations at work, and, most of all, wearing an Instagram-worthy costume.
Sadly, the COVID-19 pandemic will likely change how people celebrate Halloween in 2023. According to the CDC, COVID-19 can spread easily at large gatherings such as Halloween parties, so individuals may want to avoid going to such gatherings.
All is not lost, though. The dangers of COVID-19 are very much legitimate, but that doesn't mean you can't celebrate Halloween. You can still wear a costume and take Instagram by storm with photos of your awesome look.
Want to elevate your costume even further? Wearing Halloween contact lenses is one of the simplest yet most effective ways you can enhance your costume. By wearing the right style of Halloween contact lenses, your costume can go from plain and boring to exciting and otherworldly.
Don't fret if you're not that familiar with Halloween contact lenses. We're here for you. In this post, we'll walk you through all the crucial information you need to know about contact lenses. By the end of this post, you'll learn what contact lenses are, where to buy them, what styles are available, and how to take care of them.
Halloween contact lenses
You can also call Halloween contact lenses as costume contact lenses, novelty contact lenses, or special effect contact lenses. All these names refer to the same thing.
These types of contact lenses are popular among people who wear them to add a special touch to their costumes for Halloween or other events that call for wearing a costume. For instance, an individual who wants to dress up as a zombie may want to wear zombie-themed Halloween contact lenses.
The use of these contact lenses is also widespread in film and television productions. Actors and actresses wear special effect contact lenses when playing specific roles. Chances are, you're familiar with the Marvel Cinematic Universe (MCU). Several actors and actresses in the MCU wear special effect contact lenses as part of the look of their characters. These include Gamora, Drax, and Mantis from the Guardians of the Galaxy films and Heimdall from the Thor films.
The FDA on Halloween contact lenses
You may already have an existing prescription for contact lenses because of vision problems. You may also have perfect vision and you simply want to wear special contact lenses to complement your Halloween costume.
Whatever your situation, you can be sure that there are Halloween contact lenses that are right for you. Halloween contact lenses are available in both Plano (no vision correction) and vision-correcting types.
Even though there are Halloween contact lenses that provide vision correction, you may want to stick to using your regular contact lenses for daily wear. After all, you wouldn't want to look like a vampire or a demon in public every day.
Keep in mind that whether you need Plano or vision-correcting Halloween contact lenses, you will need to get a valid prescription before you can buy them. The FDA considers all types of contact lenses (including Halloween contact lenses) as medical devices, and they require contact lens stores to ask for and verify prescriptions before selling.
Sources of Halloween contact lenses
There are many places that sell Halloween contact lenses, so finding the right one this Halloween will be pretty easy. You can Halloween contact lenses online, in physical stores such as pharmacies, and even at your eye care practitioner's office.
However, buying from an online store may be your best bet right now. Here are xxx reasons why.
Cost-effectiveness
If you compare the price of a pair of Halloween contact lenses online versus the price of the same lenses at a physical store, you'll likely find that the price online is much lower. Since they're the same contact lenses, you might wonder why online stores sell them at a cheaper price.
While each website has a different pricing scheme, a major factor in their ability to sell contact lenses cheaper is their greatly reduced overhead. Not having a physical store means not paying for real estate, utilities, employee salaries, and other expenses. Since online stores save on these expenses, they can pass those savings on to their consumers.
Safety
Buying online allows you to get Halloween contact lenses without risking exposure to COVID-19. There's no need to go outside and gamble with your health when buying online is an option.
Convenience
The online buying process is simple and hassle-free. You choose the Halloween contact lenses that you want from the website, you send them a copy of your prescription, you pay for the contact lenses, and you wait for the product to arrive at your door.
Halloween contact lens safety
For the safest possible experience with your contact lenses this Halloween, follow these safety protocols:
 Wash your hands before you insert your contact lenses and before you take them out. Under no circumstances should you touch your contact lenses with unwashed hands.
To ensure that your hands are completely clean before handling your contact lenses, wash your hands using these steps:
Rinse your hands with water.
Use antibacterial soap and rub your hands together for at least 20 seconds.
Rinse your hands and make sure you remove all traces of the soap.
Dry your hands with fresh paper towels.
Your contact lenses should always first.
Put in your contact lenses before applying your Halloween makeup. This way, you avoid transferring makeup left on your fingers to your contact lenses.
You should also take out your contact lenses before removing your Halloween makeup. Doing so makes it easier to use makeup remover because you don't have to worry about the liquid in the makeup remover from staining and possibly damaging your contact lenses.
Buy only FDA-approved contact lenses.
Avoid buying cheap counterfeit Halloween contact lenses. They will only ruin your eyes. Always buy FDA-approved contact lenses made by well-known brands, and only buy from reputable sources.
Conclusion
Halloween contact lenses are a great addition to your costume for 2023. You just need to remember to:
Get a valid prescription before buying Halloween contact lenses
Browse several websites to find the cheapest possible price
Practice strict contact lens safety
Author Bio:
Jericho Gonzales is a Content Marketing Specialist at Lens.com. Writing is his passion, and he specializes in tech-based and consumer product-based writing. His other passions lie in the worlds of fantasy and science fiction. When he isn't busy with wordcraft, he loves to immerse himself in those worlds through novels, video games, TV shows, or movies.