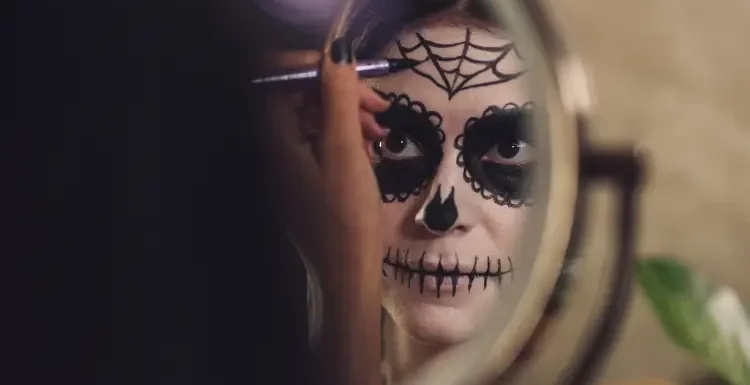 Halloween 2023 promises a return to spooky festivities, and your makeup game should be nothing short of spectacular.
Drawing inspiration from recent pop culture trends and tried-and-true beauty techniques, we've curated 15 makeup tips to perfect your spooky look.
Let's get started!
1. Prime Before You Play
Halloween night is filled with thrills. The last thing you need is your makeup melting or smudging. So, kick off your makeup routine with primer.
A good makeup primer preps your skin, smooths out imperfections, and ensures better makeup adhesion.
Whether you're channeling a haunting ghost, a terrifying ghoul, or a glam witch, primer will keep your look flawless.
2. Layer Your Makeup Wisely
Crafting a spellbinding Halloween face involves layers, but it's essential to apply them in the right order.
Start with lighter products like liquid foundations, then move to heavier products like powders. This method ensures each layer adheres to your face properly for a seamless, lasting look.
Even if your Halloween night becomes a marathon, your makeup won't tap out early.
3. Opt for Waterproof Products
Halloween can mean long nights of partying, sweaty dance-offs, or unexpected drizzles.
Waterproof makeup products are your best bet to combat these challenges, as they resist smudging and fading.
Waterproof makeup products also maintain the vibrancy of your look.
4. Elevate Your Look with Contact Lenses
Halloween contact lenses can be the show-stealing detail that transforms your makeup from good to unforgettably haunting.
Whether you're going for vampire red or mystical white, the right lenses can dramatically elevate your entire look.
But remember: safety first! Always purchase only FDA-approved Halloween contact lenses from legitimate retailers that ask for a valid prescription.
5. Use Stencils for Precision
Stencils are your best friend if your makeup look involves detailed, intricate designs, from spider webs to crescent moons.
Whether you're a beginner or a makeup pro, stencils can guide you to perfection, ensuring clean lines and a symmetrical finish.
6. Mix and Match Your Colors
Ever thought of pairing a deep purple with a neon green? Now's your chance!
Break free from the usual color combinations and let your creativity soar. Whether replicating a movie character's look or inventing your own, mixing unexpected colors can lead to astonishingly spooky results.
And what better time of year to experiment with bright, electric colors than Halloween?
7. Set Your Masterpiece
After investing time in creating your Halloween masterpiece, ensure it lasts with a setting spray.
In a nutshell, setting sprays lock your makeup in place and provide a protective barrier against sweat, accidental touches, and the elements.
It's simply a must-have for long Halloween parties!
8. Use False Eyelashes
False eyelashes can be a game-changer for any Halloween look. Whether you're going for a subtle allure or full-on drama, the right pair of lashes can elevate your style.
Choose from natural, dramatic, or themed designs, and remember to apply with a good quality adhesive to ensure a comfortable fit.
9. Apply Glitter the Right Way
Halloween is the perfect time to shine — literally!
When applying glitter, use a primer or glitter-specific adhesive first. This helps the glitter stick better to your skin and reduces fallout.
Also, use only cosmetic-grade glitter. This type of glitter is designed to be used safely on your face and body, whereas craft glitter is often made of plastic and metal particles that can be hazardous for the skin and eyes.
10. Practice Your Look in Advance
Avoid last-minute panic!
Whether it's a complicated design or a new makeup technique, practicing ahead of time lets you perfect your look. It also gives you a chance to troubleshoot any issues and ensure you have all the necessary makeup products on hand.
Plus, a makeup "rehearsal" can boost your confidence on the big day!
11. Choose Long-Lasting Lip Stains
For Halloween festivities, you want makeup that lasts, especially on the lips. Lip stains are a fantastic choice because they provide lasting color without the need for constant touch-ups.
Unlike some lipsticks, lip stains cling to your lips, ensuring your smile remains vibrant even after those party snacks and drinks.
12. Double up With Multitasking Products
Make your makeup routine more efficient by reaching for multitasking products.
For example, a pigmented lipstick can double as a blush or an eyeshadow. Cream bronzers and blushes can also function as eyeshadows in a pinch.
These dual-purpose makeup products save time and reduce the number of products you need.
13. Extend Makeup Beyond the Face
Don't limit your Halloween makeup creativity to just your face. Extending makeup to your neck, collarbone, or arms can enhance your overall look, especially if it complements your costume.
Whether you're channeling a vampire or a celestial being, using makeup on other parts of your body adds an immersive touch.
14. Invest in Quality Brushes
Good makeup application starts with the right tools, and investing in quality brushes can make a world of difference.
For instance, they allow for smoother makeup application, effortless blending, and a more polished end result.
Quality makeup brushes also tend to shed less, and they distribute products more evenly, making your makeup game even stronger.
15. Remove Your Makeup
It's tempting to crash after a fun-filled Halloween night, but leaving makeup — especially heavy Halloween makeup — on can clog pores and cause breakouts.
Start by using a gentle makeup remover with cotton pads to dissolve and lift away makeup. Then, wash your face with a facial cleanser to deeply cleanse.
Finish by applying a creamy moisturizer to replenish moisture loss and protect your skin overnight.
Conclusion
Halloween is one of the best times to unleash your creativity and experiment with makeup. With these 15 expert tips, you're now equipped to perfect your look, ensuring it lasts the night and leaves an impression.
Enjoy Halloween to the fullest this year and have a blast with your transformations!