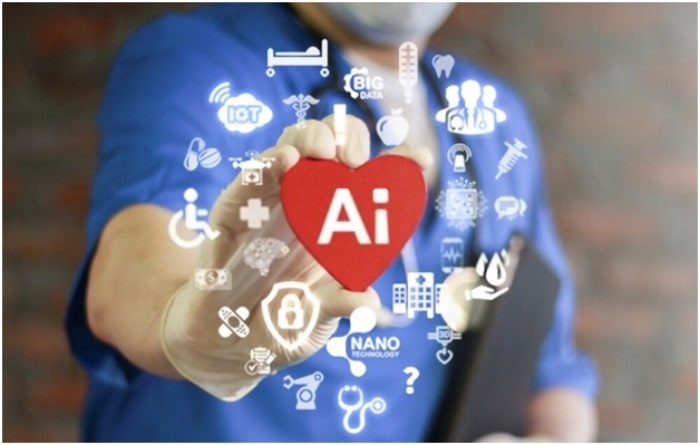 The healthcare industry is fostering medical services with the commencement of Artificial Intelligence. Scientists and health experts have achieved success in expanding the lifespan of individuals by providing profound medical services. But with an increase in the life span outbursts, the demand for medical services and resources to fulfill the requirements of the patient at the proper time. Technological innovations are allowing us to meet the demand for wellbeing efficiently.
AI innovations have brought forth unbelievable advancements in every sector of the world. It stepped into the healthcare industry in recent years and pushed the industry to new heights. However, the present years is the beginning stage of AI in the health sector,
In simple words, AI is all about machine learning, making machines learn the things that we want to derive. Sharing our expertise with machines, we can manage big data quickly with ease.
In its most recent data, Accenture disclosed that AI in the healthcare industry would reach up to $6.6 billion by 2021, witnessing 40% growth compared to 2014.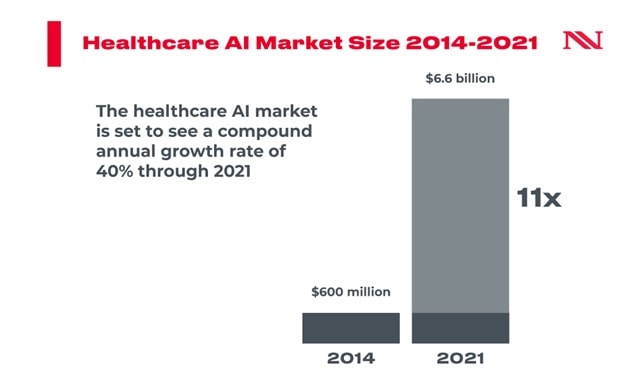 Without any further hurdles, let's explore how AI is reshaping the healthcare industry.
Data Management
AI technology is a fantastic source to manage big data. Maintaining the past records of numerous patients is cumbersome, but with AI software, it becomes quick and straightforward.
Automated Diagnosis
Any disease can be diagnosed with AI surveillance software which will predict the symptoms of the patients and define the disease with its current stage. Automated data illuminates the delays in treatment. It allows us to generate real-time insights.
AI is efficient for diagnosing genetic problems by scanning DNA samples. It predicts future health problems from the traces of DNA.
Early Detection
Early detection is crucial in severe health conditions like cancer. AI technology will warn you about the disease before the appearance of its symptoms. With 99% of accuracy, it's more than 30 times faster than any human.
The detection of problems in the early stages raises the chances of curing relatively. The advanced software assists doctors to briefly understand the patterns and future threats of any heart disease.
Quick Drug Discovery
AI embedded software is generated to recognize new possible treatments from huge datasets of existing drugs. It could work on productivity and reduce the chances of drug failure. Thus, it allows quick drug discovery for any severe infection.
Risk Predictor
Scrutinizing past records, doctors can predict the future risks in patients with the help of AI. By analyzing patients' retina, cardiovascular, i.e., heart and blood vessels, diseases can be predicted.
Basic Care
In the adverse situations of Covid-19, many organizations were assisting the patients over virtual mediums. In the early stages of coronavirus, when there was a scarcity of doctors for treating millions of patients, AI helped to triage based on the symptoms of the patient.
Assistance To Personal Health
In recent years, people are showing active interest in tracking their health on smart devices. Smartwatches and smartphone applications are utilizing AI for tracking health status. The worldwide market size for medical services application of healthcare was estimated at USD 17.92 billion in 2019; also predicted to develop with a CAGR of 45% from 2020 to 2027.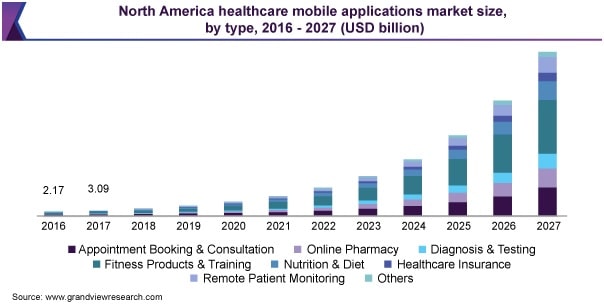 The innovations of digitalization have modified how enterprises maintain their business. The healthcare industry is massively affected by the advanced technology framework, as the number of individuals using the internet is constantly rising.
Wellness and clinical applications keep on overwhelming the versatile medical services applications market. The extension of advanced medical care, which has acquired footing due through the e-remedy framework, wearable gadget producers, and portable wellbeing application suppliers, has contributed altogether to the market development.
Developing Radiology Tools
The arrangements of AI are proficiently used in image automation. CT scan, MRI, and X-rays provide radiological pictures for analyzing the inner functionalities of the human body. However, numerous processes of analyzing depend on biopsies, i.e., actual tissue tests. But AI technology has the potential to empower radiology devices that are exact and definite enough to swap the requirement for tissue tests sometimes.
Utilizing AI-generated radiology tools allows health experts to foster a more precise conception of how tumors act overall rather than just acquiring the treatment's basic idea. This can assist a radiologist in driving effectiveness and decrease human disarray and flaws.
Furthermore, health industry suppliers may have the option to more readily characterize the violent impacts of growing cancer and target medicines all the more correctly.
Virtual Biopsies are generated under AI software assistance that aims to better image diagnosis with radionics that describes the aggregates and hereditary properties of tumors in a profound manner.
Serving The Greater Purpose Of Selfies
AI-powered tools are developed especially for a skin consultation, which scans your skin through a selfie camera and prepares a detailed report of all skin issues.
AI in healthcare serves the greater purpose of selfies by allowing to connect and consult a specialist on virtual mediums. For example, if you face acne problems, you can take a selfie and share it with the specialists to consult the issue. Various websites and apps are providing skin consultation supporting the individuals in the best possible way.
Wrapping Up
As AI keeps on turning out to be a more common technology in our day-to-day life, its prevalence in health care is gradually growing.
For the labor force, the idea of working is shifting with the existence of AI, and the usage of modern tools drives better productivity. Likewise, the health experts have undoubtedly improved the triage of patients.
AI is working towards improving the patient's experience along with lowering down the overall cost. Resolving major complexities and making things simple is the motive of AI experts. AI in healthcare effectively revolutionizes the business. Top healthcare businesses are making their commitment to improving AI advances and improving health services to a greater extent.
Author Bio
Riddhi Ganatra is an online marketing consultant and outreach expert at Viss Beauty who loves to write and review fashion and beauty products. She spent more than three years as content creator covering topics like online marketing, technology, motherhood, lifestyle, beauty, and more.