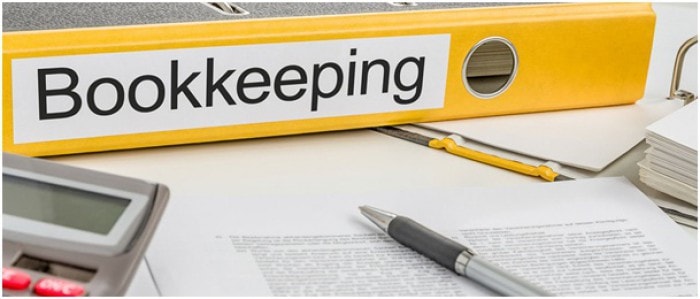 If you are a self-employed freelancer or a businessman, it is imperative that you track your money using the right system and the right ideas. Keeping a record of accounting transactions, managing the finances, and paying taxes are a critical aspect of running your own business. Financial reporting advisory services can be of great help when it comes to issues like these. One more essential aspect of financial management is bookkeeping.
Let us delve further into the intricate details of this wonderful concept.
a.) What is book-keeping? 
When you are working so passionately towards what you've always dreamt of, you cannot afford to make even a single mistake.  You can never go wrong with managing your finances as long as you have the art of bookkeeping in yourself.
Bookkeeping refers to the act of recording all the transactions resulting from all sorts of business activities. With the advancing world, it is imperative to keep yourself updated. If you wish to run your business in the most legitimate of ways, your accounting transactions must be up to date. This act of yours ensures accountability of business owners or accountants.
b.) How does book-keeping work? 
Each transaction has a financial component, is ready to be recorded once that component is known to the user. The system known as an account is used to record each transaction. And afterward, you can exhibit all the reports at times of need that show the effect of all the money going in and coming out. If we talk specifically about the bookkeeping cycle, it runs for one financial year. And for the record, one fiscal year may be different from the calendar year. For instance, the calendar year runs from January to December, but the financial year runs from April to March.
c.) Is book-keeping different from accounting? 
These both terms can be used interchangeably with each other. If you are book-keeping your records, it can be considered as accounting as well. But then, what is the difference between them? Let us find out.
d.) Professional bookkeepers: 
Producing monthly management reports, advising their clients of the best ways to help increase their profits, and managing their finances are some of the bookkeeping procedures followed by professional bookkeepers.
e.) Chartered Accountants:  
Talking about professional accountants, they are like financial reporting advisory services. They focus on taking the information from the bookkeeper and prepare the end of year financial statements of the clients. They ensure that these financial statements are in accordance with taxation laws and GAAP principles. An accountant has in himself to analyze the numbers in depth. They also make sure that their clients are getting the maximum taxation benefits.
Sometimes there are cases where the duties and responsibilities of an accountant and a professional bookkeeper may undergo a significant cross-over. The accountants might perform the day-today bookkeeping procedures while the bookkeepers might fill tax-returns.
* Fulfilling the purpose of Bookkeeping: 
For a self-employed person, Bookkeeping is essential to track the movement of money in and out of business.  If being a freelancer, you don't opt for bookkeeping services; there might be chances that you won't be able to maintain the bookkeeping records that can further lead to failure of businesses. You know your bookkeeping process is running smoothly if you have a vivid track of where all your money goes. The sole objective of a bookkeeper is to help you in making the right business decisions.
Doing bookkeeping yourself: 
When you are on a tight budget, the do-it-yourself Bookkeeping can be your perfect option. Scheduling a few hours in a month for Bookkeeping would help you take your business to the zenith. Inventory management, trading in foreign currencies, imports/exports, operating two or more separate businesses, your attitude and skills are some of the factors that can make do=it-yourself bookkeeping complicated. If you think you won't be able to manage the procedure, we recommend you hire a professional bookkeeper.
What is your business entity type? 
Getting your business recognized as an entity is essential and even required by law in most of the countries. If you have not selected any entity of your business, it is high time you do it now. And after that register your legal business name and get practicing licenses.
It is all on the entity you use that will determine the tax form you must fill in. This is because taxation and Bookkeeping is a little different for each type of entity.
Talking about different entities, they include Non-profit, Trusts, Sole trader, Limited Liability Company, Corporation, Partnership, and Sole proprietorship.
Benefits in a nutshell: 
Bookkeeping has a plethora of benefits. Let us check them out.
Helps in achieving tax obligation
You cannot correctly manage the record of your business transactions if it is not for bookkeeping practices. Therefore Bookkeeping should be used to trace information and documents for the obligation of the annual tax.
Helps in improving proper financial management
There might be chances that you get utterly busy and have no time for managing the cash flow of the business. Bookkeeping makes it much more accessible for you to track daily transactions of the business. Following up the lead and creating an organized system with the aid of Bookkeeping ensures that the business runs smoothly and effortlessly.
Hiring a professional bookkeeper or financial reporting advisory services can help you to a great extent to properly manage the transactions and organize small and big businesses. It helps you to measure your progress.
In a nutshell: 
Bookkeeping plays the most vital role in ensuring the progress of any business. Tracking the business accounting records, preparing the profit and loss accounts, and making sure both the debit and credit side are equal and in equilibrium. You can either hire professional bookkeepers or try doing it yourself.