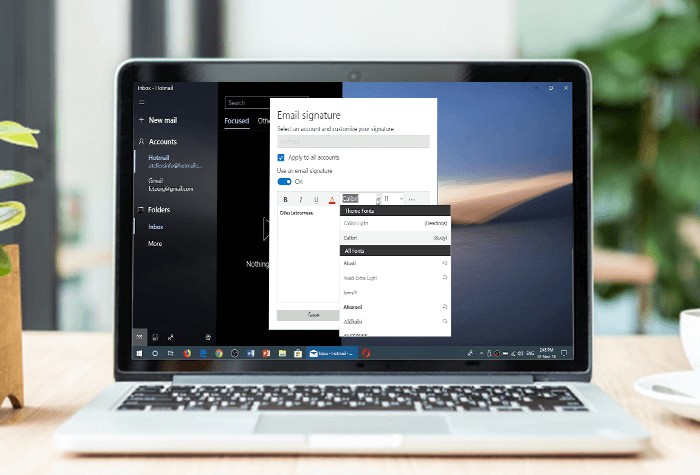 If you are looking to add signature in mail windows 10, then here we will provide you the right and quick solution. Now you can easily set up a custom signature to all your messages you send for Windows accounts. Here you will learn how you can automatically include HTML, images, and text at the end of the email message you write.
There are many advantages to using the signature in Windows, it provides authenticity and value to the recipients. Also, we have discussed how users can easily set up their signature in Microsoft Windows 10, Office 365, and MS Outlook Express.
Now, before moving further let's see what are the reasons to keep a signature at the bottom of all the emails you compose. We have discussed some advantages of using the email signature.
Why is Windows 10 Mail Signature Important?
Here we have mentioned three main reasons why using the signature for Windows 10 mail can help users.
1. Recipients can easily recognize you
If any recipient forwards your email message to any other person then your email signature will stand out as it contains name, contact details, organization details, etc.
2. Provides Authenticity
It is quite easy for your email to be flagged down as spam. This is harmful for your identity, personal relations and business. The email signature provides you the authenticity by assuring your recipients that the email message is genuine.
3. Acts as a Visiting Card
Just like a business card or visiting card, an email signature also provides valuable information to your recipients. Using an email signature, you are providing more ways for your recipients to reach you.
These are some of the advantages of using the email signature. Now, let's move further and see some really simple steps for setting up the email signature without any difficulties.
How to Add Email Signature in Windows 10 Mail?
If you use more than one email client application setup for Windows, then you can set up a separate signature for each of your accounts. Also, you can use the same signature to all your accounts.
Now, follow the steps provided below to add signature in mail Windows 10.
Open Mail (Type Mail in the search box in Windows 10 and press enter)
Click on the gear icon for settings which is at the bottom side of the navigation pane.
Now choose Signature in the settings pane.
Turn on the Use an email signature
If you want the same signature in all the email clients in Windows Mail then select Apply to all accounts And if, you want to add an email signature to any specific email client account then choose Select an Account and customize your signature option. In the dropdown, select the email account you want to change.
Now enter the email signature you want in the text box (Overwrite the default text to change it).
Finally, click on the Save
Now your signature will automatically appear at the bottom side when you compose a new email. Check it by composing new email.
How to Add Mail Signature Image and Use Fonts
Above we have seen how you can add signature in mail Windows 10. As originally, mail for windows 10 only supports signature with plain text. But now it is possible for users to add images and use different fonts to signatures without any hassle. A toolbar is provided above the text field where you will get options to add image, formatted text and links to your signature. You can also include emoji to your signature.
How to Add signature in Microsoft Office 365 – Outlook?
If you are using Microsoft Office 365 application then there are different steps you need to follow to add a signature to all your emails you compose. Follow the given steps to add the signature in O365 emails.
Login and click on the Outlook in the navigation bar.
Go to the cog icon on the top right of the browser and select Options.
Select Email signature under the layout menu.
Now you can add your signature in the signature section.
Click on the checkbox saying "Automatically include my signature on the messages I send"
Click on the Save
Now, after successfully adding the signature, your signature will automatically appear when you compose new email.
How to Add Signature in Microsoft Outlook Express?
Users can also add their signature to all the newly composed emails in MS Outlook express. Follow the below steps to set up the email signature easily.
Launch the Microsoft Outlook Express program.
In the meny, choose tools option in the drop-down.
Select Options.
Click on the signatures
Select New.
Click on the Edit Signature
Enter the Signature you want to add.
After successfully adding the signature, click on the apply button.
You will see that your signature will automatically get added to when you compose a new email to send.
Final Words
Above in this article, we have discussed how users can easily add signature in mail Windows 10 and also to Microsoft Office 365 and to Microsoft Outlook Express program. We have mentioned some easy steps that you can follow to add, modify, or delete the email signature in the Mail app in Windows 10. Also, we have discussed some of the advantages of using the email signature and how keeping a signature in your emails adds value to your email message.
Author Bio:
I am a versatile writer with a vast knowledge of technology helps to reduce the gap between a user and technology. It provides easy and reliable ways to resolve multiple technical issues, which users encounter in their day-to-day life. Also an Email Platform Consultant at SysInfoTools.