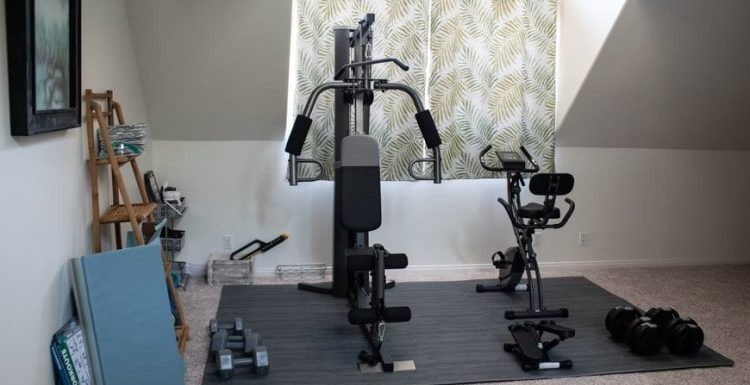 A home gym should be comfortable, convenient, and just as effective as your local gym! Gym equipment can get expensive, but fortunately, there are many ways you can build a home gym on a budget.
Read these tips and get inspired to make the home gym of your dreams.
1. Get what you'll enjoy, or you won't use it.
Don't fall for that age-old trap: "If I have gym equipment in my home, I'll use it." That never works—at least not for long. Your motivation to work out comes from within, and having shiny new toys isn't going to help much.
You have to get equipment that you'll be excited to use. In other words, you need equipment that won't make you miserable. Fitness is supposed to be enjoyable, and everyone likes different things. For example, don't get that expensive Peloton your friend loves if you hate spinning!
2. Protect your floor (and your body) with mats.
Mats are an essential part of any gym. They also help your floor stay safe from scuffs and damage. Think about what would happen if you dropped a heavy weight or slapped a jump rope on the floor every day for years!
A carpet won't cut it. It's not designed for that. Get a high-quality, purpose-made gym mat. It's not optional, especially if you have heavy equipment. If you've got the budget and some creativity, consider professional sports and facility turf. You can enjoy stadium-level quality for all your activities.
3. Look for used equipment.
Don't think you always have to get brand new equipment. Used workout equipment can be just as good and not nearly as expensive. This is a great way to get a fabulous home gym on a budget!
Places like Craigslist, Facebook Marketplace, and eBay are always full of people who are getting rid of their unused equipment. People often make the mistake of buying expensive gym equipment they never use (see point #1). Their loss is your gain! Shop smart, and you can end up with a near-mint condition piece of equipment for a fraction of the price.
4. Choose equipment that works toward your goals.
Everyone has different fitness goals. Some people are working toward endurance, some strength, some weight loss, and some general fitness. You should get equipment that lets you further your goals to the greatest extent.
Having the right tools to reach your goals is not only great for your fitness but also your budget. You won't have to spend money on equipment that isn't helping you improve.
5. Don't forget the basics.
Make sure you have the gym essentials. For instance, you should always have a large mirror so you can check your form. Your form is important whether you're doing yoga, cardio, strength training, or anything else.
A few dumbbells or other weights of your choice are also a great addition to any home gym, even if you don't do much weight training. Weights are fantastic to incorporate into many simple exercises. If multiple people are using this gym, chances are someone is going to be looking for the weights.
6. Add a TV.
One thing that you can have in a home gym that you can't really get in a public gym is your own personal workout entertainment! You can blast your speakers as loud as you want without any consequences! (Well, depending on who lives in the downstairs apartment.)
With a home gym TV, you can play entertainment like TV shows to get you through a long cardio session. You can also play videos to guide you through your workout.
Mount your TV in a central place on the wall so you can see it from your cardio equipment and from your floor area. Better yet, add it on an adjustable wall mount so you can turn it toward every area of your gym.
7. Make your own DIY additions.
One way to save a significant amount of money is by making as many of the home gym elements yourself. You can build items like countertops, weight racks, and tables yourself if you have the tools and skill. You can also paint the room yourself without too much hassle.
Like any home improvement project, creating elements by hand will save you a ton of money. Professionals are costly. That being said, don't try to take on tough projects like electric or plumbing yourself if you don't have the necessary skills. You could spend even more money when you inevitably mess up something you shouldn't be doing.
8. Make it an inviting space.
Even if a gym has all the equipment you could possibly need, it won't work if you don't want to spend time there. Your gym space has to be energizing, inviting, and a place you want to spend time in.
There are many ways you can decorate your home gym to make it a place you want to be:
Add a speaker system (preferably with Bluetooth so you can DJ from your phone).
Paint your walls a bright, energizing color.
Include convenient surfaces for you to put towels, phones, and other objects.
Make sure you have enough outlets for your equipment.
Add your personality to the decoration, whether that be your favorite color or art that personally motivates you.
There are so many ways you can be creative with a home gym. Look up inspiration online and don't be afraid to try something a bit different!
9. Remember you don't have to get everything at once.
You can always evolve your gym as you go! Waiting to purchase equipment might even be the smartest decision. If you work out in your gym before it's full, you'll know exactly what equipment you wish you had.
Nothing is set in stone with a home gym. It's yours, and you can always upgrade it as you see fit. This might also help you with your budget, as you don't have to splurge on your gym in one lump sum.
Have Fun Building Your Own Home Gym!
We hope these tips helped. If you play it smart, you can have a world-class gym on any budget that inspires you to work out every day!
Author Bio:
Carolyn Mitchell is a freelance writer and content strategist with a passion for home décor. She can often be found re-painting, updating the furnishingsin her home, and checking some sports facility, and she is also a dedicated cat mom to two adorable kitties.