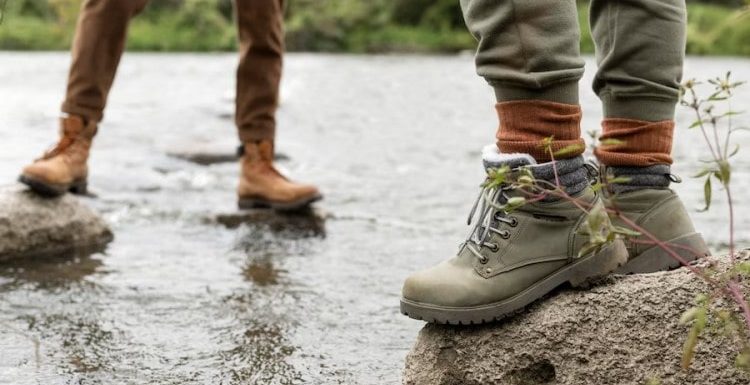 Trekking shoes are one of the most basic necessities in your adventurous endeavors. When trekking in India, you can have one of the most exhilarating experiences of your lifetime. After all, you explore the most beautiful and challenging terrains of the country.
But if you don't have the right trekking shoes, it doesn't take much for your adventure to turn into a nightmare. It doesn't matter whether you're trekking for the first time or you're an experienced trekker, the right kind of shoes are your savior!
So, if you are thinking about how to choose the best trekking shoes in India, we've got you! Here are some of the tips that will help you bring home the right pair so that you can make your expeditions enjoyable and comfortable.
1. Understand Your Trekking Requirements
You need to first assess the terrain that you are about to trek on. Is it beginner-level, moderate, or difficult? Also, do you plan to hike or to trek? Because hiking and trekking shoes are different.  Before you explore some of the best trekking shoes, it is essential that you completely understand the difference between hiking and trekking shoes.
Some other things worth considering in this process are the weather conditions and the trek duration. Depending on the terrain difficulty, don't forget to consider the level of ankle and the arch support you might require. Shoes with better ankle and arch support will make trekking on difficult terrains more comfortable.
2. Get The Proper Fit
Most people make the mistake of getting shoes that do not fit them well. Choosing shoes that fit you well is one of the most important aspects of trekking. Avoid getting a pair that is too loose or too tight.
Shoes that are tight can cause you blisters. On the other hand, a pair that is too loose can bring absolute discomfort while trekking.
You can get shoes that fit you properly by visiting a reputable store. They have sizing experts who measure your foot and help you choose a pair that fits you just right.
3. Breathability And Waterproof Properties
It's important to choose shoes with good breathability because they are comfortable. They dry quickly. Pick a pair of trekking shoes that are made of good material. Also, let's not forget that most trekking destinations in India have very uncertain weather.
You can never be sure of when it might start drizzling or raining heavily. This uncertainty makes it crucial for you to get waterproof shoes. Such shoes will resist water and keep your feet dry for most time of your trekking journey.
4. Traction And Grip
Trekking can be as much dangerous as it can be fun. It is especially dangerous when you are trekking on rugged terrain. There are high chances of slipping. It can cause a major accident that can sometimes be fatal.
So, stability and grip are two of the most important factors to consider when choosing the best trekking shoes. Explore a wide range of pairs and buy those that have good traction and grip.
Shoes with high-quality rubber soles offer excellent traction. You can also go with the Vibram sole. This sole is excellent when it comes to getting an exceptional grip on slippery surfaces.
5. Weight And Durability
While browsing the range of trekking shoes, you might find some that feel heavy. It would be a mistake to buy such shoes, especially when you seek a smooth trekking experience.
Lightweight shoes are a preferable option for trekking in India. They help you reduce fatigue on long hikes. But while choosing the lightweight pair, don't compromise durability. You should get those shoes that are sturdy and can withstand rough use.
All in all, your trekking shoes should offer you a long-lasting performance.
6. Cushioning And Comfort
Comfort is an important quality of good trekking shoes. The best kind of shoes will have quality Cushioning and padding in the insoles and midsoles to enhance comfort. This padding reduces foot fatigue and absorbs shocks during descents.
7. Consider The Season
India is a country with a diverse climate. If you are a seasonal trekker, you must consider the season in which you are trekking. You must opt for well-ventilated shoes if you are planning your treks during the summer season. They offer breathability to your feet.
However, if you like to trek during the cold winter months, you must opt for a pair that provides you with proper insulation. It's essential to keep your feet dry and cozy to avoid frostbite.
8. Go With Reviews
If you are unsure about which pair to buy, you can always check out the reviews that people have left. Don't forget to research the brand completely before you think about investing in a pair of shoes.
A lot of trekkers leave reviews of their experience with a particular brand. Going through such reviews will help you decide whether or not to buy one for yourself.
9. Test Before You Trek
Once you have decided about the kind of pair you want to spend on, don't leave behind the testing part. Testing is essential before you embark on your expedition and is also one of the best travel safety tips you should consider before you trek.
It would be a mistake to head out to trek with a brand-new pair of shoes. You can first wear them for shorter hikes or walks. Once your feet get used to them and you break them in well, you can finally decide to walk long treks wearing them.
Conclusion
Choosing the best trekking shoes in India is a crucial decision that can significantly impact your overall trekking experience.
Trekking shoes are not just footwear; they are your companions on every step of the journey. They provide stability, comfort, and protection, allowing you to conquer challenging terrains with confidence and enthusiasm.
The right pair of trekking shoes will be your trusted companion, opening up a world of possibilities and experiences for both beginners and experienced trekkers. Choose wisely and tread confidently by considering these tips and advice we've just offered you! Let the allure of the great outdoors ignite your passion for trekking.