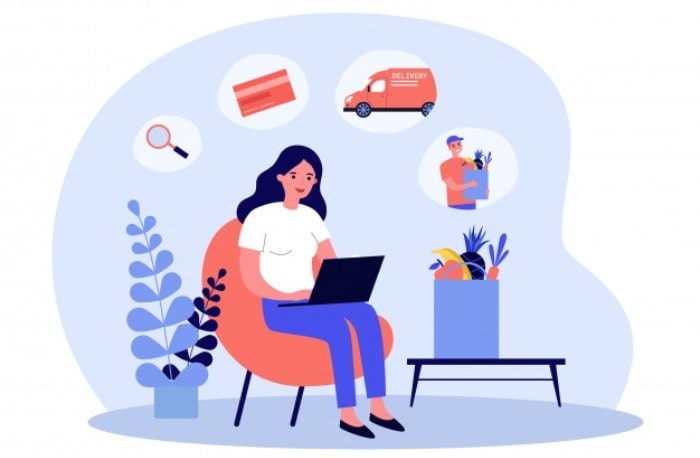 Digital food ordering has become an integral part of our daily life. These days, people prefer online food ordering from their favorite restaurants using apps such as UberEats, GrubHub, Zomato, Deliveroo, etc. People find this easy compared to visiting restaurants.
No matter how occupied you are, no matter in which work you are stuck, there is one thing you need- food. Yes, people need good and healthy food to perform all the activities. Due to the busy and hectic lifestyles, people ordering food online, and this approach can give your restaurant or food business a boost.
As per the recent survey released by Statista, one-third of Americans admitted that they order online food at least twice a week, and the digital food ordering market is estimated to hit $137 billion by the year 2023.
Thus, online food ordering trends will continue to grow. For this reason, restaurant owners are investing in online food ordering systems that offer convenience to consumers to order meals online from their smartphones.
Why Your Restaurant Require Online Ordering System
These days, people are looking for comfort over anything else. Earlier, people were money-minded, but now they can be ready to pay a few more bucks if they get quality food at their home. The main aim behind creating an online ordering system is to give easy access to consumers as they can place and track their orders in real-time.
Online food ordering system offers specific benefits to the food business, such as:
Safe and secure transaction
Smooth operation
Create a brand image
Thus, more and more food business owners are now developing their online ordering system. Those who are already running an offline restaurant can get many benefits by adopting online solutions through which their users can place orders and get it delivered at their doorsteps.
An online ordering system will increase the reach of your food business and allow you to make a solid customer base and become a brand.
Living in this connected world, your customer finds you on Google; if you lack an online presence, you might lose lots of money and potential customers on the table. Hence the online food ordering system will help you make a strong digital identity and stay ahead in the competition.
How To Create Online Food Ordering System
No wonder that online food delivery apps such as GrubHub, Doordash, UberEats, etc. have seen an opportunity and entered the food industry with digital solutions that allow users to get food at their doorstep.
Investing in a solution that will give you promising returns is not an easy task. You have to consider lots of technical and marketing factors if you want to make it the next big thing. As a business owner, you also require industry knowledge to develop the exact online ordering system that your users want.
So let's see how to create an online food ordering system for a specific purpose that allows you to boost profit and create a brand in a short time.
# Choose The Right Business Model
This is the first and important step that comes into the picture when you are developing your online ordering system. There are mainly three food delivery business models such as:
Order only model
Order and delivery model
Cloud model
The order only model was first introduced by popular delivery service providers such as Delivaroo, UberEats, and JustEat. This is a popular business model among small restaurant owners as they don't have to spend huge money on advertising. This business model's main task is to get orders from users and then give them to restaurants.
The order and delivery model allows users to select restaurants and place an order from the menu, but delivery providers have their own vehicles in this business model. However, this business model requires huge money but ensures profitability too.
In the cloud business model, owners don't provide dine-in facilities. They only accept orders coming from the web or application. Later, the food is prepared in the cloud kitchen and delivered to customers.
So based on the above business model, you need to adopt one that meets your business requirements and allows you to upscale your business from the bottom.
# Features Integration
Once you choose the right business model for your restaurant business, the next step is to decide which features you want to offer. Moreover, if you opt for the first business model, you have to manage three parts that are the customer app, the restaurant app, and the admin app.
It is important to have an amazing set of features in your online ordering system that help you attract customers. Features every customer want within the app are:
Real-time tracking
Easy search and filter option
User-friendly design
Easy checkout
Chat features
Real-time notifications
Make sure you integrate all the modern features in your ordering system, then online consumers will use your app. Unique feature integration makes your online ordering system stand out from others and lets you earn more profits.
Just like the customer app, make sure you also offer all the latest features in the restaurant and admin app that streamline your business operations and avoid repetitive tasks.
# Choose The Right Technology Stack
Now you have chosen the business model, have decided which features you want to offer now. It is important to learn about the tech stack needed to create an advanced online ordering system. Some of the essential and most used tech stacks are described below:
For the easy and smooth registration process, you can use
For safe and swift payment transactions, you can opt for PayPal, Braintree, or Stripe
For user location, you require Google Places API
For data storage, you can go with AWS and Google Cloud Storage
Moreover, you can discuss all these technical aspects with your developer; they will guide you and help you create a scalable online ordering system for your food business.
Cost To Develop Online Ordering System
The cost to develop an online food ordering system depends on numerous factors such as features and functionalities; service is app design, app platform, etc. Therefore, you need to find the right technology partner that helps you build an amazon online ordering system at affordable rates.
Usually, the cost of a digital ordering system depends on the features you iterate. Of course, the more features, then you have to pay high prices. Costing also depends on the development company and location where your system is being developed.
Final Thoughts
Keeping in mind the current situation, online food delivery is a lucrative business niche that will surely give you an attractive return in the future. All you need to choose the right business model and advanced technology stack helps you achieve your business goals. Give your consumers the ability to place orders online whenever they want.
The more smooth and convenient the online ordering system, the more it hikes the sales and revenue.
Author bio
Deep Moteria is an aspiring entrepreneur and Co-founder of Elluminati Inc. Deep having led 75+ startups on the right path with their information-admiring entrepreneurial skill and guidelines. Along with that he loves to craft content on topics including on-demand economy, entrepreneurship, technology trends and many more.