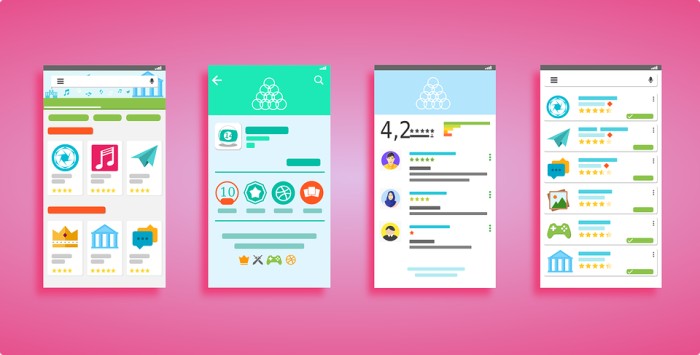 According to Statista, there are about 2.8 million applications available in the Google Play Store for download. Developing a unique app and launching it in the Google Play Store is not good enough to get your app noticed. To increase the app installs, you need to stand out from amongst your competitors.
Do you want your app to grow and get featured on Google play, but are not sure how to get there?
Don't worry! Here is a quick guide on how to get your app noticed amongst the pool of millions of apps in the Google Play Store.
Why is it important to get featured in the Play Store?
For recognizing excellent applications and increasing an app's discoverability, Google Play Store publishes a list of featured apps.
Folks at the Google Play Store feature apps which they believe can be useful for a certain type of users as it is difficult for people to find relevant applications on the Play Store. By featuring an app, Google ensures to the users that the application is safe, functional and user-friendly.
Google also features apps to give developers recognition for their excellent skills. Nothing is more demotivating than to see that the application you developed is lost amongst millions of apps. App categories and features lists can be instrumental in highlighting relevant and the best applications on the Play Store.
Being featured is important not only for improving your brand's reputation organically but also to increase your revenue, gain a high-quality audience, promote your app and significantly increase the volume of app downloads. With many apps fighting for an audience, it is important to get featured now more than ever.
How can you ensure your app makes it to the featured list?
Here are 7 ways in which you can get your app to the featured list:
Study the Other Featured Apps: The first and foremost thing you can do is to study the already featured apps on Google Play Store. Check with apps that have got the editor's choice status and install them. Evaluate these apps in terms of functionality, design and how unique their features are from the other apps. In this way you can use your learnings to figure out what you can modify or add in your app to increase your chances of getting featured.
Make Sure your App is Error free: If you want your app to be in the feature list, you have to make sure your app meet's Google's quality and functionality requirements. Before launching your app in the Google Play Store, make sure you test your app to check if it is in accordance with Android's app quality requirements. The guidelines suggest best practices for developers and also provide insights on what is needed for an application to be considered in the feature list.
In addition to following these guidelines, you should also focus on making your app easy-to-navigate and user-friendly.
Think Local: The Google Playstore is a global platform, and has a larger share in the market than Apple. As Google is open to a wide range of users, your application will perform well if it is not restricted to a particular geographical area.
By making your application available in multiple languages and appealing to different cultures will improve your chances of getting featured by Google. A multilingual application will be useful for many users and you can also look at Google's localization checklist before launching your application.
Work on App Store Optimization: Just like Search Engine Optimization ensures that your website occupies a higher rank on the search engine result page, App Store Optimization (ASO) is the process of optimizing your application in a way that it occupies a higher position in the Google Play Store or in the Apple's App Store.  For ASO, you need to work in the following factors:
App Icon: Make sure your app icon is attractive and well-designed to catch the attention of the users.
Title: Use the relevant keywords to optimize your App title.
Keywords: Just like SEO try to use keywords with low competition and high volume of searches.
Screenshots: It is important that you add high-quality screenshots of your application.
App Trailers: Adding a 15-30 second app trailer can help users understand the functionality of your application. It is not mandatory but it can help your app get featured.
By adding more details, screenshots and visuals you can easily tell the users what they can do with your app and how your application can solve their problems or help them. Highlighting your features is crucial if you want your app to be noticed. App Store Optimization is necessary if you want to reach the right audience.
Keep the App Ratings high: Reviews and customer ratings indicate how user-friendly your application is. When a new user is deciding whether they should install your application, they will almost always look at your ratings and reviews. Similarly, the featured list will have applications which have high ratings and good reviews. Request, remind and encourage your users to rate your application and to give you feedback on a regular basis.
Network: It is important to promote your application and to reach out to the right influencers who can advocate for your app. Create and maintain a good relationship with influencers within your industry. Get in touch with developers whose apps have been featured already and ask them to review your application as well.
Stay in Sync with New Google Technologies: App development is a continuous process, wherein you need to keep updating your application. Both Google and users prefer and appreciate apps which are frequently updated. You can update your application on seasonal occasions such as New Year, Christmas, Thanksgiving and so on, to get featured in the Play Store's seasonal lists.
Google also tries to feature apps which utilize the new technologies introduced by them. These new technologies for developers are announced in the annual Google's I/O Developer Conference for example if you sync your application with Google Assistant or integrate android pay with your application, you will have a better chance of getting featured in the play store.
In conclusion, user experience and App store optimization should be a priority for all Android developers. By implementing the above suggestions you can get your app noticed in the Google Play Store.
Author Bio:
Sameer Mehta is a blogger and entrepreneur and writes on technology and lifestyle related topics. He has more than 15 years of experience across technology, consulting and marketing. He has written for Entrepreneur, West Agile Labs, Exegy Consulting, Jewellerista, etc.