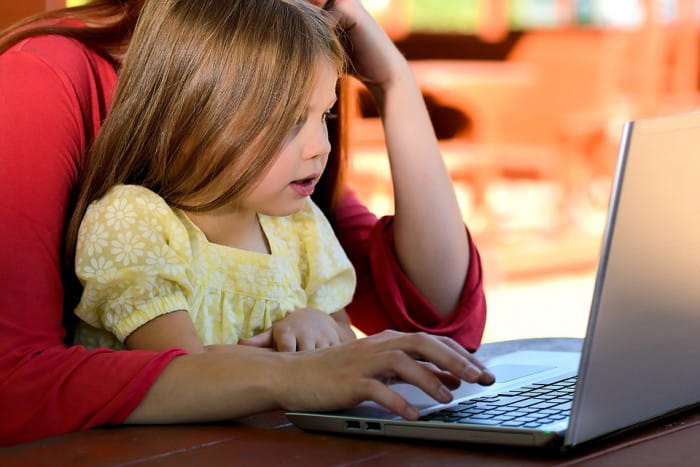 The Internet is a wonderful resource that lets us learn, socialize and create. But online access comes with its own set of risks like cyber bullying, inappropriate content, online predators, viruses, phishing and many other Internet safety and/or security issues you can think of.
Teaching your kids about this now and in the future is your job as a parent, and the challenge of getting it right is intimidating. We've therefore compiled a list of tips to help keep your kids safe when they go online.
Read on to discover more about the different steps that you should take in order to keep your children safe. From teaching them about online safety to setting parental controls on all devices, there are many things you can do.
1. Teach Your Child about Online Safety
One of the key things that'll help keep your child safe online is to discuss online safety with them. Talk to them about the fact that the online world parallels the real world and that there are both safe and unsafe things on the Internet.
Basic information to share with your kids for safe online use includes:
The kind of information they should and should not reveal in their posts, messages and photos/videos
Never to give out their passwords
Never to open an email from people they don't know
How to handle unusual requests or an uncomfortable online interaction
That they shouldn't meet up with people they meet online
Never to post or trade personal pictures.
Never to respond to a threatening email, message, post, or text
2. Set Some Ground Rules
Setting Internet ground rules for kids is very important. Start by placing all computers and connected devices in a common room like the kitchen or living room. Do not allow your child to use a computer in their room or another secluded part of the house. This will help keep an eye on your kid when using the Internet. Also, set time limits on computer use. You can allow the kids 30 minutes of computer time every day. You might want to restrict access to devices during dinner, homework time and other events/situations your family deems inappropriate. Another rule you can set up is to have sites that your kids can visit with and without special permission. Also ensure your kids download age-appropriate apps, songs, movies and other media based on parent-set limits.
Be sure to set rules that are going to work for your family. Also, talk about the rules and the consequences for breaking them.
3. Spend Time Online with Your Kids
A great way to keep kids safe online is not just to tell them the rules but also spend time online with them. Look for opportunities to spend some online time with them. Spend time together learning more about their pastimes and hobbies or help them research a paper for homework. This gives you the opportunity to discuss Internet security matters such as passwords and Internet security protection.
4. Monitor Your Child's Experience Online
Always take a look at your kid's browser histories. You can use monitoring software to check your child's online activities. Some services allow you to access real-time location, track calls and messages, monitor social media activity and device usage time. These services let you know what your kids are looking at and who they're chatting with, giving you more control over their behaviour. Additionally, reviewing your child's Internet use will help you stay on top of any possible issues.
In addition to regularly monitoring your kid's online activity, also check in with your child in person. Ask them how their online experience has been so far and address any issues they may have.
5. Be Anonymous
You don't want your ISP and other people snooping on what you and your children do on the Internet. To protect your online privacy, consider using a VPN (virtual private network). A VPN works by encrypting your Internet connection allowing you to stay anonymous, no matter where you are. This protects your location, which is especially important when you have kids that are surfing the web, as you never know who else is lurking on the web. You can never be too careful.
6. Set Parental Controls on All Devices Your Kids Use
Operating systems including iOS and Android, gaming consoles and search engines offer parental controls. For example, Internet Explorer has Content Advisor which filters out language, violence, sex, and nudity on a scale of 0 to 4. Google Chrome, Safari, and Mozilla have parental controls that filter and block content that may be offensive or inappropriate for children. Familiarize yourself with the controls and adjust them accordingly.
You may also consider using parental control software as controls offered by search engines are not very effective. The software has every tool you need to monitor, track and manage your child's online activity. It provides parental content filtering, blocks dangerous sites, and offers time limits. The nice thing about the software is that it is web-centric and allows you to keep track of your child's activity on a range of devices including Windows, Mac, iOS and Android devices.
7. Follow Your Child on Social Media Networks
Make sure you become friends with your child on social media networks like Twitter, Instagram, Facebook, WeChat and other popular sites. Know who your kid's friends are on those sites. Also, tell your child to only message and accept friend and contact requests from people they know. Another piece of advice to give your children is to post pictures and comments that they think their parent would like to see.
So there you have it: some of the steps you can take in order to keep your children safe online. It is important that parents take an active role in educating their children about the Internet and its pitfalls. These seven tips will help you secure your kid's online experience while still making it possible for them to explore, learn and socialize online.
Author Bio:
Kerry Harrison is an experienced freelance content writer, with a First Class Hons Degree in Multimedia Journalism BA. She currently writes for UK Web Host Review.