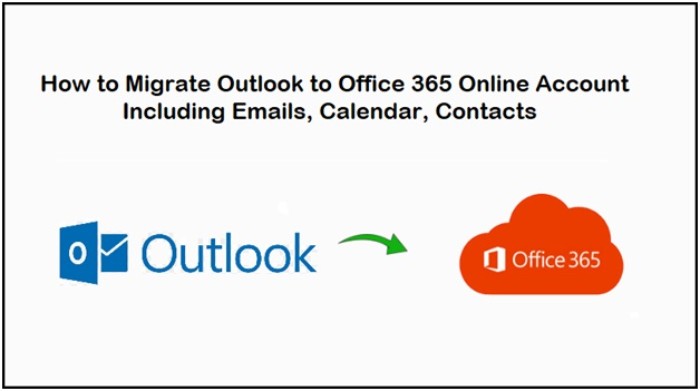 Do you want to know how to migrate Outlook to Office 365? Are you looking for a reliable and secure solution which can help you to export Outlook emails, contacts, calendar to Office 365 account? If yes, then you are at right place as this article explainseach and every information you will need to move to O365 mailbox. Go through the complete guide and find out the benefits of Microsoft Office 365 portal. There is a user query as well to understand the topic with more clarity.
"Hello! I am Jack and I am looking for a trouble-free solution to migrate Outlook to Office 365. I already have some knowledge about IMAP method, but it is so time consuming and require so much efforts. We want to export complete mailbox data including emails, calendar, contacts, etc. We have 1000+ users to be migrated so please provide some quick method which can help me to perform bulk migration. Thanks!"
"I have 50k+ emails, and so many calendar events stored in my PST file which I want to migrate to O365 online account. I tried looking for something on Google, but I didn't get any trouble-free solution. I am not technically sound so I want something using which I can easily migrate Outlook calendar and emails to Office 365 online account."
There are a lot of users who face same kind of situation who are not technically sound and don't know the right procedure for migration. Thus, we have come up with a solution which will help you to easily migrate your data without any data loss.
Methods to Migrate Outlook to Office 365
There are two ways using which users can export Outlook emails, calendar, contacts to Office 365 account.
First method is provided by Microsoft and the second one is recommended by many MVPs.
The method offered by Microsoft can be accomplished in two different ways:
Network Upload–If you want to use this method, then you first have upload Outlook data file on temporary Azure Storage and then use the Import service to complete the migration process. This process is totally free of cost, but it is time consuming.
Drive Shipping–In this method, you need to copy all PST files in a BitLocker hard drive and then ship that HDD to Microsoft. They will upload process the complete Outlook to O365 migration on their own. This is a costly process as they charge $2 USD per GB for the export process.
Important Note–Both the techniques require some level of technical skills. Moreover, you must perform an initial check that PST files are not corrupted, and they are not password protected as well. These steps need to be performed manually before initiating migration.
Limitations of Migrating Outlook to Office 365 Manually
The procedure provided by Microsoft to its users for moving Outlook data file has some limitations. So, the users should be aware of those limitations.
Password–Office 365 administrator needs to enter password for each user manually. This can be achieved by getting each user's password or by resetting every account's password.
Duplicate PST Files–While a user is moving all the PST files manually, then there might be chances of a human error by uploading a single PST more than once. It won't give any warning during the process.
Right Owner of PST File–This method doesn't help users in identifying the real owner of Outlook data file. The usersmust do this on their own.
Note–If you are not technically sound and don't have proper knowledge of the process, then the manual process is not at all recommended. Else, they can go with the efficient solution which is more reliable and secure.
Outlook to Office 365 Migration Tool –Quick Solution
The PST to Office 365 import tool is one of the most recommended solutions by MVPs and experts and is considered as a secure and reliable procedure. Using this software, users can easily export multiple PST files in bulk at the same time. Additionally, there is no file size limitations imposed while performing conversion process.
If a user has already migrated his/her PST data once using this tool, then it has the option of Incremental migration which will help you to export the updated data only for the same PST file.
Unique Features of the Tool
Option of Migration via Admin & User Accounts
Load Multiple PST Files in one go
Migrate Multiple PST files in same account
Option to Export Archive Outlook data to O365
Incremental Migration is also supported
Multiple Filters can be applied as per requirement
Migrate Outlook to Shared Mailboxes in Office 365
Conclusion
This article contains each and every information a user might need regarding the Outlook to Office 365 migration process. If you do not have an PST file created in your system. Then you can also create a file by following the mentioned steps. Moreover, we have mentioned both manual as well as automated solution to carry out the export process. But, due to some limitations of manual process we will recommend all the users to go with the automated process.