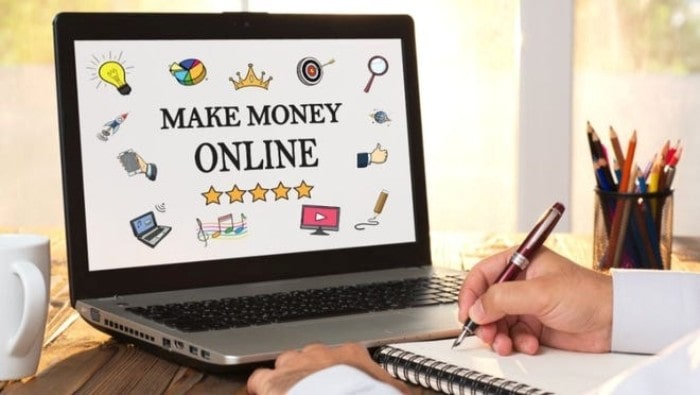 Whether you're looking to supplement your income or actually make a living from your computer, the internet houses a vast sea of effective ways of earning money. From refurbishing and selling things on eBay, over applying for odd jobs to investing in cryptocurrencies, there is always a way you can offer your services, find customers and profit.
However, if you've come looking for something specific, then you're in luck. In this little article, we'll list some of the most effective strategies for making money from the comfort of your home. Let's take a look.
1. Freelancing
One of the most common ways of earning money online is freelancing. Whether you're doing programming, web design, graphic design, content creation or writing, they can be all done from the comfort of your home. Many companies prefer to hire such talent as freelancers, as it is much cheaper for them than to keep you on the payroll. With that being said, you're free to take on more clients, as you're not exclusively bound to any one of them, and generate a much larger income than you perhaps would by being exclusive to one single company.
2. Affiliate Marketing
One of the most popular ways of generating a passive income is through affiliate marketing. If you've got a blog, you can allow a sponsor to run ads on your website while you also promote their products. With proper knowledge of best affiliate marketing strategies, it is possible to do this subtly and without losing your creative freedom and integrity. Naturally, you'll also try to match the brands you're promoting to your content, as promoting cleaning products while you're running a blog about programming doesn't make much sense.
3. Consulting
Being an expert in any field is a very sought-after quality. Being an expert means your word and advice have authority, and people are willing to listen. You can set up your own website, or join one of the existing websites that will connect you to potential clients. Either way, if you've got the know-how, you can cash it in, so don't be afraid to try.
4.     SEO Optimisation
Content and social media marketing is the strongest and most lucrative form of marketing nowadays. There is no business that doesn't have a website, and more and more are generating an online presence. However, to actually reach your customers, you need to rank high in Google's search engine, and that's where SEO comes in.
If SEO is your business, then business is good. Companies and businesses are always willing to pay for expert SEO companies to give them advice on how to improve their content. Clients are abundant, and they're willing to pay good money for the service, as high ranking means lots of visitors and high conversion rate.
5. Tutoring
Being a teacher doesn't always have to mean you do your work in a classroom – you can also do it online. Whether you're teaching languages, humanities, math or science, there is no shortage of students that will require your services.
One of the most popular tutoring jobs online is teaching English. There are plenty of websites that employ the services of both professional and non-professional English teachers. The students are mostly from Asian countries, though there is a good amount of variety when it comes to the students themselves.
6. Composing Music/Sound Editing
Music is a big part of our lives, and there's always a need to produce more. Though websites and YouTubers opt for royalty-free music most of the time, there is a substantial need for new pieces. This means that young, talented composers can easily find work online, and show their art to the world.
However, when it comes to music, composing new pieces isn't the only option. Companies and individual clients might require sound editing services, and if you're wiz when it comes to messing around with sound editing software, you are very likely to find work.
7. Website Design
We talked about how SEO optimisation is in great demand, but to start doing SEO, you need a website. And chances are, not every company has experts in website design.
That's where you come in. If you've got experience in designing websites, it's likely you'll be in high demand. We've already said that almost all businesses have websites, and the truth of the matter is, those businesses paid somebody to make them. And if you're all up to date with the latest website design trends, all the more reason to put yourself out there.
8. Virtual Assistant
If you've got experience with administration and secretary work, there is a place for you too. Day-to-day administration is vital for the smooth running of a business, and secretaries are always in high demand.
However, the thing is, most new businesses don't have the resources to keep personal assistants on their payroll. This is why they try to outsource this type of work, which, in turn, gave rise to the demand for virtual assistants that will perform this type of work from their home offices. It pays well and it's cheaper for the fledgling company, so if you've got the expertise, give it a try.
Conclusion
And, with that, we'll round up our little article. These are some of the most popular suggestions, but there are more jobs and more ways to make money online out there. In the end, however, it will be your determination and hard work that decides whether you'll make enough to justify you quitting a day job. So, whatever you do, and whatever your online profession is, make sure you give a hundred per cent.
Author bio:
Maggie Holmes is an Australian blogger. Recently, she has been searching for different ways for making money online. She believes that Content and social media marketing is the strongest form of marketing nowadays. Companies and businesses are always willing to pay for expert SEO companies to give them advice on how to rank higher in Google. Brands that do not understand the importance of SEO will be left behind.