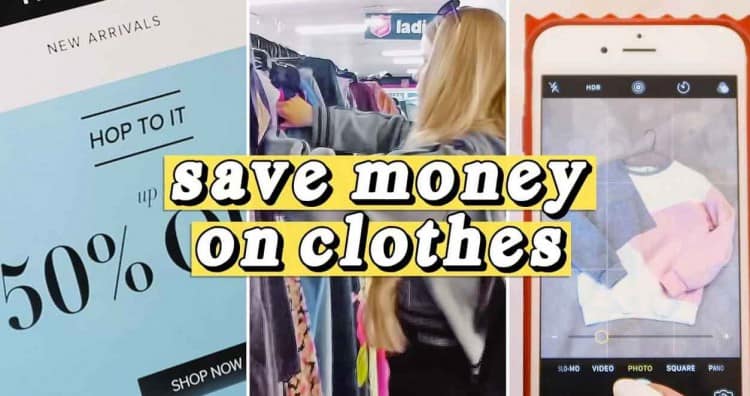 Chances are, your daily email inbox is flooded with clothing store sales. Signs in shop windows catch your eyes with their bright colors–the word SALE splashed across the front. You're tempted to drop by, just to look, but you know you're kidding yourself: you'll walk out with a handful of shopping bags and a bank account that's a little lighter.
The question is, are you actually saving money when you give in to these advertising techniques? Maybe, maybe not. The U.S. apparel industry is a whopping $12 billion business, so it's clear that Americans love to shop. After all, who doesn't love a good sale or even the occasional spree?
However, if you're not looking to spend an arm and a leg on the perfect wardrobe, there are a few ways you can cut down on your clothing expenses. Here's how:
Shop in the Off Season
As difficult as it is to resist temptation when it comes to buying seasonal clothes, it's really the best thing for your budget. Buying in anticipation for the upcoming months is exactly what stores want you to do, and you'll pay the price for the timely purchase.
Instead of falling right into the trap, think ahead. When sweaters hit stores in the fall, look for swimsuits and summer dresses. When bulky coats are discounted in the spring, snag one for next year. Sure, it's not the most enjoyable way to shop, but it saves big bucks in the long run.
Buy Items That Will Last
Every year, Americans send more than 10.5 million tons of clothing to landfills. Not only is this extremely damaging to the environment, but it's also just plain wasteful. The biggest contributor to this issue? Cheap materials and fast trends. Many stores offer clothing at ridiculously low prices, but the fact is, those items aren't meant to last.
Retailers want you to come back next season for the hottest new fashion products, which means they want you to chuck last year's items straight into the trash. Want to help the environment and avoid buying new clothes when your old ones give out? Spend more upfront on quality pieces. Sure, it hurts when you buy a pricey pair of boots or a heavy-duty coat, but you'll thank yourself when you can wear those items three years later.
Browse Online Instead of in Stores
Shopping online has many benefits for the average consumer, especially when it comes to saving money. It's much simpler to compare prices on a web browser than it is to jump from store to store in the real world. Plus, prices can actually be cheaper online.
Sure, you might have to shell out a little bit for shipping, but with online coupons and discounts, you might still save money. Pay attention to coupon collection sites that you can redeem at your favorite online retailers.
Don't Overlook Used Items
Purchasing someone else's used goods doesn't sound very appealing, but it's often a fantastic way to increase your savings. Head to your nearest thrift store and sift through the clutter. You'll be surprised by the hidden gems you can find.
Online retailers can also help you locate great bargains on designer products. Why pay full price for a brand new pair of stilettos when you can pay half for some that have barely been used? No one else will know the difference.
Make a Beeline for the Clearance Section
Ever noticed that stores tend to place the newest, most expensive items at the front of the shop? That's because they're hoping to catch your eye immediately. When you head to stores in search of clothing bargains, keep your head down and walk straight back to the bargain bins and clearance racks.
It might be tempting to give in and buy some of those flashy new items at full price, but sticking to the sale area is a much more cost-efficient way to shop. The same concept applies to online shopping: most stores have a sale section where you can save big. For instance, smaller retail stores are likely to have better sales and discounted items rather than chain department store.
Create a Wardrobe That Works Together
Whenever you purchase something new, ask yourself, "Does this go with other items I already own?" If not, it's probably not a great buy. Purchasing versatile items that match the rest of your closet will make picking out ensembles simple, and it will prevent you from running out in search of matching items later on.
Plus, you'll be able to develop your own sense of style and know exactly what colors and styles suit you. That cuts down on time in changing rooms and frustrating deliberations between two colors of the same shirt.
Be Smart with Your Money
A lot of people love to shop, and there isn't anything wrong with it–you just have to do so wisely. The last thing you want is to wrack up your credit card bills and take years rebuilding your credit just because of your shopping obsession.
There's nothing wrong with buying an expensive item now and then–but make sure you can afford it first. By implementing some of these simple steps, you will become a smarter shopper in no time.