Trade show booths are an investment. Whether you exhibit at one trade show event a year or two or five, you want to make sure that you get the most out of your investment. There will be times throughout the year when your trade show display and materials aren't being used. Maybe that's because it's your industry's off-season or because you're simply in between events. Regardless of why you aren't using your trade show display, don't let them sit in a storage closet collecting dust. Instead, get the most out of your investment— here are nine other ways to use your trade show displays during the off-season: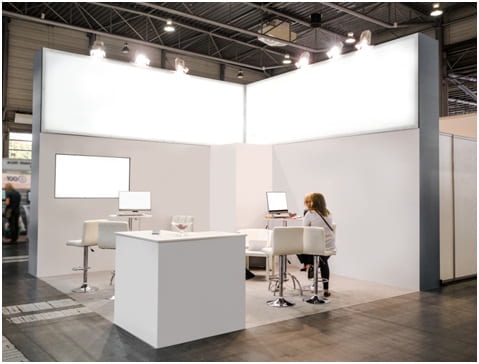 Create branded experiences with displays
Experiential marketing is back with a bang! Experiential marketing (also known as engagement marketing) is a form of marketing strategy that allows the audience or customer to engage with a brand or business in a real-life setting. It's a way that businesses can connect with their customers and really show them who they are and what they stand for through memorable hands-on experiences. Millennials happen to be a a key demographic group driving the return of using experiences to market a product or service. Make the most of your trade show booth investment by incorporating your displays into an experiential marketing campaign of your own.
In demos with potential clients
Nothing sells a product quite like a convincing and memorable demonstration. Demonstrations or "demos" as they are commonly referred to are used to introduce certain products or services to new prospects or customers who may be unfamiliar with how they work. Create a visually enticing demo by incorporating some of your trade show signage into the presentation. Pair this with a charismatic and knowledgeable presenter and you have a recipe for success.
During team-building exercises
When it comes to the workplace, it's important to understand your fellow team members in order to make communication easier and work more efficient. One way many companies choose to do this is by hosting team-building events in which employees play games designed to help them get to know their coworkers better. There are a variety of ways you can integrate your trade show displays into these exercises. For example, one exercise might be to hold mock product demonstrations between departments and each department uses a sign or a banner with the company's logo as part of their presentation. If you are hosting a team-building event off site, use you're displays to create a designated meeting place for the entire team.
First impressions are important, especially if your company receives and entertains visits from guests who may be potential clients. Make your guests' first impression of your business a memorable one by placing your most attention-grabbing trade show displays in the lobby or in a conference room. Take advantage of any sandwich board signs and banner stands that you may have in your trade show arsenal as these are perfect for this purpose.
To attract customers to your physical storefront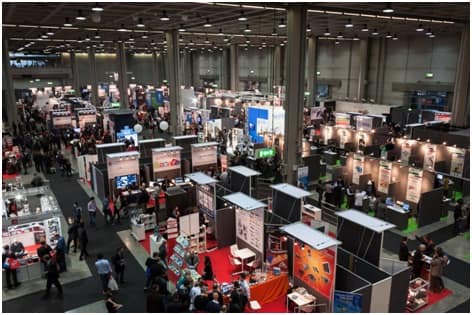 What better way to draw attention to your brick-and-mortar location than to include your trade shows signage in your storefront display? Storefront displays are critical for any business with a physical location because they are the first thing potential customers see. Set up the eye-catching display you used at your last trade show event and watch as the foot traffic to your store increases.
Pop-up shops allow store owners to reach customers whom they cannot normally reach with traditional advertising. Hosting a pop-up is an effective and successful method for introducing potential customers to your products or services. If a pop-up shop makes sense for your company, consider everything you need to invest in to make this happen. Two things you will need to invest in are promotion and design. Rather than spend money on creating a new design and promotional materials from scratch, consider reusing banners and signage from a previous trade show to minimize costs.
For companies that have a PR department and need to do media events and press conferences, including your trade show displays and other signage is a good way to showcase your brand. For example, display your custom table throws over the main press conference table, with your unique design and logo front and center for your audience to see.
Include banner stands to promote special offers in your store 
The best way for shoppers to know about every deal and discount your store or business is offering is by simply showing them. You can re-purpose banner displays from a previous trade show event as sale and special discount signs for your store. They already include your company's colors and logo, so all you have to do is customize them to show discounts and sales you may be offering and place them throughout the store for your patrons to see.
Repurpose for charitable functions
If your company participates in community events or hosts charitable functions, consider using your trade show displays to promote the event. Place your banners outside of your location to grab the attention of street traffic and draw in potential customers. You can also use your banners as a way for visitors to identify you and your company at a community event.
When you allocate money from your budget to creating a trade show display, you want to get as much out of that investment as possible. Don't throw them away or store them in a closet just to be forgotten about. Instead, when you're not exhibiting, maximize your investment by trying out these nine ways to use your trade show display.